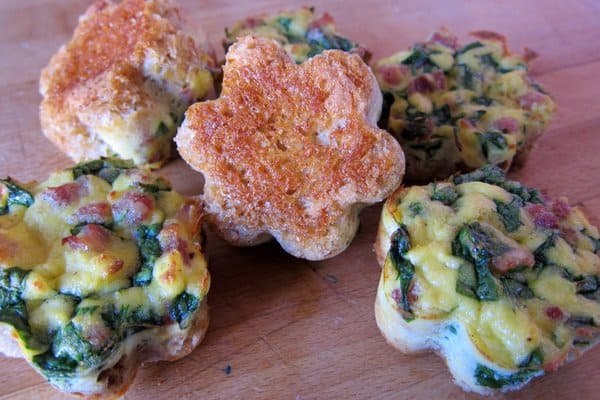 I FINALLY FOUND A USE FOR THESE SILICONE FLOWER molds. Because I nearly threw them away. Or considered using them as Popsicle molds later this summer. Don't you hate them? Ugh. Be it brownies, cupcakes or muffins, every time I've made something in these Wilton molds, the dough refuses to come out entirely. And honestly, it takes too much time (and patience, not to mention blood, sweat and tears…mine, Phoebe's and Estelle's…) to create this stuff only to be totally foiled by your own pan. That's about the time I'd like to take a page from Phoebe's book to flop down on the floor, arms crossed and cry. Enter, the breakfast cups.
Since I started by lining the pan with a pat of butter followed by a slice of whole wheat bread, the chances of stickage are considerably fewer. At least this was my hope. And…it worked! Best of all, the kiddies actually ate these. The portions were large for my crew who are 15 months and almost 3 years but the flavors worked well and best of all, it's a complete meal all in one flower.
EGG, SPINACH & HAM BREAKFAST CUPS—FLOWER STYLE
makes 6 breakfast cups
ingredients
4 eggs
1/4 cup milk
1/2 cup frozen chopped spinach, thawed (or 1 cup fresh, chopped)
1/2 cup cubed ham
1/2 teaspoon salt
1/4 teaspoon freshly grated pepper
1/2 cup Parmesan cheese, grated
6 slices whole wheat bread
3 tablespoons butter
instructions
Preheat oven to 400 degrees. In a medium bowl, whisk eggs for 2-3 minutes, until frothy. Add milk and mix for another minute. Fold in spinach, ham, salt, pepper and cheese.
Place one pat of butter (1/2 tablespoon) in each muffin cup. Pull crust off each slice of bread and press down into mold, making sure its as flat as can be, and creating a solid layer for the egg mixture to sit on. Pour egg mixture over the top, filling each cup about 3/4 full.
Bake for approximately 15 minutes, checking at the 10 minute mark. Depending on your pan and cup size, they'll cook faster or slower. When the egg mixture is firm, they're ready.