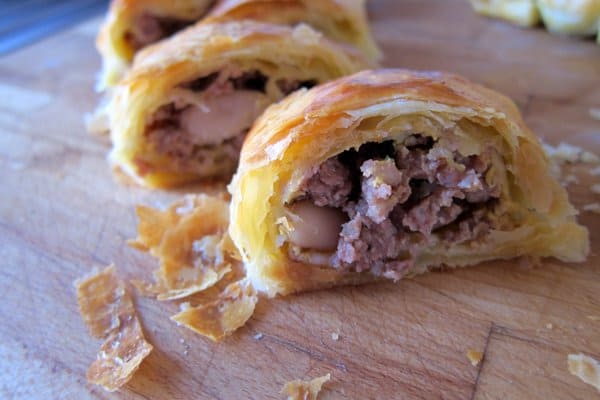 I MAKE THESE EVERY TIME I HAVE A PARTY. Everyone loves them. So, when I saw Jamie Oliver make something similar for his family, I broke out one of my favorite Barefoot Contessa recipes. Trying to make it a little healthier, this is sausage with puff pastry after all, I added protein-rich white beans that the kids love. There was only one problem with this dinner. The kids hated it.
In the past I've made these with kilbasa but they don't really have that in Italy so I used some nice turkey sausage instead. The only down side was taking the time to cook it, which was hardly difficult but another order valtrex 1000mg step nonetheless. And I removed the casings as an experiment. In went the white beans and fresh thyme. The remaining instructions are very simple. Unroll puff pastry, slather with mustard and fill. Roll up in two parts, brush with a whisked egg, score the tops and pop into a hot oven (according to puff pastry packaging). Wait about 25 minutes, and ta-da flaky, savory deliciousness. At least I think so.
We'll try it again though. Like many, if not most, new dishes this one might be an acquired taste. It's definitely something that's better when you're not teething either, so Ms. Estelle, you've got a sausage roll in your future.