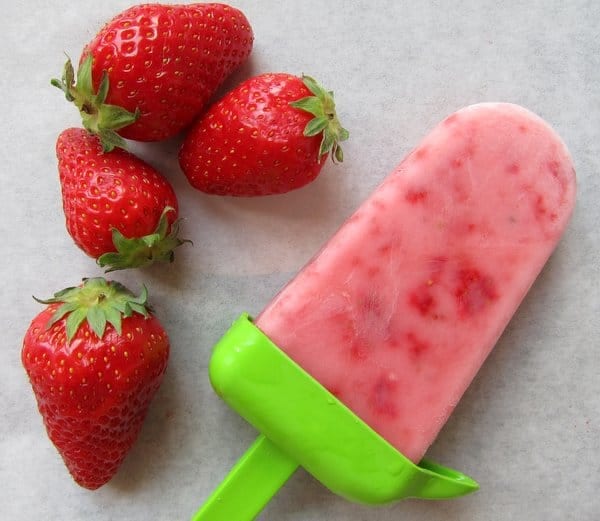 WITH THE ARRIVAL OF OUR NEWEST FOODLET this week, we haven't been cooking much. But that doesn't mean that things aren't delicious, and fun! Enter the tastiest way to celebrate sweet baby George, summer and all the fun to come…homemade frozen yogurt pops!
The recipe couldn't be simpler. Fresh strawberries are mashed in a bowl (I use a fork or potato masher), add organic banana yogurt and thin with orange or apple juice as needed. Fill in molds, freeze and most importantly…enjoy! It works with any combination of fruit and flavors. Another one of our favorites is freshly squeezed orange juice with organic vanilla yogurt. Mmm. How do you say Creamsicle in Italian?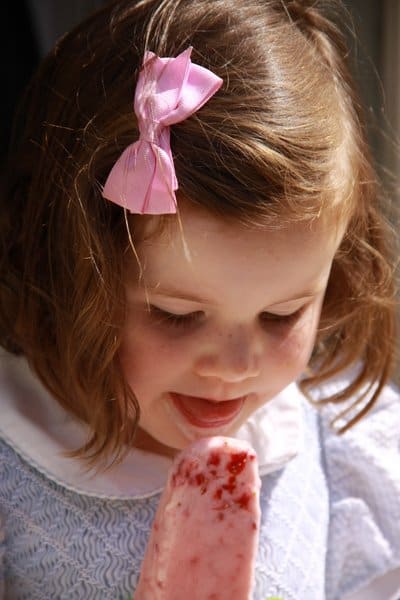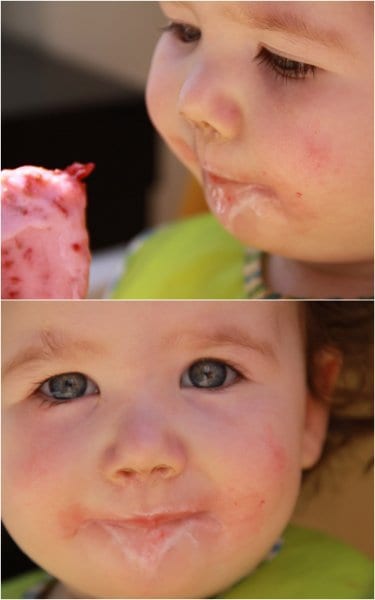 And be sure to eat nicely or the frozen yogurt police may be forced to intervene…
WANT MORE FRESH BERRY IDEAS?
This post is part of BERRYLICIOUS, a roundup of fresh ideas from the best food blogs around, including 11 delicious recipes full of sweet summer flavor!
1. Chocolate Chocolate and More – Lemon Blueberry Pound cake
2. Foodlets – Strawberry Banana Frozen Yogurt Pops
3. Green Beens & Grapefruit – Mixed Berry & Cookie Butter Clafouti
4. Haniela's – Red Currant Meringue Cake
5. In Katrina's Kitchen – Frozen Blueberry Basil Lemonade Pies
6. Munchkin Munchies – English Matrimonials
7. Rich and Sweet – Blueberry Blackberry Orange Streusel Scones
8. Sams Kitchen – Eton Mess Mini Cheesecakes
9. Simply Gourmet Photography – Mulberry Syrup
10. Sumptuous Spoonfuls  –  Strawberry Chia Jam
11. Trilogy Edibles – Meringue Nest with a Bumbleberry Compote