While I enjoy my mini-maternity leave, I'm thrilled to present a guest post from fellow mom and former colleague, Marie Facini.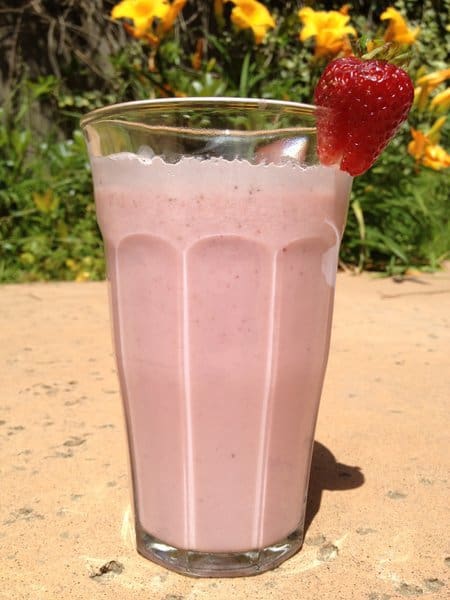 The genius in this drink is threefold: it's exceedingly simple to prepare, it's a great way to pack the all-important calcium punch, and it puts spring's bounty of strawberries to good use.
I actually happened upon this concept quite by accident. My son was requesting a smoothie and we were out of staples to make what he wanted. But with milk and strawberries, I was able to whip up a sweet, refreshing beverage that we all enjoyed.
 ingredients
2 cups milk
1 cup fresh, ripe strawberries
1 teaspoon honey (optional)
 instructions
Rinse your strawberries. Then remove the stems, slice larger strawberries as needed, and place in a pitcher. Add milk and blend with a hand blender until smooth. For an extra touch of sweetness, add honey to taste and blend a few seconds longer. Pour into glasses (or sippy cups) and serve.
Special equipment: Hand blender
You can apply this recipe to any number of fruits. While strawberry milk remains the household favorite, we've experimented successfully with banana (1 medium banana should do it), blueberries (1 cup) and cherries (1 cup, frozen). Citrus, on the other hand, didn't fare so well. If your little ones are adverse to small seeds or textures, you can always strain the milk prior to serving.

Marie is the former Vice President and Site Director for FoodNetwork.com, now fueling her passion for travel at TripAdvisor.com. She lives in San Diego, California and is mom to a 3-year-old son Lex and 20-month-old daughter Juliet.