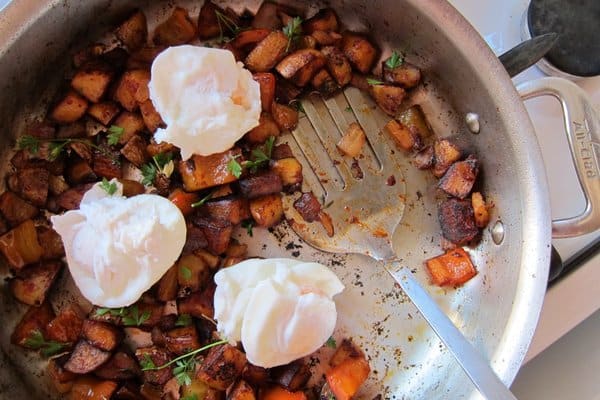 BREAKFAST FOR DINNER is one of our go-to techniques for dinner in a hurry. Now that we've got a third Foodlet on-hand, make that in-arms, cooking can be a little more complicated. As in, how can I make dinner and look after the toddler, preschooler and newborn baby without anyone accidentally getting grilled in the process? (Or crying or whining or fighting or…)
Admittedly this one was prepared while Paul was still on paternity leave so I had a little extra time but it could also be an easy make-ahead meal too. (I'd do the potatoes and peppers first; leave them on the stove covered. There's nothing to spoil there so they'll last for at least a couple of hours. Poach the eggs and put them in the fridge, but keep the hot pan of water on the stove. When it's time for dinner, reheat the water, add the eggs for 30 seconds and they're set.) The secret here is to cut the potatoes in a relatively fine dice, which allows them to fully cook on the stove in the same amount of time it takes for them to brown on the edges. Make the peppers a little bigger since they cook faster–that way everything's done at the same time. Sprinkle parsley on top if your people are receptive to fresh herbs. (Mine are not so I added this after dishing out their portions.)
Phoebe only eats the egg whites and at 17 months this was Estelle's first foray into the world of poached eggs. She's recently had scrambled and since that was a go…we tried it here. Moderately successful. That's how I'd describe this meal, which works well enough to try again soon. Also I loved it, which makes "soon" sound a lot like "next week" to these always-hungry-always-tired new mommy ears.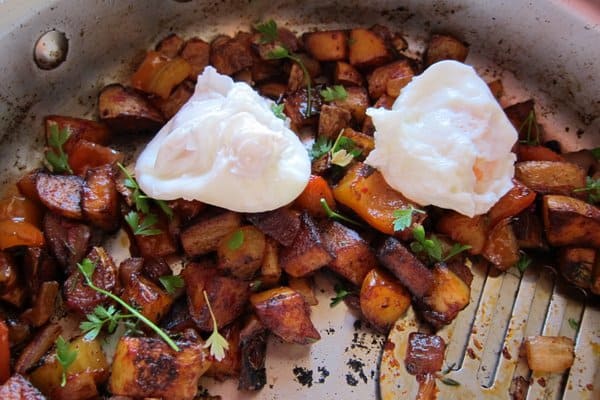 POACHED EGGS WITH POTATOES AND PEPPERS
I prepared one egg for each of us because we're pretty light dinner eaters; make as many as your family will enjoy per person.
Poaching eggs isn't the simplest way to prepare them but once you get the hang of it, they're so delicious and healthy. Read Alton Brown's excellent tips for poached eggs here.
ingredients
4 fresh eggs
4 tablespoons vinegar
2 tablespoons olive oil
1 1/2 pounds of potatoes, peeled and diced
1 teaspoon salt & 1/2 teaspoon pepper
1 tablespoon sweet paprika
2 tablespoons tomato paste
1 red, yellow or green pepper, diced
1 tablespoon fresh parsley, chopped
instructions
In a large sauce pan, bring at least 4 inches of water plus vinegar to a boil. One by one, break eggs into a teacup or small bowl. Then drop each egg into boiling water. Immediately use a wooden spoon to pull the white edges into the yolk. Repeat with remaining eggs. Remove each egg and place on plate lined with paper towel to absorb excess water.
Put a large skillet over medium heat and add olive oil. Start cooking the potatoes first. Add salt, pepper and paprika. Cook approximately 15 minutes until potatoes start to appear soft inside and brown on the edges. Add tomato paste and stir. Add peppers and cook another 5-8 minutes, depending on the size of vegetables and your preference for softness. Add fresh parsley and top with poached eggs.