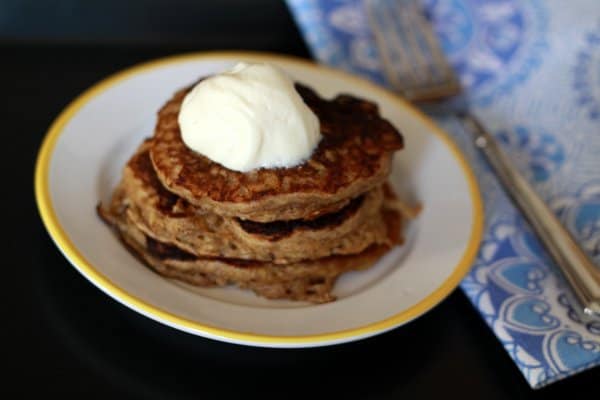 LAST NIGHT I PANICKED. It was nearly time to pick up the girls from nursery school, George was set on nursing until the cows came home (almost literally in this case) and no dinner was made. The 90 something degree heat didn't help. But Pinterest did.
I'd become obsessed with seen a recipe for Carrot Cake Pancakes on my dream site, Smitten Kitchen, ages ago and actually had the makings on hand. Thankfully, they were super simple, leaving me enough time to whip up a batch of scrambled eggs on the side. Nary a child was recovered (too) late and this breakfast-for-dinner was a delight.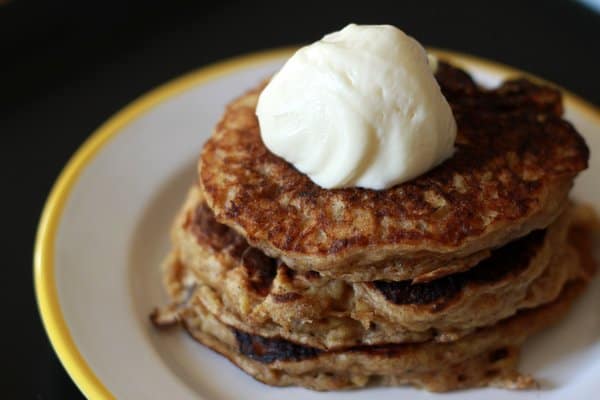 The basis of this recipe is something I love and respect: two cups of finely shredded carrots. If you've ever looked at any of my recipes (and if you have, bless you), you'll see that I'm a fan of adding carrots to almost anything. The sweet flavor is so easy to mask and in the end you're left with just a bit more nutrition. Both girls actually eat carrots these days so it's not always about "sneaking" it in, (though I admit it started that way) but just adding a veggie boost where I can. And with only 2 tablespoons of sugar, Deb of Smitten fame was speaking my language again. I doubled the spices as usual because I really like a flavorful punch.
Of course I added wheat germ and used a combination of whole organic milk and Greek yogurt in place of buttermilk. And finally, the girls don't know about cream cheese frosting so I added a dollop of pure maple syrup and a tablespoon or so of whipped cream instead. For Paul and I though, I caved. Cream cheese frosting, serendipitously purchased from the commissary last week, went right on top. Right from the can. And yes, it was very, very good.
CARROT CAKE PANCAKES
Originally adapted from the Joy the Baker Cookbook
My grocery store sells very thinly julienned carrots; this is what I add to everything all the time. If yours doesn't, grind them up in the food processor or just put on some music and get shredding by hand. It's worth it.
ingredients
1 large egg
2 tablespoons packed brown sugar
1 cup whole organic milk
1/2 cup Greek yogurt
1 teaspoon pure vanilla extract
2 cups finely grated carrots
3/4 cup all-purpose flour
1/4 cup wheat germ
1 teaspoon baking powder
1/2 teaspoon baking soda
1/2 teaspoon table salt
1 teaspoon ground cinnamon
1/2 teaspoon freshly grated nutmeg
1/4 teaspoon ground ginger
3 tablespoons butter, for pan
instructions
In a large mixing bowl, beat the egg then combine sugar, milk, yogurt and vanilla. Add carrots and stir. Place a metal sieve or sifting cup right on top of the mixing bowl and add the dry ingredients: flour, wheat germ, baking powder, baking soda, salt, cinnamon, nutmeg and ginger. Sift them all through at once then stir.
Heat skillet or griddle to medium, add butter then cook in batches of 4 pancakes. I dropped the batter from a 1/4 cup measuring cup without scooping it out entirely and this worked well.
After the last batch was done, I put all the pancakes back into the still hot pan, added a lid and turned the burner off. (Don't forget this part.) Then I picked up the kiddies and came home to dinner ready to go. Since they were starving, I served them right away but this storage in the pan method made it easy to reheat Paul's portion (on the lowest setting for just a couple of minutes) when he arrived shortly after.