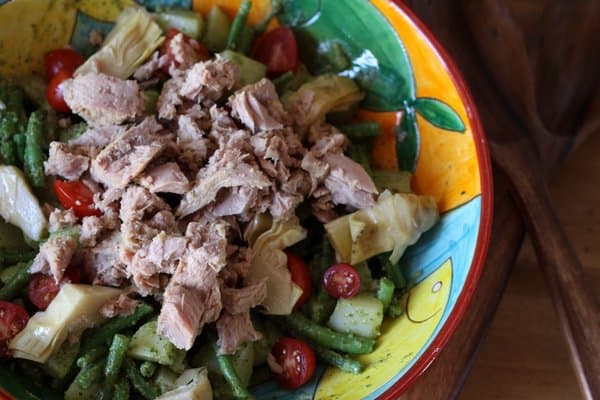 I KNOW WHAT YOU'RE THINKING. What kids eat salad? For dinner? If serving a fresh potato salad isn't in the cards for your crew, consider using the same ingredients to create a plate that works for everyone, without a lot of extra effort on your part. (Also, French kids eat salad. Really!)
The ingredients for this dish were inspired by the Barefoot Contessa's dreamy French Potato Salad. They're also many and varied, so I recommend chopping everything separately and simply letting your family serve themselves. It's hard to go wrong with potatoes so scoop some onto each plate then let each person add whatever toppings they like. In the case of very young children, like mine, just give them a portion of items you know they like…plus one new thing. I included potatoes, green beans and tuna (new) for Estelle's plate. Phoebe got tomatoes, green beans, tuna and an artichoke heart (new). Neither one went wild for the new flavors but that's okay. It can take up to 15 times for kids to develop a taste for new foods. If that sounds like a lot, it is. Sigh.
But there's good news. Only the potatoes require cooking and a pot of boiling water will do most of the work there.  If you have new potatoes, you can skip the peeling step. If you're using bigger potatoes, do a quick peel job and either way, chop them into bite size pieces. Throw them into a pan and cover with about 3 inches of water; put them on high heat. The potatoes should start to feel tender after about 25 minutes. Pour the whole bubbly mess into a colander safely tucked inside your sink and let them sit, covered by a clean dish towel for another 10 minutes.
Next comes the other time saving step: use store generic valtrex cheap bought pesto for your salad dressing base. I added extra virgin olive oil and lemon juice plus salt and pepper. The whole thing was tangy and rich but not too heavy for a hot summer night.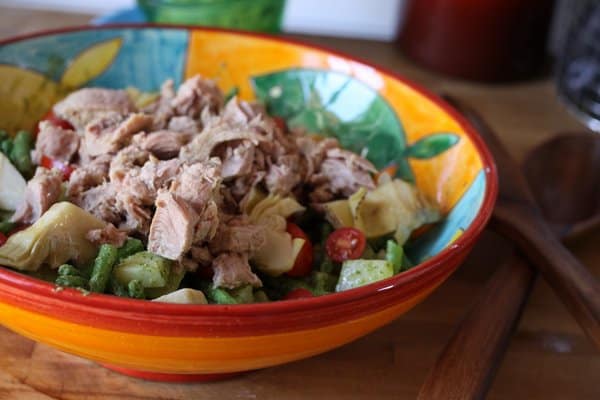 TUNA NICOISE POTATO SALAD–ITALIAN STYLE

ingredients
1 pound thin skinned potatoes, cut into bite size pieces (peel them if you like)
2 handfuls of fresh green beans
2 cans of solid tuna in oil or water
1/2 pint cherry tomatoes
6-10 artichoke hearts (marinated in olive oil)
1/2 cup pesto
1/4 cup extra virgin olive oil
juice from 1 lemon
1 tablespoon salt
1/2 teaspoon pepper
instructions
Chop potatoes into bite size pieces. Peeling them is optional. Put the potatoes in a large pot and fill with enough water to cover the potatoes by 3-4 inches. Place the pan on high heat. Set your timer for 25 minutes and check for tenderness. When they're SLIGHTLY tender, add the green beans and cook for 2 minutes. Then remove the pan from the heat and drain into a colander. Place a clean towel over the top and allow to steam for another 10 minutes. Both the potatoes and the beans will be perfectly cooked in the end.
Meanwhile, chop the tomatoes and artichoke hearts. Use the same bowl you'll be serving the potatoes in to prepare the pesto dressing. Pour in the pesto, oil, lemon juice, salt and pepper. Stir and taste. Adjust seasonings as needed. Add the potatoes and green beans while they're still warm (the potatoes will soak up lots of flavorful dressing as they cool down). Note: If your group includes those who don't like green beans, feel free to separate them OR consider trying this as the "new" thing for the meal. (They can always be picked off any plate.) Place each topping in a separate pile or bowl and ring the dinner bell.