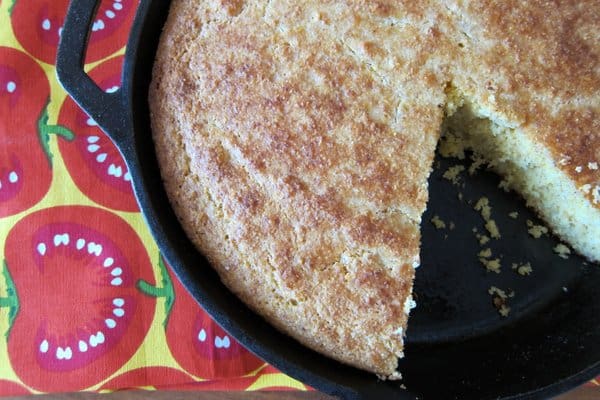 IF YOU THINK CORNBREAD IS DRY or worse yet, greasy and heavy, this one is for you. Phoebe has eaten three pieces in the last 18 hours, one at every meal and actually closes her eyes with each bite. So, I think it's pretty good.
We made cornbread as part of a meal with grilled steak and fresh green beans. Decidedly un-Italian but totally tasty. For the steaks, we marinated them in a mixture of BBQ sauce, soy sauce and Worcestershire sauce. Just for the day, then grilled them on our trusty grill pan. These beans were sauteed in only water with minced garlic, then topped with a bit of salted butter. I didn't even add salt or pepper to the kids' plates, and to mine just a grind of fresh pepper. (Paul loves his salt so I gave him an extra sprinkle.)
The whole wheat part comes in the form of whole wheat flour plus my favorite recipe makeover add-on, wheatgerm. It's nice and moist because of the milk, yogurt and honey. But the real secret to this cornbread is the honey butter that we spread on top. I simply left a bit of butter on the counter until it got soft (and with temps in the high 90s every day here, that didn't take long!) then stirred in some honey. Popped it into the fridge for a few minutes before dinner so it was a little more solid and ta-da.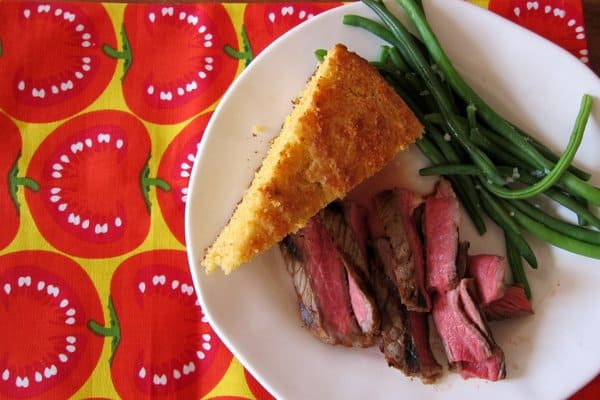 HONEY WHOLE WHEAT CORNBREAD
Inspired by Ina Garten's Jalapeno Cheddar Cornbread recipe
Tip: melt the butter in a cast iron skillet. Pour it off and use the skillet to cook the cornbread; it'll already be greased.
ingredients
1/4 cup melted butter (plus more for honey butter)
1 cup Greek yogurt
1 1/4 cup milk
2 eggs
1/4 cup honey (plus more for honey butter)
1 cup whole wheat flour
1 1/4 cup polenta (corn meal)
1/2 cup wheat germ
2 tablespoons sugar
1 tablespoon baking powder
1 teaspoon salt
1/2 teaspoon baking soda
instructions
Preheat oven to 400. Put butter into cast iron skillet and pop in oven until almost entirely melted, swirling around a couple of times to prevent burning or browning. Remove from oven and allow to cool for a few minutes.
In a large bowl, combine yogurt and milk. Whisk in eggs, one at a time. Add honey then butter once relatively cool. Set a metal sieve on top of your mixing bowl (or use a hand-held sifter). Add flour, polenta, sugar, baking powder, salt and baking soda. Stir until JUST combined. Pour into the HOT skillet and bake for 25-30 minutes or until a fork comes out clean (a toothpick probably won't pick up the course polenta grains) and the top is slightly browned.