I don't know about you but my kids aren't usually into salad.
There was a time when my preschooler, Phoebe, would spot a great leaf of anything on her plate, be it basil, parsley or actual lettuce, immediately pick it off and deposit onto MY plate while explaining "I don't yike salad." Sigh.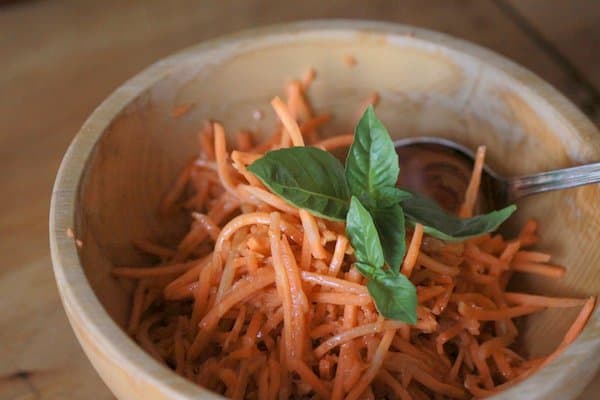 However, this one is different.
It's inspired by a recipe from Karen Le Billon's brilliant book, "French Kids Eat Everything". Instead of lettuce which can be bitter and hard to eat, sweet and crunchy carrots are the only thing in the bowl.
And my version of this delicious dressing includes a bit of balsamic vinegar, making it a bit sweeter and even more kid-friendly.
The littlest guys can even eat it with their fingers if you go light on the dressing plus a side dish like this is extra easy to make baby food with. Just steam and blend, then Baby can eat the same meal as the rest of the family.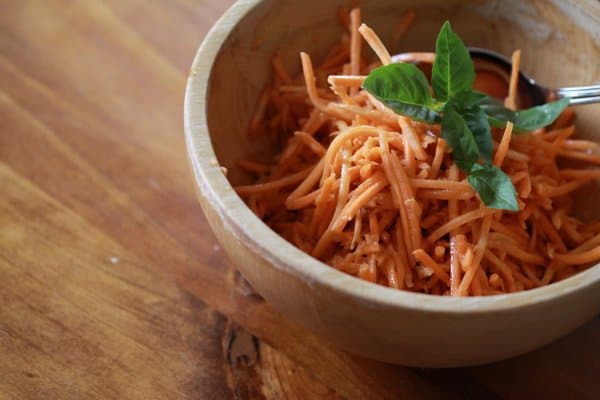 GRATED CARROT SALAD with BALSAMIC VINAIGRETTE DRESSING
adapted from "French Kids Eat Everything"
ingredients
2 cups julienned or grated carrots (usually available already grated at the grocery store)
2 tablespoons Dijon mustard
1/4 cup balsamic vinegar
1 teaspoon salt
1/2 teaspoon fresh pepper
1/2-3/4 cup extra virgin olive oil
optional: fresh basil (or any other fresh herbs you like)
instructions
In the bottom of your salad bowl, whisk together the mustard, vinegar, salt and pepper. Slowly add the oil, whisking constantly until the dressing comes together. Use more or less oil until you get the consistency and flavor you like. Add the carrots on top but don't toss until you're ready to serve. Without tossing, this salad can wait for up to 30 minutes in the fridge without getting soggy.