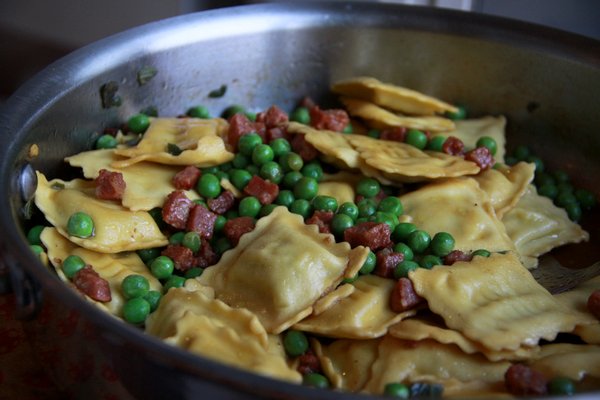 A BOWL OF PASTA DOESN'T ALWAYS MEAN TOMATO SAUCE. One of the easiest ideas I've learned from the Italians is to substitute traditional red sauce with something much simpler: extra virgin olive oil, fresh herbs and a sprinkle of freshly grated Parmesan cheese. Dinner's on the table in 20 minutes, and it's a really good one.
This idea works for any type of pasta but I love using ravioli stuffed with spinach and cheese (a bonus built-in veggie is never a bad idea in my house!) I also added peas because Estelle loves them and pancetta because it's always a hit with Phoebe. Fresh pasta only cooks for 4 minutes so the longest part of this meal prep is waiting for the water.
Put a big pot of water on the biggest burner, flame on high. In a separate large skillet, brown 1/2 cup of pancetta or diced bacon along with 2 tablespoons of extra virgin olive oil. When the pancetta starts to get crispy, turn the burner off. Dice up 2-3 tablespoons of fresh basil and let it wait on the counter. Next grate 3/4 cup of Parmesan generic valtrex lowest price cheese; I like to add 1/2 cup into the pan and sprinkle a bit on top of each plate.
When the water is boiling, add the pasta and cook according to package instructions, minus 1 minute. Remove pasta but don't drain out all the water–reserve 1 cup to use as needed in your "sauce". Add the hot pasta to the skillet, then drizzle 2 tablespoons of extra virgin olive oil on top. Add basil and peas, then stir gently. If the whole thing is too dry, add a bit of your pasta cooking water, starting in 1/4 cup intervals. It doesn't need to be soupy, just moist enough to slide a big spoon in and serve up a delicious bowl of pasta with ease.
Ingredients needed to serve 4:
1/2 cup pancetta or bacon cubed
4 tablespoons extra virgin olive oil – separated into two parts
3/4 pound fresh pasta (spinach and cheese ravioli)
2-3 tablespoons fresh basil, diced
3/4 cup freshly grated Parmesan cheese
1 cup frozen peas
This is also a wonderful leftover meal; I eat it cold, almost like a pasta salad, for lunch the next day.