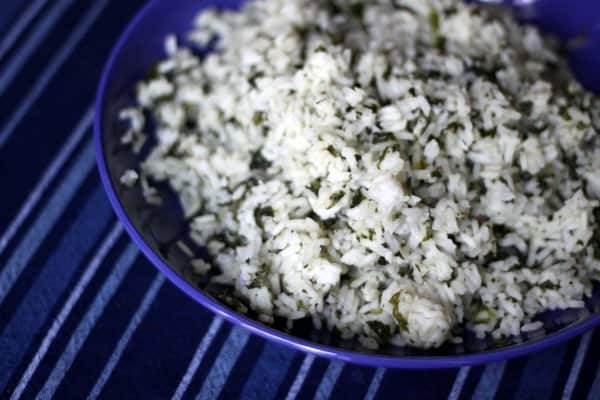 WE USUALLY EAT BROWN RICE, BUT NOT THIS TIME. My husband Paul loves the fluffier texture of white rice, and I love him, so for this dinner we used organic basmati rice. But the compromise didn't end there: I also add added a bit of frozen spinach to the pot while it cooked. Voila, a built-in veggie that didn't even dirty an extra pan.
To try this at home, just follow the cooking instructions on your rice, but add 1 cup of frozen chopped spinach (fresh version to follow) to the pan after you pour in the rice. I didn't even mix. Just let the spinach sit on top and steam. My favorite is the Trader Joe spinach because it's chopped very finely and mixes right in to a delicate rice like this one.
Fresh spinach would work well too. Just be sure to chop pretty finely but add at the very end of your rice's cooking time instead. Pop it in the pan with about 1 minute to go, then fluff.
If you're not sure whether your family will respond well, try it on a day when green is the thing: St. Patrick's Day (March 17).