OUR KIDS HAVE BEEN MISBEHAVING. I'm sure this never happens at your house, but this has been one of those weeks. We've had a whining, crying, tantrum-throwing, Pull-Up-removing time of it for days now. But this morning when Paul and I mentioned working toward a picnic dinner at the playground tonight, as in, we only get to go if everyone is very nice, everything changed. Just in time for St. Patrick's Day treats.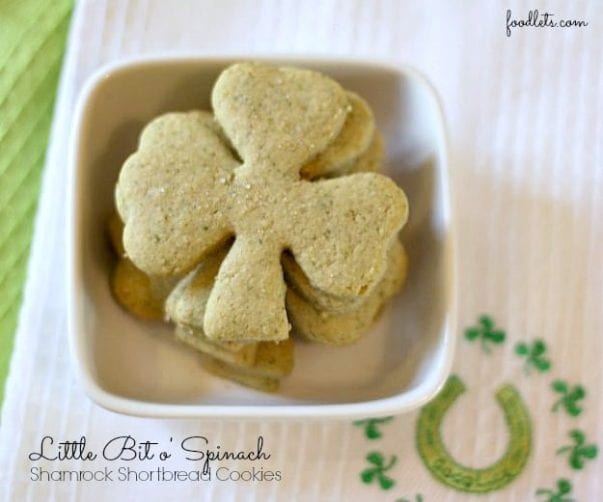 It reminded me of that book where the Berenstain Bears forget their manners. Suddenly our girls became "super polite", looking for ways to be helpful, patient and kind. They're offering each other their toast, then miraculously putting their own socks and shoes on–and all with big, happy smiles.
It will not may not last but I'll take full advantage of this new phase. Inspired by their change of heart, I whipped up a remade batch of the Barefoot Contessa's shortbread cookies. Except these have spinach. Happy St. Patrick's Day!
To Ina's wonderful recipe, I did what I usually do. I took out some butter, added some whole wheat and in this case spinach. I'm trying to stay off the artificial coloring these days and found that adding spinach puree made these little cookies a little green. They're not the technicolor shade of shamrock that you'd get from the stuff in the bottle, but they're so much better for you (thanks to the spinach), that I think they'll do anyway. (And next year, maybe I'll add more spinach to see just how green we can get.)
Then we used two techniques. One is the basic roll-and-cut routine, using a shamrock cookie cutter I got at Micheal's, way back when I thought I'd do a timely St. Patty's day post. Hmm. Anyway, here we are with minutes to go before the leprechauns start a'leaping, but at least the cookies have finally arrived.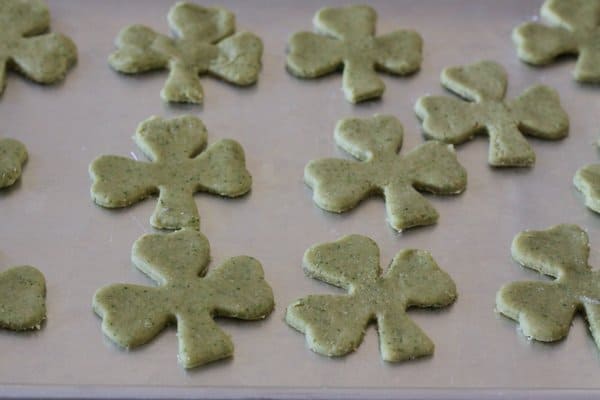 The second technique is great. Phoebe and I took a Mommy-and-Me type of class last weekend at Classy Kids Cook, here in North Carolina. Yep. It was advertised as a cooking class for kids ages 3 and up, but it turned out that Miss P was the only 3-year-old in the bunch. But those Big Kids, ages 6-10, were also there with their parents and actually really sweet about making sure she got a turn at everything.
As an aside, we've driven past the Classy Kids Cook place a dozen times since we moved to North Carolina a couple of months ago. Never quite knowing where we are, eyes always glued to the GPS, I usually do a double-take and mumble something about Oh! There it is, right by the used book store. Across from the Walgreens. Then I realize that there's an additional Walgreens on the opposite corner, someone starts complaining that the sun is in their eyes and it's lost again from my mind.
But last weekend we made it work. And learned this technique for little kids, no rolling pin required. To make shamrocks, roll out 3 little balls and press them down. Roll a skinny stem and stick all of them together. I did it right on the pan, which worked great. Sprinkle a little "gold", raw sugar in our case, and bake at 350 for about 10 minutes.
LITTLE BIT O'SPINACH SHAMROCK SHORTBREAD COOKIES
Adapted from Ina Garten's Shortbread Cookies
If you're doing this with kids, it's best to make the batter ahead of time so you're just assembling the cookies together.
ingredients
1/2 cup spinach juice or puree (starting with approx 2 cups of raw baby spinach)
2 sticks (1/2 pound) unsalted butter, at room temperature
1 cup sugar
1 1/2 teaspoon pure vanilla extract
3 cups all-purpose or whole wheat flour
1/2 cup oat bran
1/4 teaspoon salt
2 tablespoons raw sugar
instructions
Use a juicer to create 1/2 cup of spinach juice or put 2 cups of raw baby spinach in a glass bowl with 1/4 cup of water. Microwave for 1 minute. Blend in a blender or food processor until liquified. Next, cream the butter and sugar in a large bowl or standing mixer. Add vanilla then spinach puree.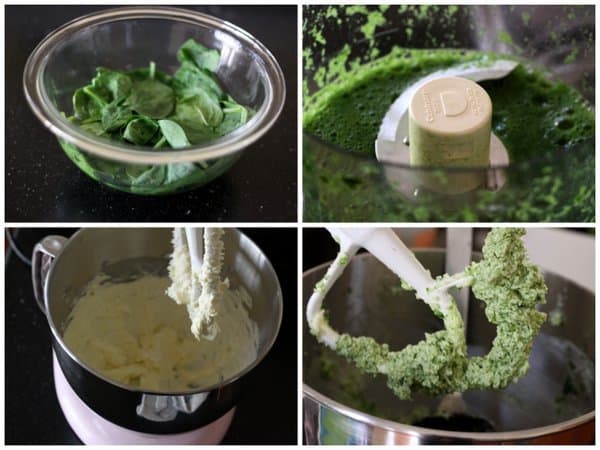 Set a sifter over the top and add flour, oat bran and salt. (Don't force all the pieces of oat bran through the sifter. Throw out any leftover little bits that are too big to fit through.) Once the dough comes together remove from the bowl onto a big piece of plastic wrap and cool in the fridge for at least 30 mins or overnight.
Either roll the dough 1/2-inch thick and cut or use the 3 ball method and press together. Place the cookies on an un-greased baking sheet and sprinkle with sugar. Bake for 10 to 15 minutes. Allow to cool to room temperature.