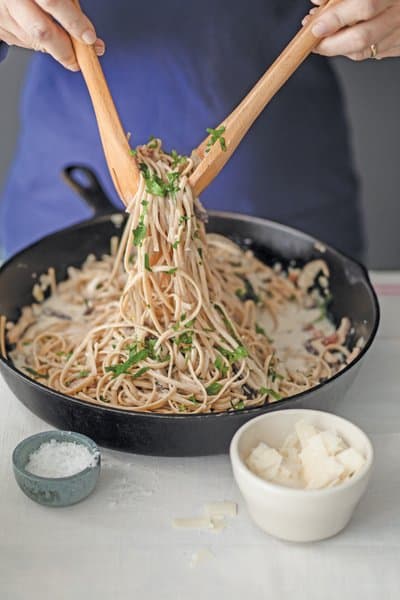 WHEN THEY SERVE PASTA AT THE WHITE HOUSE, this is it. And also, I'd like to come come over next time they do. But for now I'll have to settle for the most delicious sounding recipe for linguine that I've seen since we left Italy. In this excerpt from Michelle Obama's book, "American Grown", you'll find a creamy crowd-pleaser. We tried this recipe last night (delicious!) and now you can too. Best of all, you still have a chance to win your very own copy of her beautiful book, right here.
CHEF CHRIS COMERFORD'S LINGUINE WITH MUSHROOM BACON SAUCE

Reprinted with permission from "American Grown"

SERVES 6 T O 8
In 2011, in the shade of the trees behind the vegetable garden, we grew our own shiitake mushrooms; you should be able to find them at your local supermarket. The mushrooms have a meaty texture and a depth of flavor that's very satisfying. If you can't find shiitakes, substitute whatever variety is available. The dish will taste a little different but no less delicious. —Chef Cris

1 tablespoon olive oil
1 tablespoon unsalted butter
4 slices bacon, cut into small pieces
6 cloves garlic, minced
1 medium onion, chopped
1 ½ pounds shiitake mushrooms, stems removed, sliced . inch thick
1 cup half-and-half
½ cup low-sodium chicken stock
1 14.5-ounce box whole-wheat linguine
Zest and juice of 1 lemon
¼ cup chopped fresh flat-leaf parsley
¼ cup grated Parmesan cheese
Salt and freshly ground black pepper

1. In a large saucepan over medium heat, drizzle in the olive oil and add the butter. Add the
bacon and cook for about 2 minutes. Add the garlic and onion and cook until translucent,
5 to 7 minutes. Add the mushrooms and cook for about 5 minutes, until fragrant, stirring
occasionally.

2. Add the half-and-half and chicken stock and let simmer for about 10 minutes.

3. While the sauce is cooking, bring a large pot of salted water to a boil. Cook the pasta for
about 8 minutes, until al dente.

4. Drain the pasta and add it to the saucepan. Add the lemon zest and juice, parsley, and Parmesan. Toss the pasta with the sauce until thoroughly coated. Season with salt and pepper. Serve immediately on a warmed platter.
Reprinted from "American Grown: The Story of the White House Kitchen Garden and Gardens Across America" by Michelle Obama. Copyright © 2012 by the National Park Foundation. Published by Crown, a division of Random House, Inc.
Photo: Quentin Bacon Photography