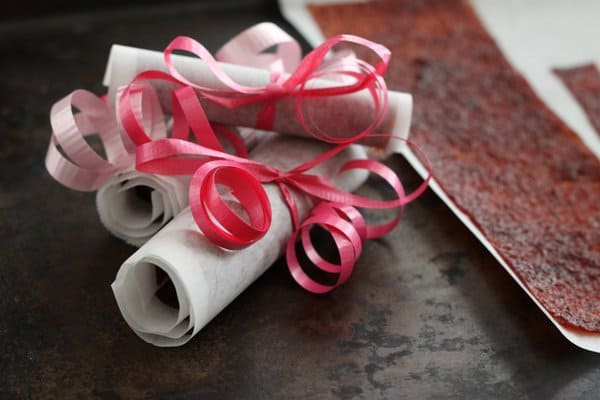 THERE WAS A TIME WHEN PHOEBE'S FAVORITE food was a "bar". Any bar, as long as it came in a crinkly package with neat edges. I don't have a small factory set up in my kitchen (though sometimes it feels that way), so when it comes to competing with packaged snacks my strategy is this: You can't go wrong with ribbon. Pretend it's a present. That's how we packed up this batch of homemade fruit strips, and both girls were thrilled.
Why even make such a thing? Particularly when there are pretty nice options available at Trader Joe's, even organic options? Because any time I can make something at home, I know (and understand) exactly what's going in. The ingredients in this snack are as follows: fruit, honey. End.
There's no sugar involved at all, which is another bonus.
I also think it's good to veer away from processed foods as much as possible, just as a family habit. Not to sound like a conspiracy theorist but there's a lot of junk going on, and going into our food. From GMO crops and corn syrup fillers to basic pesticides and preservatives, it's better to have a handle on what's happening in the kitchen. As they say online…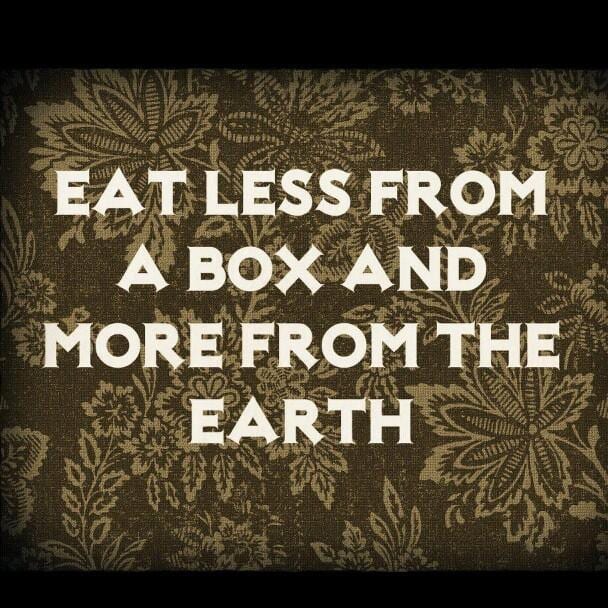 So we did. They take forever, but the process fills your home with the lovely scent of fruit and honey. The kids can help too: Phoebe (age 3 1/2) threw all the fruit into the blender and pushed the button (like a pro). Later on she helped roll the strips and put a tiny finger on top while I tied the ribbon.
You could do this with tons of fruit combinations, like strawberry banana, raspberry and blueberry, and so on. All summer long…
And they're great. Here's how we did it.
NO-SUGAR STRAWBERRY APPLE FRUIT ROLL-UPS

This makes a very big batch: two half-sheet pans (13″x18″). I liked making a lot at once, since it takes so long in the oven. (Similar to baked apple chips that way, and also delicious that way.)
ingredients
2 pounds fresh organic strawberries
2 apples, (we used Golden Delicious)
juice of 2 lemons
1/4-1/2 cup honey, depending on the sweetness of your strawberries
instructions
Stem the strawberries and toss in blender. Peel and roughly chop both apples. Into blender. Squeeze the juice from both lemons into the blender. Turn it on. Blend until everything is liquified and uniform.
Pour the mixture into a large, heavy bottom sauce pan. Add up to 1/2 cup of honey. Bring to a boil then reduce heat to low, simmering uncovered for about 40 minutes. The idea is to reduce the mixture, letting some of the liquid evaporate.
While that's happening, preheat oven to 200 degrees. Line two half-sheet baking pans (13″x18″) with parchment paper or silicone mats (I used the mats).
When it's more thickened, pour the reduced mixture onto the baking sheets and spread with a spatula. Try to get it as even as possible.
Now for the long part: Bake in the oven for 3-3 1/2 hours. Really.
Once it's sticky but no longer pliable (you shouldn't be able to poke your finger into the fruit anymore), take it out and let cool. You can even let it sit out overnight, it'll only get drier in this process, which is what you want.
I used kitchen shears to cut big, rustic strips but you could use a pizza cutter too. Then flip it around so the shiny (pretty) part is facing you. Roll up on a sheet of wax paper, and tie with a ribbon. Pink, optional. I threw a couple into a zip-top baggie and took to our local bouncy house the other day. Our kids by-passed the snack bar there, brimming with popcorn and candy as though it were a movie theater, and happily chowed down on that fruity goodness.
Take that, bar.
This post is part of Melt In Your Mouth Monday and Mix It Up Monday