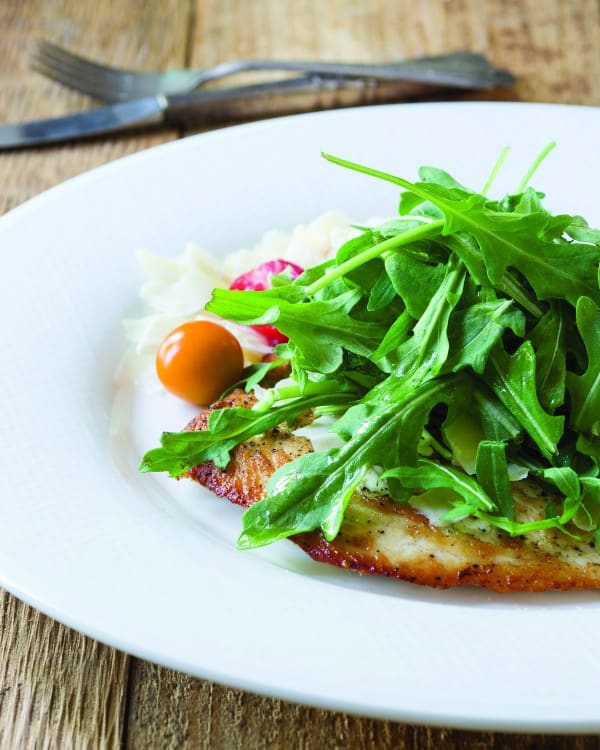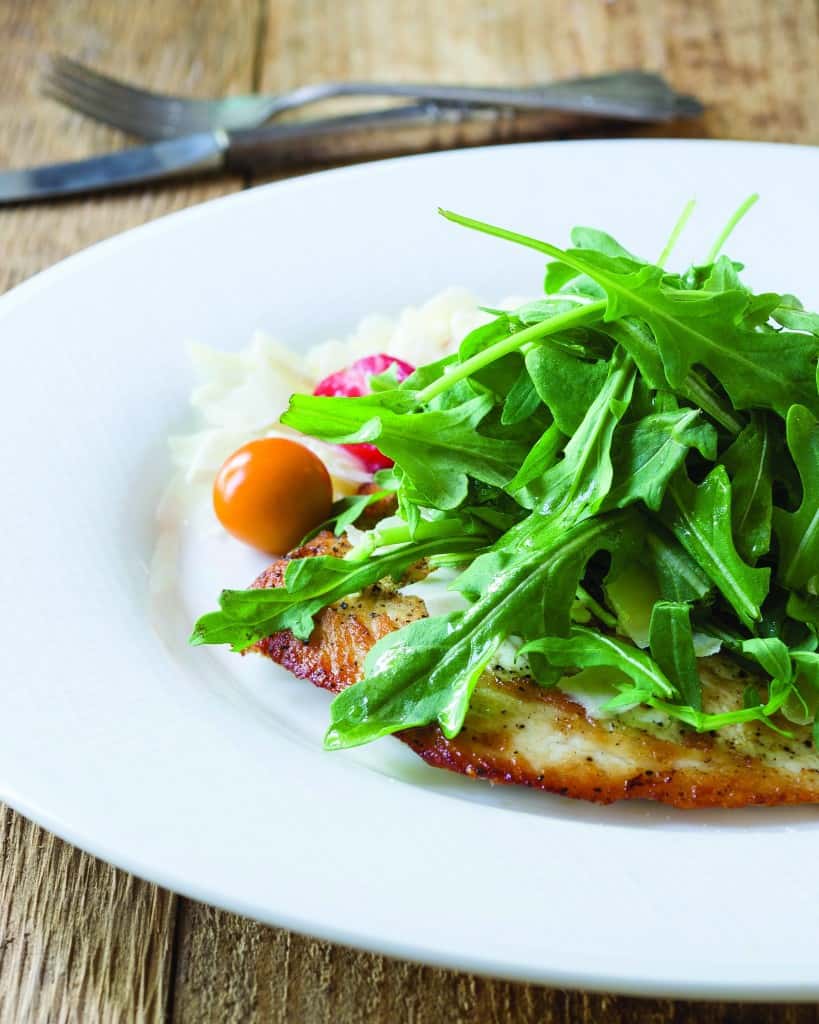 THE THING ABOUT COOKING DINNER IS, the whole process can get complicated. Even daunting. What to make, when to get to the store, what to do with the rest of that huge bag of kale… One of the things that I'm enjoying about Melissa Lanz's book, "The Fresh 20" (which you have an opportunity to win a copy of now!) is the planning. It's already done. And the recipes are simple. Like this one, a remake of an Italian classic that's lighter and healthier. Three things I love.
(And no, my kids will probably not eat arugula salad on top, but I will! And the little dumplings can just try one bite. That's all we ask around here, and it usually works very well.)
Pan-fried Chicken Milanese With Arugula Salad
from "The Fresh 20" by Melissa Lanz
Fried chicken is an American classic. This is a satisfying variation – lighter, full of flavor, and made with much less oil.  The key is getting the chicken breasts very thin and even.  That can be tricky, but it's worth the effort. If you don't have a meat mallet, a rolling pin and some muscle will do just fine.
Serves 4: 25 Minutes
For the chicken Milanese
2 boneless, skinless organic chicken breasts, sliced length-wise into 4 thin pieces
½ teaspoon kosher salt
½ teaspoon black pepper
½ teaspoon sweet Hungarian paprika
¼ cup olive oil
 One at a time, place each piece of chicken between two pieces of parchment paper or plastic wrap and pound to 1/8 inch thick. Season the chicken on both sides with the salt, pepper, and paprika.
Heat the olive oil in a 12-inch skillet until very hot.  Add the chicken cutlets, being careful not to crowd the pan (it may be necessary to cook the chicken in batches), and cook for about 4 minutes per side, or until golden brown on both sides. Remove from the heat and transfer to a paper-towel-lined plate.
For the arugula salad
4 cups baby arugula, washed and dried
6 ounces cherry or grape tomatoes (about 1 cup)
¼ cup dressing of your choice
2 ounces feta cheese, crumbled
 In a bowl, toss the arugula and tomatoes with the dressing.
Top each chicken piece with about a cup of the arugula salad. Sprinkle with the feta cheese.