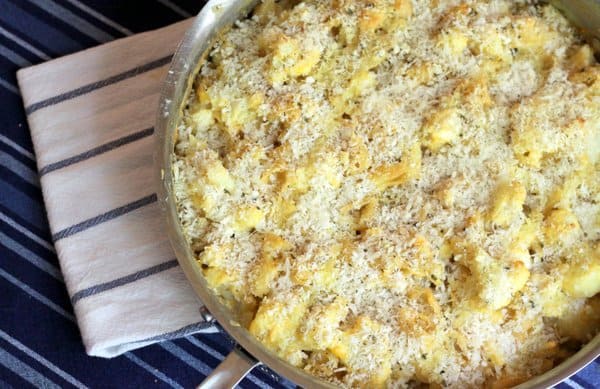 MY GOAL IS REAL FOOD. Less boxes, more produce. But all of this only matters if someone's willing to eat it. And before all the "mmms" and "Thanks Mom"-ing can begin, some brave soul must be willing to make it. This is where I (try to) come in. With the mind of a mad scientist who's got a major wheat germ complex, I think about great recipes that could use just something to make them work harder. Sometimes it's about being cuter (for the kids) or faster to prepare (for the parents) and almost always healthier (for everyone). Maybe even all three, starting with this classic. Try one of these updates on your favorite mac-n-cheese recipe.
Healthier
Instead of regular pasta, try a wheat blend or fiber-rich version. Wheat pasta has a very distinctive flavor, so if your family isn't used to it, don't go too far too soon.
Add veggies. During the last 3 minutes of cooking time for your pasta, add 3 cups of chopped cauliflower or grated carrots to the water. Drain and continue with the recipe. (Above is our macaroni & cheese with cauliflower, which Estelle ate nearly a pan of.)
Add protein. When you would normally stir the pasta into the cheese sauce, add ½ cup of crumbled extra firm tofu or slightly mashed white beans (drained and rinsed from a can).
Faster
Instead of making buttery breadcrumbs try this: Sprinkle a thin layer of panko breadcrumbs on top before baking. Add a layer of grated Parmesan cheese, followed by a handful of panko. Drizzle with olive oil and bake.
Cuter
It's hard to go wrong with individual ramekins filled with toasty macaroni and cheese but if filling several portions is too much work, just serve the final product in pretty little bowls, perched on top of the plate. A special touch for a seemingly ordinary (but very tasty) dish.