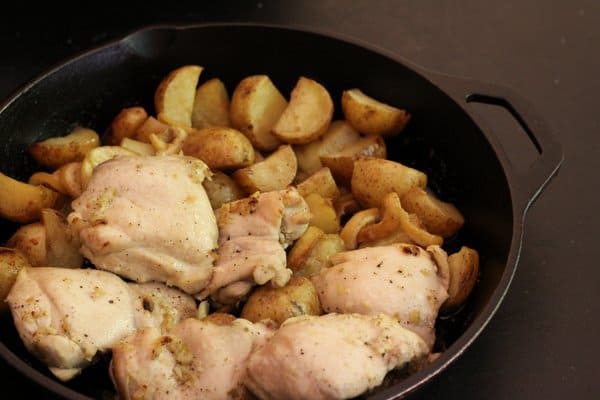 RIDICULOUSLY GOOD. And easy. And all the kids eat it. That's what I have to say about this chicken recipe, the one making the rounds on Facebook right now (have you seen it?) that's actually from Real Simple. And also this: We've had this recipe twice in the last week and might have it again.
You know how you're always looking for a recipe that includes both fresh vegetables and a protein, but one that's also as simple as it is tasty? This is the quest that drives many of us straight to the frozen foods section of Trader Joe's. Hello, frozen pizza! Perhaps it was the last round of potty training that left you so drained, it was all you could do to NOT simply fill the cart with 3-buck chuck? Perhaps not. Either way, I confess to feeling this way often. Despite my hopeful desire to feed this family lots of fresh, wholesome food, even I get discouraged when a kale-laden recipe doesn't really turn out to be so great. That's why I get so ridiculous excited when I stumble upon things like this.
Best of all, this one-pot meal uses fresh green beans and potatoes, two things easy to find at farmers' markets on sunny springtime weekends like these. (And if you're not sure where to find a farmer, try this map to locate markets in your area.) To save on cash, I also used chicken thighs instead of breasts, plus this cut makes smaller portions. My people are small so a juicy thigh is all they need at one sitting. I tried chicken thighs with skin and bones first, and made the whole thing again with neither one. The first was a LITTLE more flavorful and definitely browned more (the photo is the boneless version) but the boneless, skinless bird was also delicious and easier for the kids to eat: Begin gnawing and don't stop 'til you're done!
Any time I hear our two-year-old saying "More kitchen peas", I know I'm on to something. Hope our version of Real Simple's excellent idea works for you too.
ONE-POT ROASTED LEMON CHICKEN WITH GREEN BEANS AND POTATOES
adapted from Real Simple
ingredients
6 tablespoons olive oil
3 lemons, 2 thinly sliced, 1 juiced
4 cloves garlic, minced
1 teaspoon kosher salt
1/2 teaspoon freshly ground black pepper
3/4 pound trimmed green beans
8 small red potatoes, quartered
6 chicken thighs (bones left in, with skin, about 3 1/4 pounds — or without)
directions
Preheat oven to 400°F. Pour 1 tablespoon of olive oil into a cast iron skillet or baking dish. Arrange all lemon slices in a single layer in the bottom of the dish.
Now make the olive oil mixture that you'll coat all the ingredients with individually: In a large mixing bowl combine the rest of the oil plus lemon juice, garlic, salt and pepper. Throw in the green beans and toss until coated. Remove the beans from the bowl and add to the skillet or baking dish, layered on top of the lemons. Next, add the potatoes to the olive oil mixture and coat. Then layer the potatoes on top of the green beans in the skillet or dish. Finally coat the chicken with the olive oil mixture and layer on top of the potatoes, skin side up. Pour all remaining oil mixture on top of the chicken.
Roast for 35 minutes. Remove the chicken from the dish or skillet. Place the beans and potatoes back in oven for 10 minutes more or until the potatoes are tender.