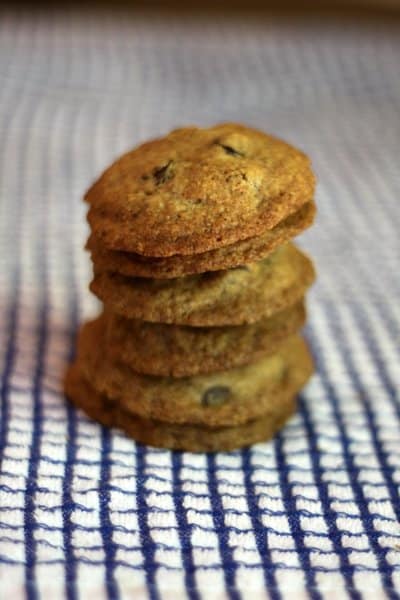 LIKE CAKE, COOKIES CAN ONLY BE SO "HEALTHY". And that's not really the point of them anyway. A treat is a treat, but with all the birthday parties and special celebrations going on during any given week, most of us are deeper in the throes of "cupcake creep" than we want to be. Enter the chocolate chip cookie that's just a little bit better for you. And certainly just as delicious.
These chocolate chip cookies became dessert for a picnic at the playground. Also included: turkey sandwiches on whole wheat sandwich slims (both from Trader Joe's, both without weird preservatives and also the perfect portion for small people), Kirby cucumbers (they're the crunchiest), tri-colored organic tomatoes (they're the most flavorful).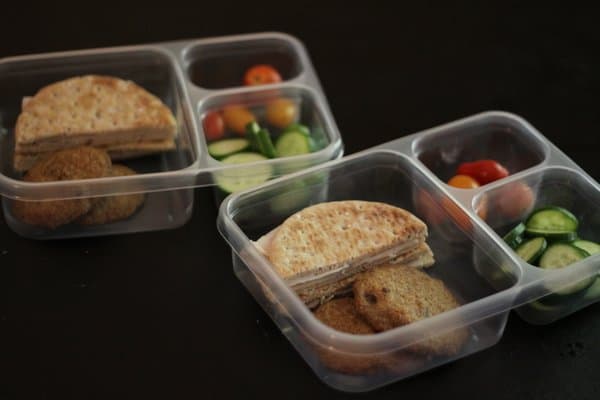 Also loving these simple lunch containers from Glad, who I don't have any sort of arrangement with, other than appreciation for these inexpensive yet useful boxes. Bought 2 packs of 2 for less than $5…and I've used them a dozen times already.
But back to the cookies. As Julia Roberts famously quipped, "I never met a cookie I didn't like", I feel just about the same. But since my blood sugar is always drooping and leaving me tired and cranky, and my little apples don't fall far from this tree, I like to add a bit of protein when and where I can. Enter almond meal. It's just ground up almonds. You can replace half the flour in your favorite chocolate chip cookie recipe, or try this one.
ALMOND MEAL CHOCOLATE CHIP COOKIES
ingredients
1/2 cup sugar
1/2 cup brown sugar
1 cup unsalted organic butter, softened
1 1/2 teaspoons vanilla extract
2 eggs organic & free range
1 cup whole wheat flour
1 cup almond meal (to make your own, just finely grind up raw almonds)
1/4 cup wheat germ
1 teaspoon baking soda
1 teaspoon salt
1 cup chopped walnuts (optional)
instructions
Preheat oven to 375. In a large mixing bowl, combine the sugar, butter and vanilla. Beat until creamy. Add eggs one at a time, mixing in between. Balance a metal sifter on top the mixing bowl and pour the dry ingredients on top: flour, almond meal, wheat germ, baking soda and salt. Sift until all ingredients have been strained through, tossing out any remaining wheat kernels. Add 2 cups chocolate chips and 1 cup chopped walnuts (if you like).
Bake on un-greased baking sheets for about 10 minutes.