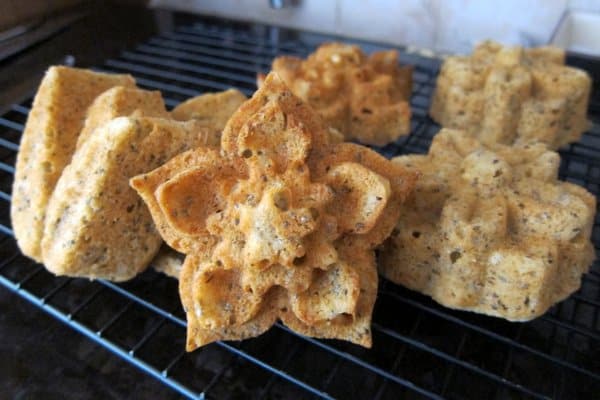 THEY'RE HERE! Remember when one of you wonderful people who actually read this blog asked me about doing a makeover of a recipe you found on your very expensive bag of chia seeds? I was all, sure, I'll do that! Then we started moving, packing, unpacking, trying to find the grocery store, hunting down preschools…and all thoughts of chia seeds went right out the rental house window. But that's all behind us now. We have moved into the new house and I won't bore you with those details now (I'll bore you with that later!)
Right now I have a yummy little recipe to share.
These are the first baked goods we've made in the new kitchen and my steady band of helpers was right here with me. Phoebe and George "helped" and you can guess which one was diligently rolling lemons on the counter while the other rifled through all the new cupboards before putting the applesauce strainer on his head. << "His" = spoiler. 🙂 Estelle was earning extra points in my book by taking a nap.
So far I've served these as a snack ("cake") and breakfast ("muffins"). George (13 months) LOVES them. Estelle (2 years) also devoured hers. Phoebe (4 years) didn't like them. She loves lemon but not in baked goods. (This came up earlier in the summer with another baked good so now I know). So, it's officially 2 out of 3 here–but I like them a lot!
The texture is a lot like a lemon poppyseed muffin, a good one. As usual, I reduced the sugar, added honey and applesauce, left out a bit of butter, doubled the chia seeds (though 1/4 cup will hardly make a dent in a big ol' bag of seeds!) and replaced half a cup of flour with oat bran. One funny thing: these don't call for eggs. I've never made a cake (or muffin) without them, but when Lori who posted the original list of ingredients didn't mention them, I just tried it. And the recipe worked out fine. (She doesn't have the bag anymore so we won't know if it was an oversight unless someone else has a bag with a similar looking recipe?)
My muffin pan cups are quite large and the batter is pretty runny with so much honey, so I cooked them for quite a while. You'll need to adjust if you use a regular sized pan; just reduce the cooking time by 3-5 minutes. Take them out when you can press your finger on the tops and it springs back immediately.
LOW-SUGAR LEMON CHIA SEED CAKES
makes 1 dozen regular-size muffins or cupcakes
ingredients
1/4 cup softened butter
1/4 cup applesauce
1/4 cup sugar
1/4 cup honey
1/4 cup lemon juice (2-3 lemons) plus the zest of all lemons
1/2 cup milk
1 cup flour
1/2 cup oat bran (powdered hot cereal, I just use a bag of the Kroger brand)
1 teas baking powder
1/4 teaspoon baking soda
1/4 teaspoon salt
1/4 cup chia seeds
instructions
Preheat oven to 375. Prepare muffin or cupcake pans (I like to use butter with a paper towel unless I'm doing the shapes then I use the spray with flour built-in. Not great but it's the only thing I've had success with so far!)
In a large bowl, combine the wet ingredients: butter, applesauce, sugar, honey, lemon juice and zest plus milk. Beat or stir for a minute until everything is creamed together. Add the dry ingredients all at once, working fairly quickly: flour, oat bran, baking powder, baking soda, salt and chia seeds. Mix until JUST combined.
Fill muffin or cupcake pans almost to the top and bake for approximately 15 minutes. *My flower-shaped pans were bigger so we only made 8 cakes and cooked them for 18 minutes.