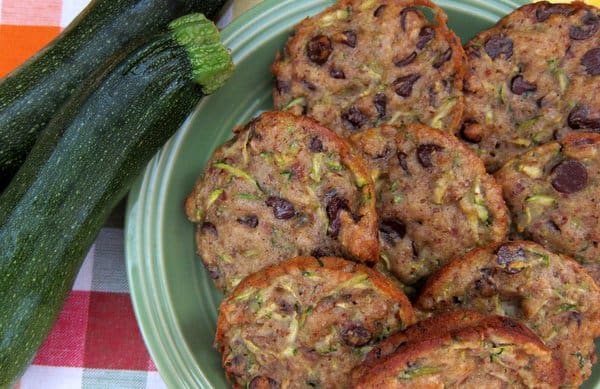 YEP, ZUCCHINI. Barbara Kingsolver wrote in her amazing book, "Animal, Vegetable, Miracle", about the windfall of zucchini she had after planting her first garden. They had piles of the stuff everywhere, on every surface of the kitchen. That's when her daughter decided to get drastic. Bake them into cookies, she said. And that's just what we did this week.
I don't have a garden yet (YET!) but next summer I hope to be regaling you with stories of my own vegetable overflow. What a great problem to have, right?  In the meantime, we've got cookies.
Technically I made these two ways and the photo above shows the batch baked in my muffin top pan, which I love. They kept shape better but weren't as crispy and sweet tasting as the batch I made on the regular cookie sheet. So, potato, po-tah-to. Depending on the way you like your cookies–cake-like or crispy on the edges–choose your pan accordingly.
One more thing. Mine turned out to be too chocolatey. Yes, there is such a thing and I'm as surprised as anyone to hear myself say it. Especially for little guys, I prefer to sprinkle a few chocolate chips onto each cookie, rather than mix into the whole batter. That way you know there are, say 4 chocolate chips, in each one. Enough to be a treat, even at breakfast time, but not too much, especially at breakfast time.
This particularly chocolatey batch was better as a snack, the better to burn off during the day. And you can see that someone would very much like to get in on this action…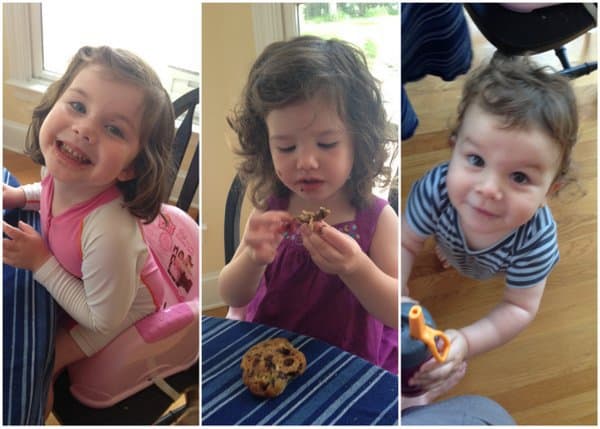 ZUCCHINI CHOCOLATE CHIP COOKIES
Adapted from "Animal, Vegetable, Miracle" by Barbara Kingsolver
ingredients
1/4 cup softened butter
1/4 cup applesauce
1 egg
1/2 cup brown sugar
1/3 cup honey
1 teaspoon vanilla extract
1 cup flour (I like to use a mix of organic white and whole wheat but just white will work)
1 cup almond meal (finely ground almonds)
1/2 teaspoon baking soda
1/4 teaspoon salt
1/4 teaspoon cinnamon
1 cup shredded zucchini (squeezed over the sink in some paper towels to reduce the moisture just a bit)
1/2 – 3/4 cup dark chocolate chips
instructions
Preheat oven to 350.
In a large bowl, cream together the butter, applesauce, egg, brown sugar, honey and vanilla. Then set a sifter above to combine the dry ingredients: flour, almond meal, baking soda, salt and cinnamon. Mix until almost incorporated, then add zucchini and stir. (Not too much!)
Drop balls of dough onto a cookie sheet or muffin top pan (even a mini-muffin pan would do) then sprinkle 3-4 chocolate chips on each one.
Bake for about 18 minutes (muffin tops), 15 minutes cookies.
This post is featured on Whole Foods Wednesdays, What I Whipped Up Wednesday and Wow Me Wednesday