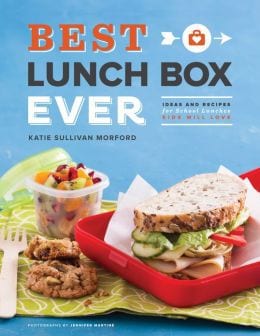 UGH. THAT'S THE SOUND OF MOST PARENTS MAKING SCHOOL LUNCHES. But not Katie Morford. Katie heads up the popular blog, Mom's Kitchen Handbook: Raising Fresh-Food Kids in a French-Fried World and just wrote a new book with a promising title, "Best Lunch Box Ever". Brimming with fresh, creative ideas that look just as tasty as they do nutritious, the book will be a huge help to any parent who's ever felt stumped for on-the-go inspiration. (Just check out this video about the book to see what I mean!)
That's why we asked her to spill her secrets. How does she put together healthy meals that her kids are happy to eat — and do it day after day? You'll find out right here.
1.  You seem so cool and creative about a chore that most parents seem to really loathe. What's your secret?
To be honest, creativity in school lunch is the only way I've found to keep things interesting…for me and for the kids. I wanted to share that with others, particularly because packing lunches seems to be the biggest gripe I hear from parents. Whenever I put a recipe or tips focused on school lunch up on my blog, people really respond. And being creative doesn't mean spending a ton of time on lunches. It doesn't require sandwiches that are cut into fancy shapes. It's just about keeping some fresh ideas in your repertoire and trying to have a little fun in the process.
2. What are your top 2-3 can't-miss, works-every-time, go-to lunch ideas for your kids? 
I do a quick pizza on whole wheat lavash bread that I make in my toaster oven, usually in the morning while I'm pulling together breakfast. The lavash makes an amazing crispy pizza crust. With a few veggies on top, it's quite wholesome.
I often make a big pot of beans to use in various dishes throughout the week. For lunches, I'll mix black beans with cheese and salsa and pack that with diced avocado and chips on the side. The thermoses always comes home empty with that one.
I can put practically anything on a crusty baguette, even a whole grain one, and the kids really go for it.  
3. When do you pack lunches, in the morning or the night before? Why?
It depends on what I'm packing. I usually do some of the work in advance. For example, I fill containers with veggies and keep them in the fridge, or package up trail mix or other crunchy snacks. I prefer to make sandwiches in the morning, but I'll have everything ready to go so I can pull it all together quickly. I think leftovers are the secret weapon of the school lunch so when I'm putting food away from dinner, I'll often portion some into containers for lunch.
4. Packing lunches every day sounds like a lot of work (mine aren't old enough for this yet). What are your best time-saving tips for tackling a week's worth of lunches?
Have your pantry and fridge stocked with lunch box-friendly foods to draw from: plenty of fruit and veggies, nut or seed butters, yogurt, eggs, a couple of bread options, cheeses, sliced turkey, a couple of wholesome snacks. My book gives a lot of ideas along these lines.
Do some advanced prep before the week begins. For example, hard boil a few eggs, which are great for lunches. Make a big pot of applesauce, which are terrific portioned into little containers. Cut up raw vegetables or wash salad greens. I often will to do a little weekend baking with the kids where we'll make something fun for lunches like a batch of granola bars or a healthy snack mix.
Teach your kids to pitch in. Often, we'll divvy up the tasks where the kids will help with the sides and I'll do the mains or vice verse.  It makes less work for me and they are more vested in eating their lunches since they were involved in making them.
Plan for leftovers. Cook more at dinner than you'll need so that you have enough to fill lunch boxes the next day.
5. Do your kids eat everything you pack? Have you ever packed something that was totally rejected, traded or thrown away? 
I'm a big believer in experimenting because you never know until you try. Occasionally I'll put something in there and the kids come home and tell me I went a little overboard. I sent warm sweet potatoes in thermoses once and they weren't too keen on that, even though they normally like them.  But sometimes the experimentation works. The kids now like radishes, and that is something that started in school lunches.
6. Do your kids like having a home-packed lunch better than buying at school? Any complaints and if so, how do you handle it going forward? 
I think generally my kids appreciate their lunches and know that I make them healthy because I care about them. But they're still kids and sometimes envy a classmate who has the packaged cookies or neon cheese puffs or colored juice drink.  They buy lunch at school once a week and seem to think that's about right.