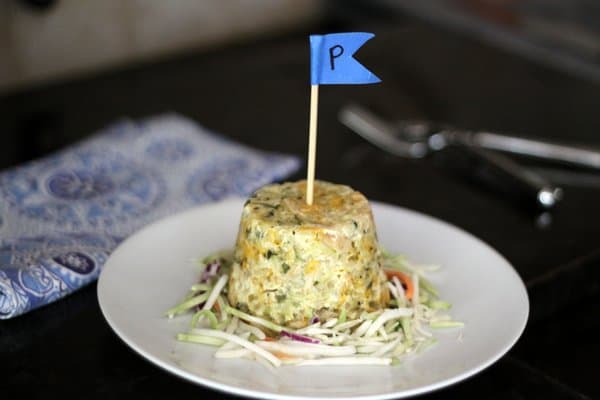 "THIS IS SO AWESOME!" That's what Phoebe said when she saw her casserole castle last night. Then she wouldn't eat it. Instead there was lots of trying to hug it while murmuring, "I just love it so much". So that was the down side. The good news is, the whole thing couldn't be easier to make and I think it would work with pretty much any casserole. Here's how we did it…
This is a riff off of the delicious casseroles my mother-in-law made when we were on a trip earlier in the summer. There's one that's made from chicken and summer squash and Phoebe digs it so much, she actually got all surly with me a couple of weeks after we got home. Suddenly marching into the kitchen saying, "You never make my favorite food!" It took a bunch of rounds of, "What? What are you talking about? And also, don't talk to me like that" to get the details. She wanted the chicken and squash stuff. And fast.
To make up for lost time, I made it last night–as a castle. (Unfortunately Estelle was sick and not into solid food quite yet. But I did make her a flag. And George ate a castle, but no flag for that little monkey.) I used this Jumbo Muffin Pan from Wilton because I thought the height would be fun. And it was, but it was really too much food for a kid. You should try a regular muffin tin and just invert it.
The flag was easy: Snap a wooden skewer in two pieces and you'll have two flag poles. Then attach a piece of painter's tape so the ends are touching each other and the middle is wrapped around the pole. Cut the ends into shape with scissors and write the kid's initial on the flag. Ta da!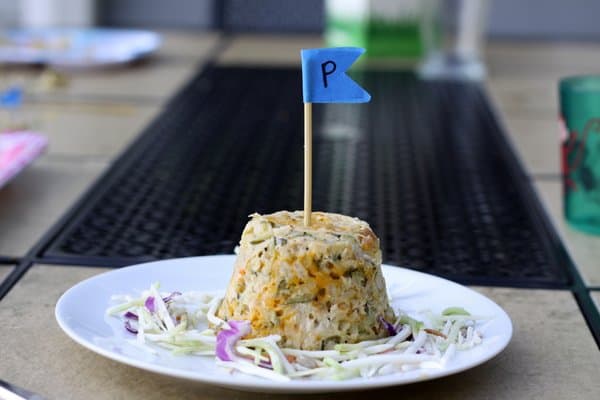 CHICKEN & ZUCCHINI CASSEROLE CASTLES
makes 6 large muffin tin castles or 12 regular size muffin tin castles
ingredients
2 1/2 – 3 cups grated zucchini (I used 2 medium zucchinis)
1/2 grated onion
1 cup cooked chicken, shredded
1 cup plain regular or low-fat yogurt
1/2 cup regular or low-fat cottage cheese
1 cup sharp cheddar cheese
2 cups cooked brown rice or quinoa
1 egg
1 teaspoon salt
1/2 teaspoon pepper
1 teaspoon garlic salt
1 teaspoon oregano
instructions
Preheat oven to 350. Grease muffin tins with butter.
In a large bowl, combine all ingredients then fill muffin cups.
Bake for 20-25 minutes until tops are golden and you see bubbles sizzling at the sides.
Invert on a plate and plant the flag. Add any garnish your child likes as a moat: salad, cucumber slices, cherry tomatoes, shredded cheese…