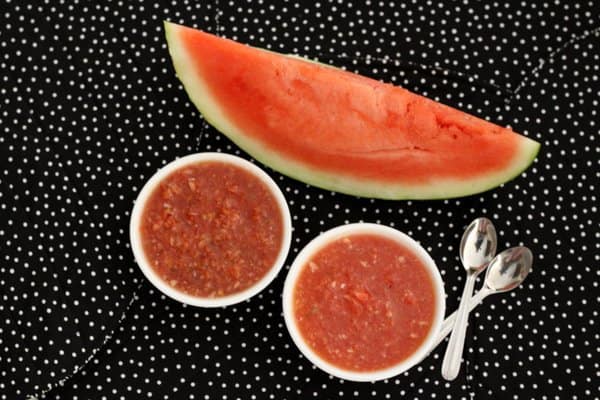 SOME RECIPES FOLLOW YOU wherever you go. The Barefoot Contessa's gazpacho is one of them, and I've been making it longer than I've been a parent. Maybe even longer than I've known Paul.
There were big batches blended up in small New York City apartments, at least as many in Rome and now our first batch in North Carolina. It's so good, so simple and so fresh that I always make at least one pot every summer. This time I convinced the kids to try it by making a few simple swaps. The reviews were mixed, but at least everyone tried it.
Most kids don't do spicy. But most gazpacho is spicy, so something has to be done if ever the two shall meet. When I was blending up this batch of gazpacho, I noticed that Ina Garten suggests processing each thing separately. First do the cucumbers, then empty into a big bowl. Then do the tomatoes, pour into the bowl. It's the perfect recipe to make a few easy kid-friendly substitutions without losing flavor in the adult version or admitting defeat early on by making something else for the kids entirely.
Don't do that. Do this instead.
Foodlets Makeover: Ina Garten's Gazpacho becomes (much) more kid-friendly
You'll need two things for this makeover: an extra bowl for the kids' gazpacho and a watermelon (optional: feta cheese)
Leave out: onions and garlic
Add: 2-3 cups watermelon, pulsed only once or twice. You don't need it entirely pureed.
Optional: Use a melon baller to add a few extra bites of watermelon to the kids' bowls. Also consider sprinkling feta cheese on top if that's appealing to your kids. If not, skip it.