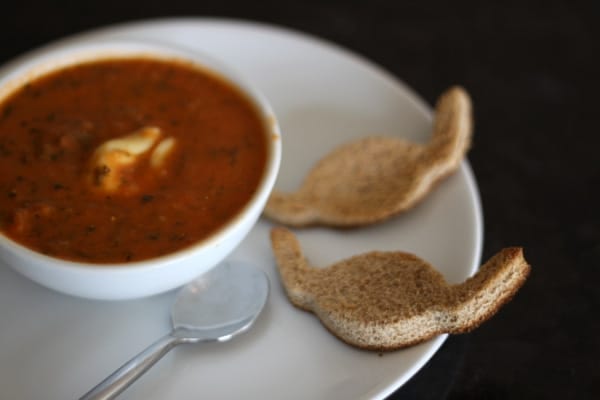 Dear Ina Garten, you know I love you and your amazing recipes, but I can no longer spend 45 minutes roasting tomatoes BEFORE the soup making process begins. That is because there are three small crazy people living in my house now. I can however, make a simpler (and healthier) version of your wonderful Roasted Tomato Basil Soup, the Heaven in a Bowl I used to make before all of these children moved in. And because it's nearly Halloween, I'll throw in a few bat-shaped croutons too. Whole-wheat. I hope you'll understand. xoxo – CCM
If you've never made the Barefoot Contessa's tomato soup before, you should. Because it's delicious. Just wait for a day when your kids aren't home.  Or when they don't need your attention for a couple of hours. Or when you emerge from a Target store spending less than 80 bucks. Pick one of those days.
If none of those are are your radar soon, make this one instead.
It's hearty enough to serve as dinner, even for hungry husbands. And healthy enough to skip the struggle over serving veggies on the side. (But if you do want a little crispy goodness to go along with it, you can't lose with our kid-friendly crudite and better-for-you Ranch dip.)
KIDS CAN HELP
Phoebe (4) helped with nearly every step of this, since it's mostly pouring and stirring. She even manned the food processor in the end. If you ask her, she'll say she made this soup and she's "the proudest ever."

tomato, basil & spinach soup with cheese tortellini (and bat croutons)
We made double the amount below and it was WAY too much soup, even for a family of 5-ish. With that said, you could certainly double the ingredients below and have enough to feed a very big crowd. Sun-dried tomatoes add an earthy, sweet taste to the soup without having to use the oven as a first step.
Ingredients
2 onions, roughly chopped
2 tablespoons extra virgin olive oil
1 48-ounce can of whole tomatoes (from San Marzano if possible)
1 48-ounce carton of low sodium chicken broth
¾ cup sun-dried tomatoes (we used dried, in a bag but oil-packed would work too)
1 cup organic spinach (frozen or fresh)
½ cup fresh basil
2 teaspoons dried oregano
2 teaspoons garlic powder
1 teaspoon salt
½ teaspoon pepper
1 package (about 2 cups) fresh or frozen cheese tortellini (RESERVED)
(optional) ⅔ cup Greek yogurt (RESERVED)
Instructions
In a Dutch oven, sautee onions in the oil over medium-low heat, until soft about 10 minutes. Add everything else EXCEPT the tortellini and yogurt and bring to a boil. Turn to low and simmer for 20-25 minutes.
Use a hand-held emersion blender or allow to cool a few minutes before pouring into a food processor. Blend until the soup is uniform but still thick. (You'll see flecks of green from the basil and spinach and the rest will have a very thick texture.)
Pour the soup back in the pot (if you used a food processor) and bring back to high heat. Add tortellini and cook according to package instructions MINUS one minute. If you're using the yogurt, spoon it in after soup is off the heat. Or, add a dollop to the bottom of each person's bowl for a creamy surprise.
to make croutons
I used few cookie cutters from my Wilton Halloween set (which was $6.99 at Walmart) and stamped out our regular sandwich bread (Arnold 100% Whole Wheat). Put the croutons on a cookie sheet under the broiler for 1-2 minutes. Flip and broil again for 30 seconds. Then slather on a little butter.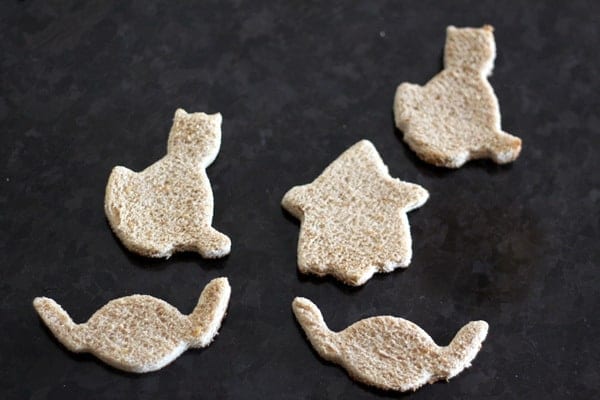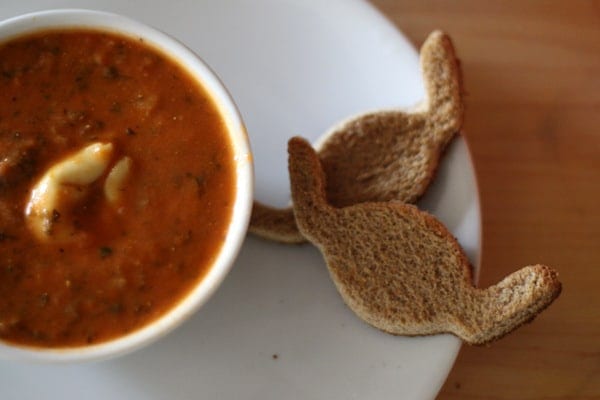 Foodlets Rating: 3/3
Phoebe (4) likes the soup, but not the tortellini. Estelle (2) likes the tortellini. George (1) likes all food, including this soup. All three devoured the croutons.
Want more healthy Halloween ideas? Check out our complete collection here!