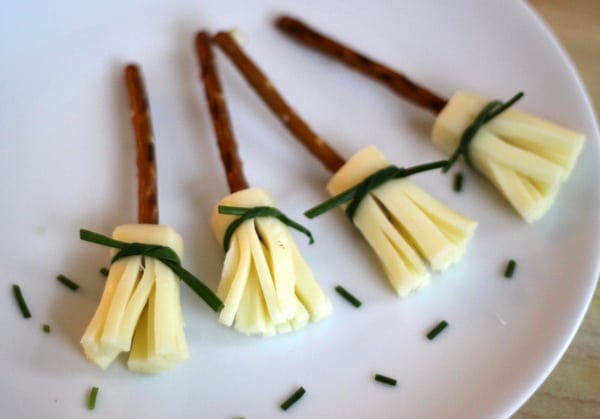 TODAY'S POST WAS MADE POSSIBLE BY PINTEREST. You've seen them, haven't you? These adorable witches' brooms made from string cheese, pretzels and chives? Now let me be honest. Sometimes I have to take a break from Pinterest because it makes me feel bad about myself. But on this particular day, with the pressure of my turn to supply the preschool snack upon me, I bravely tried to recreate one of the zillion wow-I-can't-believe-other-moms-are-doing-this ideas from Pinterest and guess what…it was actually pretty easy. Here's how you can do it too.
I like these brooms because they fall into the Healthy-Ish Halloween Ideas that I'm looking for these days. With three small kids and a fun holiday around the corner, I say let's focus on costumes and cute food. Who needs so much sugar? More on that in my recent BabyZone column here…
Buy a regular pack of string cheese (I like organic but potato, potah-toe.) Cut the cheese into thirds. Then use a paring knife to dice the "bristles" about 3/4 of the way from the top. Cut 3-4 planks on one side, then rotate the cheese and cut 3-4 slices again, giving you matchsticks.
Tie a single fresh chive around the top, just for cuteness.
If you are storing them overnight don't put the pretzels in yet. Wait until the morning to simply press a pretzel stick into the cheese. Not too far. They're sturdier than you think but not impenetrable. Fluff the bristles — consider standing them up like the Sorcerer's Apprentice — and serve.