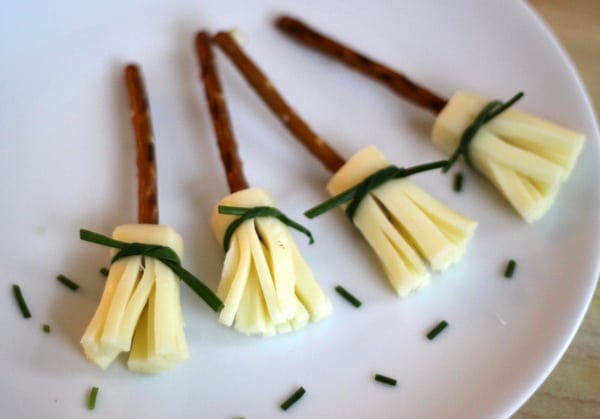 TODAY'S HEALTHY HALLOWEEN FOOD POST WAS MADE POSSIBLE BY PINTEREST. You've seen them, haven't you? These adorable witches' brooms made from string cheese, pretzels and chives? On this particular day, with the pressure of supplying the preschool snack falling squarely on my shoulders, I bravely tried to recreate one of the zillion wow-I-can't-believe-other-moms-are-doing-this ideas from Pinterest and guess what…it was actually pretty easy. Here's how you can do it too.
INSTRUCTIONS
Start with a regular pack of string cheese (I like organic but potato, potah-toe.)
Cut the cheese stick in half.
Dice the "bristles" about 3/4 of the way from the top. Cut 2-3 planks on one side, then rotate the cheese and cut 3-4 slices again, giving you matchsticks, or "bristles".
Tie a single fresh chive around the top, just for cuteness. Or skip it.
Gently insert a pretzel stick.
Serving TIP
If you are storing the witches' brooms overnight don't put the pretzels in yet. Wait until the morning to simply press a pretzel stick into the cheese. NOT TOO FAR. They're sturdier than you think but not impenetrable. Fluff the bristles — consider standing them up like the Sorcerer's Apprentice — and serve.
Fill your child's life with more good, fresh & healthy food!
Subscribe via email and check out our FB page where I share tons more creative ideas and resources from around the web.