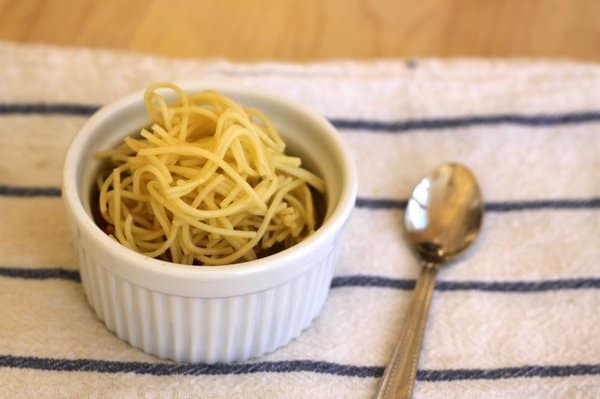 I HAD TO PHONE A FRIEND FOR THIS ONE. Last night was a much needed ladies' night for myself and the first friend I made in North Carolina, an outsider like me, only Therese came to Durham from Switzerland. She's also the mother of three, two girls and one boy, but hers are older and more spread out, about 3-4 years apart instead of a few months like mine. I joke that hers is a more civilized arrangement. Oh, Europeans, always so chic about everything.
In the course of the evening, there was wine, delicious food that neither of us cooked (or cleaned up after) and me grilling her for advice as always. Lamenting that I made homemade soup for the brood and said brood wouldn't even try it, she told me that hers loves it. Of course. But there was a secret: prepare angel hair pasta separately and pile the noodles loosely on top of each bowl. They don't get too mushy this way and it's also fun to see a tower of pasta in front of you. Especially when you're four.
As always, she was right.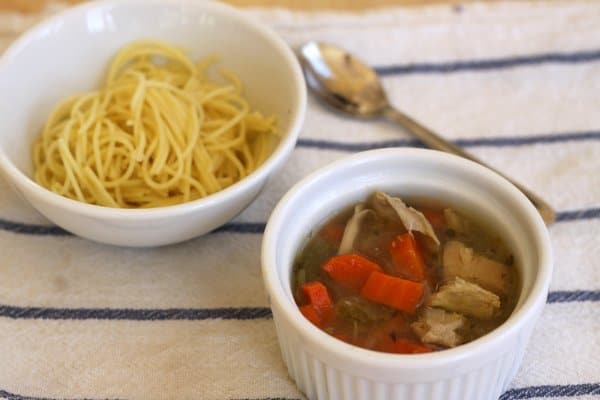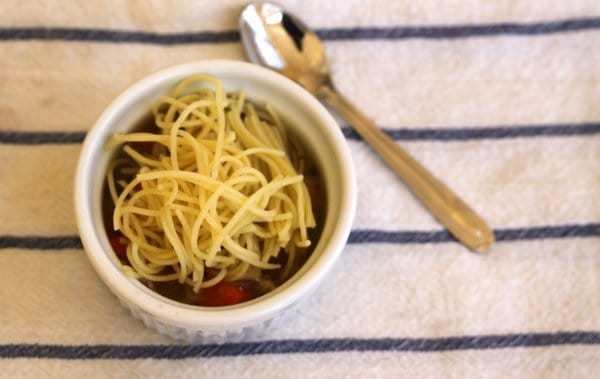 Chicken Soup with Noodles
ingredients
2 cups roasted chicken, cut or shred into small pieces (I used a leftover roasted chicken, you could also cook 2 chicken breasts, rubbed with olive oil and sprinkled with salt and pepper, in the oven at 375 for about 25 minutes.)
1 tablespoon butter
1 tablespoon olive oil
2 sweet onions, diced
4 garlic cloves, smashed
4-6 medium carrots, peeled and largely diced
4 celery stalks
48 ounces chicken stock or low-sodium broth (this is 1 1/2 cartons of 32 oz stock)
2 bay leaves
1/2 teaspoon dried thyme
1/2 teaspoon dried basil
1/2 teaspoon dried dill
1 teaspoon salt
1/2 teaspoon pepper
1/4 package of angel hair pasta, broken up into bite-size pieces
2 teaspoons kosher salt for cooking water
instructions
Add butter and oil to a Dutch oven then cook onions for 5 minutes until they start to get translucent. Add garlic and cook for one minute. Add carrots and celery and cook for about 10 minutes, until everything starts to glisten and get a bit soft.
Pour in the stock or broth, seasonings and chicken. Bring to a boil then simmer for 30 minutes. OR, put everything into a slow cooker and cook for 2-4 hours on low.
If you're serving the soup now, prepare the pasta. Bring a large pot of water to a boil, add the salt then pasta. Cook until al dente OR 2 minutes minus the cooking time suggested on the box. Drain and rinse. Normally you don't rinse pasta (because it takes all the starch out and the sauce won't stick to the noodles but we don't need or want sticky noodles here.) Set aside until you're ready to start piling.