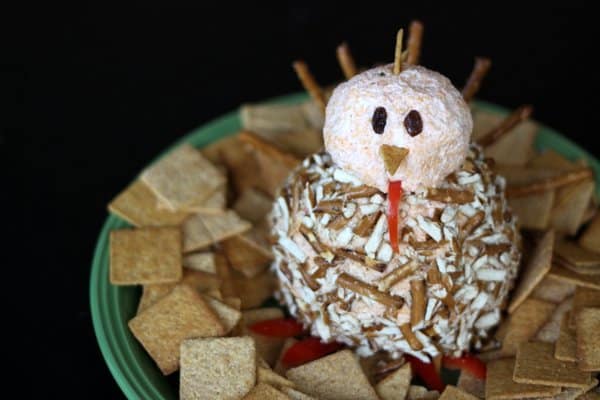 DID YOU KNOW MOST CHEESE BALLS INCLUDE NUTS? And all sorts of spicy ingredients? At least the recipes I found do. This was a problem because two forces aligned this week: it was our turn to take the preschool snack and my former Martha Stewart Omnimedia alum, Michelle Buffardi, has an adorable new book out called "Great Balls of Cheese". Seriously, it's the greatest hostess gift ever and I may buy many copies in bulk. So when I saw this turkey shaped cheese ball, I had to make it. Had to. But couldn't. It had nuts and our preschool has a no-nut policy. So we found another recipe and made updates.
Here's the verdict.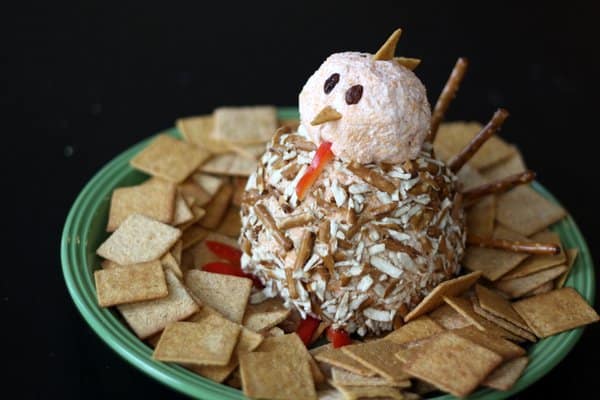 Pretty darn cute.
Phoebe was SO proud to bring the snack today and help set it up. And honestly, it wasn't very hard to make. Muffins take longer. It's a HUGE cheese ball and I'd say it was a hit. We brought home about a third of it, and that was after one of the four-year-olds plucked the entire head and put it right on his plate. I'll take this, thank you.
When I was packing up at the end of the day, putting foil over the remaining bird, two girls ran up to me. Thinking they'd be glowing with praise for today's special treat I got ready to say my sweetest, "You're welcomes!" Here's what they said: "Next time will you please bring pumpkin muffins?" Um, sure.
Then we got home and Estelle ate the rest. Redeemed!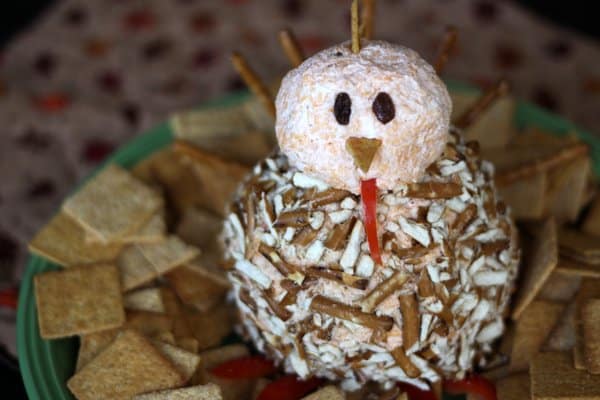 Nut-Free Cheddar Cheese Ball for Kids
ingredients
16 ounces cream cheese (room temperature)
2 cups finely shredded cheddar cheese
2 tablespoons mild salsa
1 teaspoon garlic powder
1/2 teaspoon salt
(for the exterior)
pretzels
raisins
square crackers (We used Wheat Thins.)
red pepper
instructions
In a medium sized mixing bowl combine the cream cheese, cheddar, salsa, garlic powder and salt. Make two balls, one bigger than the other (like a two-part snowman) by spooning the mixture onto two big pieces of plastic wrap. Mold each one with your hands and make balls. Put in the fridge while you prepare the external parts.
I used crushed pretzels for the turkey's body and whole pretzel sticks as the tail feathers. To crush them, just put in a plastic baggie and roll them with a rolling pin. Snap off the corners of a Wheat Thin to make the beak and top feathers of the head. Then slice 5 strips red pepper: two for each foot and one for the waggle.
Assemble the whole thing the way you'd guess but do this first: Set out the "feet" on your platter, then put the big ball on top. Next the small ball (the "head"). Then cover the body with pretzel pieces, leaving the head without. Add the raisin eyes, cracker beak and head feathers. Last, push pretzel sticks into the big bottom ball to create the tail.
Note: I made everything the night before except the tail feathers. I stored the whole thing in a small mixing bowl covered with foil overnight and it worked fine. Then I transferred to a platter today, added the tail feathers and lined the whole thing with the rest of the crackers.