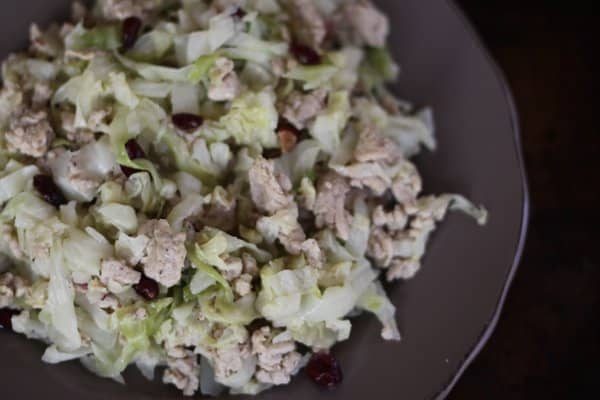 HERE'S THE PINT-SIZED REVIEW FOR THIS ONE: "I like it a little bit." That would be Phoebe (4) when I served this cabbage dish for dinner the other night. Estelle (2) and George (1) were equally enthusiastic. And you know what? That works for me!
A few bites here, a few bites there, and pretty soon we've got cabbage eaters at the table, which is a good thing because that stuff is a little-known superfood. 
Besides being affordable, available year-round and easy to grow in your own garden, cabbage has all these benefits too:
fiber (to keep things regular)
antioxidants (boosted brain power, anti-inflammation, cancer prevention)
lowering cholesterol (keeping little, and big, hearts healthy)
glucosinolates (cancer fighting substances)
Even Dr. Oz says cabbage is one of five foods to eat for better health. Cabbage, it's not trendy but boy is it a good habit to start early! Here's how we made this meal that by the way, I loved.
Sauteed Cabbage & Chicken with Dried Cranberries & Toasted Almonds
I used ground chicken but any kind of ground meat would work; use what your group likes.
ingredients
1 tablespoon olive oil
1/2 onion finely diced
3/4 pound ground chicken (turkey, beef or sausage)
1 medium cabbage, quartered, cored and sliced thinly
1 teaspoon salt
1/4 teaspoon pepper
optional: dried cranberries
optional: chopped almonds
instructions
In a large skillet, heat the oil and add your onion. Cook on low heat for about 5 minutes, then add chicken. Brown chicken for about 5 minutes then add cabbage. You can add it in bunches, because it'll cook down and allow more room in the pan. Add salt and pepper, then stir every few minutes. Cook until all the cabbage is wilted and absorbing the flavors of the chicken and onion, about 10-15 minutes depending on how big your cabbage is.
To serve, let the kids add toppings like dried cranberries and chopped almonds. Both pantry staples, both a delicious contrast to the meat and cabbage. And if you've got a spicy person like we do (his name is DADDY) let him add a few red pepper flakes too. Sometimes toppings can make the meal, or at least get the little guys interested and this is one of those dinners.