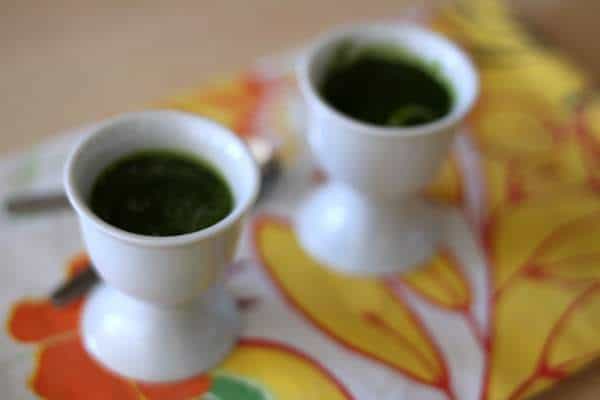 This is an idea straight from "French Kids Eat Everything", and I love it. In her amazing memoir about moving to France with two picky eaters then watching the European culture transform their whole family, Karen Le Billon explains that many French households have a baby food maker handy, even if they don't have a baby. The reason? To better make simple soups like this. (Bonus, you have a chance to win a Cuisinart baby food maker right here, on Foodlets right now!) 
I did make this spinach soup in our cool little baby food maker, but you could easily do it with a microwave, a bowl and a blender. The whole idea is to make a little shot of soup, basically a straight serving of veggies, and serve it right before the rest of dinner hits the table.
Here's what's important:
It has to be first, before dinner, like a starter. Hungry kids are more adventurous eaters.
Keep the portion very small, even a few spoonfuls will do.
Sprinkle with a little salt and swirl in a bit of salted butter.
Make it cute. Dust off a shot glass or an espresso cup, either one will seem very special to little hands whose dishes usually have Dora's smiling face on them.
To be honest, my kids did not love this soup. They did eat it, but they didn't love it. And that's fine. I actually did a shot myself and felt amazing immediately. We also tried it with carrots and that was a pretty big failure; I didn't even like that one. But we're going to keep on with it. What a fun and over-the-top healthy way to be French. Never would've thought!
Simple Spinach Soup for Kids
makes about 1 1/2 cups
ingredients
3 cups fresh baby spinach 

1/2 cup water
optional add-ins
sprinkle of sea salt

swirl of salted butter

half-n-half
extra virgin olive oil
instructions
Steam the spinach in water until wilted. About one minute in the microwave, or two minutes in a saucepan. (And if you do use the baby food maker, follow the unit's directions.) Then blend until liquified.