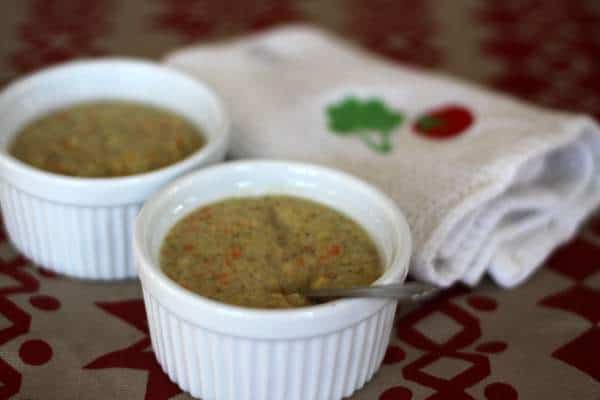 ADD THIS ONE TO THE "AT LEAST I LIKED IT" CATEGORY. But we'll try again because I actually loved this soup, so there's gotta be hope for the rascals. Besides, they can't get enough broccoli when it's roasted with olive oil, so the hardest part–getting them familiar with the sometimes tricky flavor of broccoli–is already done. Now it's all about more soup and when the weather's this cold, soup is an easier sell than ever.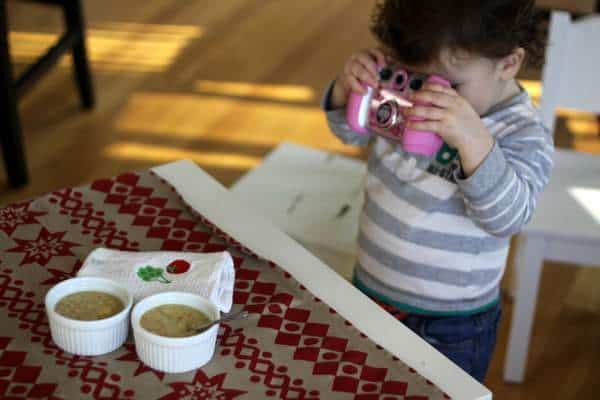 See? George is totally into it.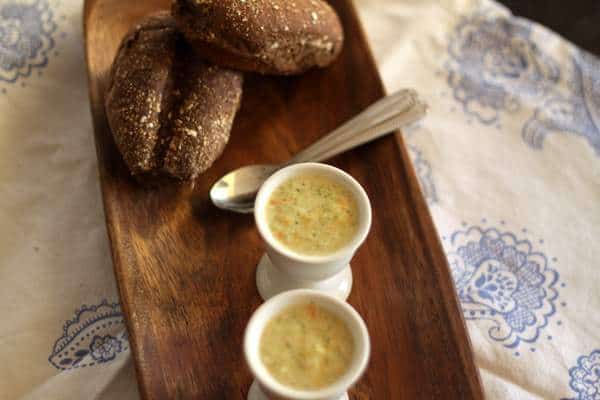 When I served it with bread and butter, and also limited the portions to just a few bites, it faired a little better.  But let's face it, no one was cheering for more soup. This time. That's fine with me, it'll be back! And here's how we'll do it again next time.
Healthier Broccoli & Cheese Soup
ingredients
3 tablespoons unsalted butter
1 tablespoon olive oil
2 medium onions, finely diced
1/4 cup all-purpose flour
2 cups low-fat milk
3 cups low-sodium chicken broth
2 bay leaves
1/4 teaspoon freshly grated nutmeg
1 teaspoon salt
1/2 teaspoon pepper
4 cups broccoli florets, chopped
1/2 cup shredded carrots
2 cups (about 8 ounces) grated sharp cheddar cheese
instructions
In a Dutch oven, heat the butter and oil then onion, cooking on low heat for about 5 minutes until onion becomes shiny. Add 1/4 cup flour and cook for about 1 minute, stirring constantly. Slowly add the milk, allowing sauce to bubble up in between each pour of milk. Once the milk is incorporated, add the chicken broth, bay leaves, nutmeg, salt and pepper. Stir. Add broccoli and carrots and simmer for about 20 minutes.
Working in batches, transfer the soup to a blender or food processor to blend, then return to Dutch oven. Add cheddar cheese, stir until melted and serve.