I've tried making broccoli soup for my kids before. With tons of cheese. And love.
It took a ton of love to grate all that cheese alone, and guess what? They hated it. The soup. I'm assuming (for my own mental health) they're into the love.
This time I went simpler. MUCH simpler. There's no milk involved, no cheese in the soup (only a little sprinkled on top.) Not counting the seasonings, it just takes 5 things you probably already have at home: a bag of frozen broccoli, chicken broth, an onion, celery and carrots.
The result? It's awesome!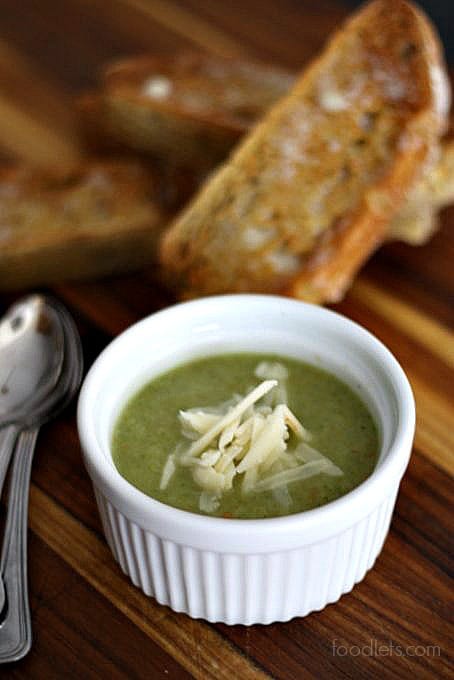 I've made this super simple broccoli soup twice and both times it was slurped up ASAP, with a second ladle full of soup on its way to every bowl at the kiddie table.
ps. You could make the whole thing heartier by adding a can of white beans to the pan before blending. Just rinse and drain. Instant protein!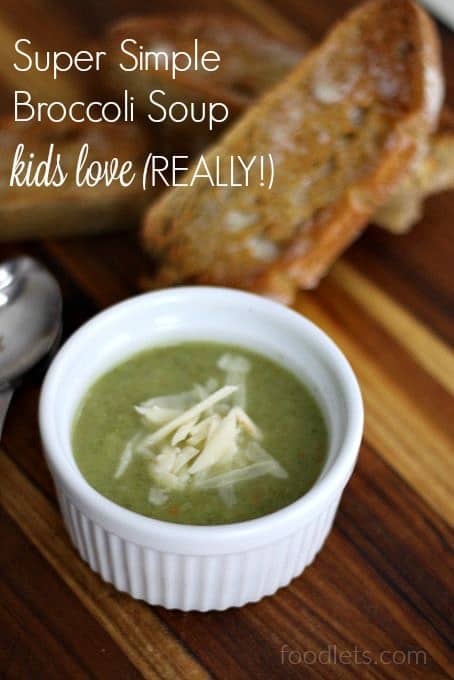 Broccoli Soup Kids Love
This makes enough for a lunch for 2 adults and 4 small kids, along with crusty bread. Double the recipe to have ANY leftovers or if you're serving a bigger/hungry crowd.
Ingredients
2 tablespoons butter
1 onion, diced
2 ribs celery, diced
2 cloves garlic, minced OR 2 teaspoons garlic powder
½ cup matchstick carrots (or 2 carrots diced)
16 ounces frozen broccoli (florets, any kind)
32 ounces chicken or vegetable broth
½ teaspoon salt
¼ teaspoon pepper
Topping ideas: grated cheese, oyster crackers, half & half
Instructions
In a medium saucepan, melt butter then add onion, celery and carrots. Cook over medium-high heat, stirring often, until all vegetables are soft. About 5 minutes.
Add broccoli, broth, salt and pepper. Bring to a boil then turn heat down. Cover and simmer for 10 minutes.
When broccoli is soft, use an emersion blender to liquify the soup so it's thick and creamy.
Serve with any combination of crusty bread, grated cheese, oyster crackers, a swirl of half & half...