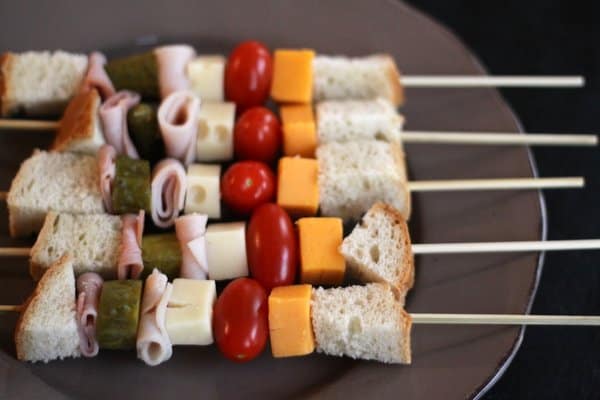 FOOD ON A STICK has got to be the easiest way to make food fun. (Except for maybe making parfaits with yogurt, chili, whatever…but I digress!) It was our turn to bring the preschool snack again and we picked these little sandwiches on a stick, which could certainly work for lunch too. I liked that we could offer a bunch of flavors–ham, turkey, Swiss cheese, cheddar cheese, cherry tomatoes and of course, pickles–and hoped that at least a couple of these items would appeal to the 20 youngsters at snack time.
And they did.
Like it did when we brought sugar-free banana oat cookies, our tray came back empty but this time there's a caveat. When I arrived to pick up our preschooler and said tray, both Phoebe, Estelle and another friend rushed in and inhaled the remaining skewers. So I'll never know the true numbers here, except that we started out with 22 and ended with 0. Those sound good to me.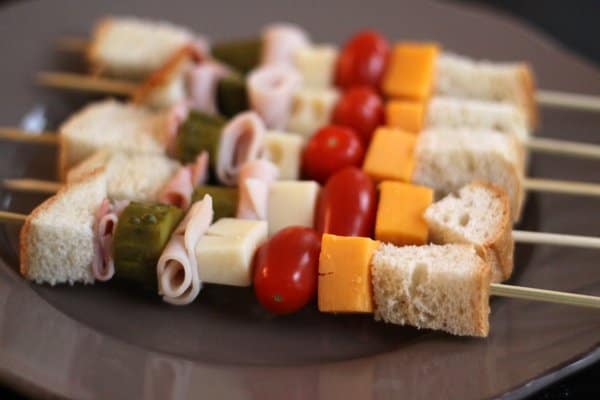 Sandwiches on a Stick
makes 25+ sandwiches
This kind of recipe is more of a method. Use whatever your crowd likes–and maybe throw in a new flavor too!
ingredients
1 Italian or French loaf (Whole wheat is always my preference but I wanted everyone to eat these, so I caved and got white. You'll be braver!)
25 cubes of cheddar cheese (I chopped my own, using a regular block of cheese but they're available in packages)
25 cubes of Swiss cheese (ditto)
1 pack turkey deli meat (I like then "uncured" kind without nitrates)
1 pack ham deli meat (ditto)
1 jar of small kosher dill pickles
25 cherry tomatoes
25 bamboo skewers
instructions
Get organized, setting up an assembly line for yourself. First cube the bread and cheeses. Those should all have their own pile. Slice the deli meats into strips and roll them up individually, making two more piles. Chop the pickles into about 3 pieces per pickle. Set out the skewers and tomatoes.
Decide the order and arrange your ingredients that way, starting with the sticks. Slide a piece of bread on first, followed by the other fillings, then finish with another piece of bread.
CHEESE & SIZING NOTE: The cheddar cheese was softer and harder to not split on the skewers. My advice is to cut up a complete skewer full of ingredients and try sliding everything on a stick. Then you'll know whether you have the right sizes of everything.
TIMING NOTE: These don't store overnight very well (bread usually gets a little hard) but in a pinch you could assemble them ahead of time OR just get all your ingredients chopped, rolled, separated, etc. the night before and store separately in the fridge (except the bread). It only takes about 10 minutes to put 25 of them together.