OBVIOUS CONFESSION COMING… I'M TOTALLY OVERWHELMED. Have I mentioned that before? It turns out that managing four kids under the age of six is hard, especially when you don't get to sleep at night. I know you know that. The silly thing is, I didn't know that. Or, I guess somehow I thought it wouldn't be. But when I saw my own basket at Amazon.com the other day, full of books like "Scream-Free Parenting" and "Happiest Toddler on the Block: How to Eliminate Tantrums…", I knew I was in deep.
It's been a stressful summer with the ups and downs that you guys understand all too well. One minute the kids are tearing around the house screaming "give it baaaaack!" The next, they're all outside riding bikes and screaming again, "weeee!" Yesterday while Violet napped in the stroller, her big sisters and brother zoomed across the driveway, careening into the grass and helping each other back out, delighted with themselves each time. "Watch me!"
The sun is shining, the afternoon breeze is heavy with the scent of honey and huge birds circle high in the evergreens above us. It's the kind of moment when you throw your head back and just say, "thank you, God."
After all the fussing earlier in the day, I let them play for too long outside so dinner was late. But here's what saved us: a fast dinner that everyone ate, and one I felt good about giving them. Yes Violet was screaming for her own dinner by the time those last bites were taken, with me reaching for plates and George protesting as he scooped up his fourth helping, "I eat! I eat!" I don't blame the little guy. This stuff was really good but bath time waits for no one, especially a mom who's had a day like this one.
And, breathe.
We got the idea for stovetop pasta and cheese from Martha Stewart, but simplified and added a few good-for-you tricks too. The result is a creamy, rich and tasty dish done in 15 minutes. There are secret ingredients and three updates I made on our end.
Secret ingredients:
one egg lightly beaten (don't put it in the hot pasta without beating first — it'll scramble!)
a teaspoon of mustard (zing!)
Healthy, kid-friendly updates:
use any kind of short, whole-wheat pasta (easier for kids to eat, plus it's full of fiber)
skip the breadcrumbs step (it's a pain to toast breadcrumbs in a separate pan and young kids will never miss them)
add veggies (we used organic sweet peas, but kale, shredded carrots or spinach would also be great)
Print
15-minute homemade macaroni & cheese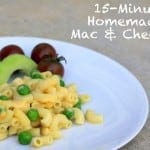 The hot pasta heats the veggies, melts the cheese and cooks the egg, which works as a nice binder to bring the whole thing together.
Ingredients
2 tablespoons kosher salt
1 box any short pasta, preferably whole-wheat
1 egg, lightly beaten
1 teaspoon mustard (any variety)
2 cups shredded cheese (any variety, even a mix is great)
1-2 cups any fresh or frozen vegetables, chopped (spinach, kale, peas, shredded carrots…)
Salt and pepper
Instructions
Bring pasta water to a boil and add salt. Cook pasta according to instructions MINUS 2 minutes. Drain pasta in colander but SAVE about 1/2 cup of your cooking water.
Return to pot and add lightly beaten egg, mustard, cheese and vegetables. Stir until creamy, pouring 1/4 – 1/2 cup of cooking water in to liquify and melt the cheese. Just add a little at a time. Then sprinkle salt and pepper to taste.