IN KEEPING WITH OUR EASY HALLOWEEN FOOD IDEAS theme, today's spider sandwich is so simple and surprisingly sturdy that they make great snacks or lunches on the go. I know this because George, my two-year-old, reached up and grabbed the container ours were stored in no less than five times before we got out the door with them last week, headed to a group dinner. Not one spider was harmed during the leaving of our house. A Halloween miracle.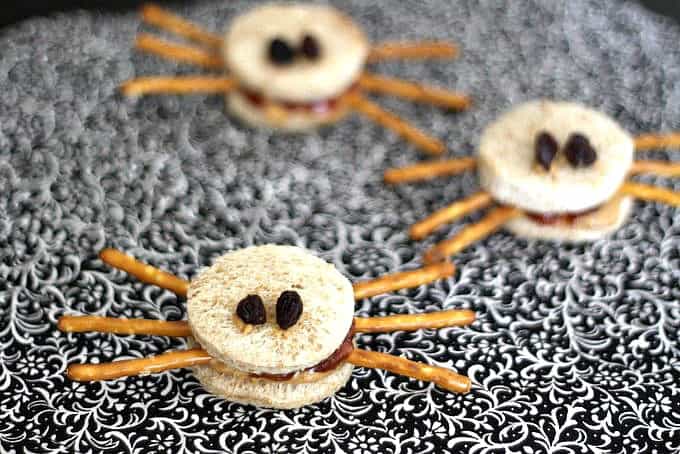 What You Need:
whole wheat bread
pretzel sticks
raisins
PB & J (it's stickier than turkey, etc. though that would probably work pretty well too)
a biscuit cutter, round cookie cutter or a drinking glass
How to Make:
1. Cut rounds from your bread. Ours were small, about 2 1/2 inches across and I got 3 rounds out of each slice of bread. (Keep in mind that kids will want 2-3 if you make them this size.)
2. Slather on the PB & J (or any sticky filling like cream cheese).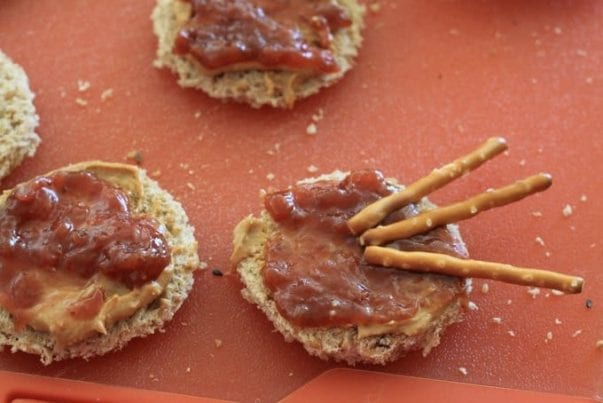 3. Position 3-4 pretzel sticks in the center of each round, tips touching.
4. Using another round of bread put a lid on top.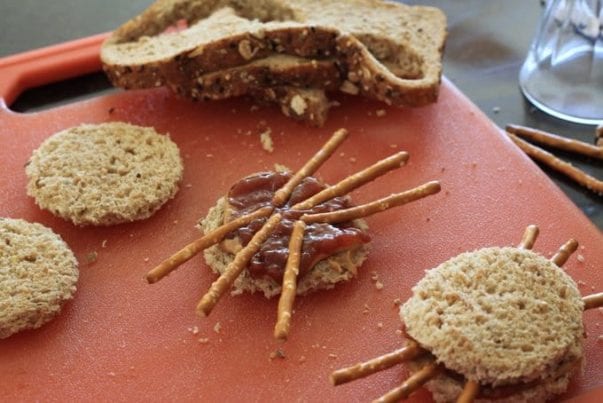 5. Dab a raisin in some PB and press on top of lid.
6. Bask in adoration of small kids who think you are awesome. Because you are. (And no sandwiches were needed to prove it.)