Pasta with Chicken, Mushrooms, and Wine
Excerpted with permission from HOW TO COOK EVERYTHING FAST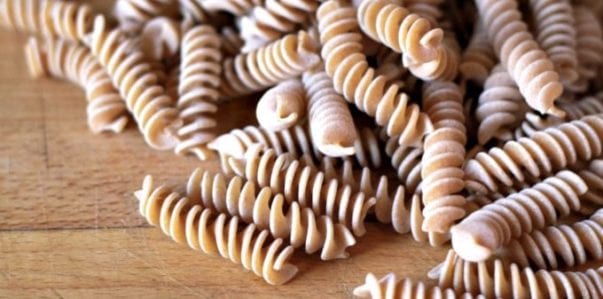 Time: Faster (30 minutes or less)
Makes: 4 to 6 servings
Use red wine and this dish is hearty for the fall or winter; use white and it becomes lighter for spring or summer. You won't go wrong either way.
 Ingredients
Salt
2 tablespoons olive oil
2 tablespoons butter
3 boneless, skinless chicken thighs or 1 boneless, skinless breast (8 ounces)
Pepper
1 1/2 pounds button, cremini, or shiitake mushrooms
3 garlic cloves
3/4 cup red or white wine
1 pound any cut pasta
Several sprigs fresh parsley
4 ounces Parmesan cheese (1 cup grated)
Bring a stockpot of water to a boil and salt it.
Put 1 tablespoon olive oil and 1 tablespoon butter in a large skillet or large pot over medium-high heat.
Cut the chicken into 1/2-inch chunks.
Add the chicken to the skillet and sprinkle with salt and pepper. Cook, undisturbed, until the pieces brown and release easily, a minute or 2. Then cook, stirring occasionally until the meat is no longer pink, 2 or 3 minutes.
Trim and quarter the mushrooms. (If you're using shiitakes, discard the stems.)
When the chicken is no longer pink, transfer it to a plate with a slotted spoon.
Add 1 tablespoon olive oil and 1 tablespoon butter to the skillet, then the mushrooms. Sprinkle with salt and pepper and cook, stirring occasionally until they soften, 5 to 10 minutes.
Peel and mince 3 garlic cloves; add them to the mushrooms.
When the mushrooms are soft, return the chicken to the skillet, add 3/4 cup wine, and scrape any browned bits off the bottom of the skillet. Let the wine bubble away until it reduces by about half; then turn the heat as low as it will go.
When the water boils, add the pasta and stir occasionally. Start tasting after 5 minutes.
Strip the parsley leaves from several sprigs and chop.
Grate 1 cup Parmesan cheese.
When the pasta is tender but not mushy, drain it, reserving some cooking water. Add the pasta to the skillet and turn the heat to medium-high. Add the parsley, Parmesan, and a splash of the cooking water if you want to make it saucier. Toss, taste and adjust the seasoning, and serve.
Variations
Pasta with Chicken, Leeks, and Wine
Substitute 2 leeks, sliced, for the mushrooms. Cook the leeks until they are soft, 3 to 5 minutes. Omit the garlic if you like and use white wine. Substitute 3 sprigs fresh thyme for the parsley.
Pasta with Chicken, Eggplant, and Balsamic
Use 4 tablespoons olive oil and omit the butter. Substitute 1 medium eggplant, chopped, for the mushrooms. Cook the eggplant until it's tender and browned, 5 to 10 minutes. Use 1/2 cup red wine and 1/4 cup balsamic vinegar.
HOW TO COOK EVERYTHING FAST © 2014 by Double B Publishing, Inc. Reproduced by permission of Houghton Mifflin Harcourt. All rights reserved.