WHAT'S THE DIFFERENCE BETWEEN shepherd's pie and cottage pie? Lamb. This is what I just learned from Food 52. Shepherd's pie is traditionally made with lamb, which makes sense when you think of a shepherd's job. Cottage pie, however, is made with ground beef.
That's what we used here when we made our own even simpler version.
We did follow Food 52's lead with sweet potatoes though, using them in place of regular russets, adding more flavor and nutrition all at once.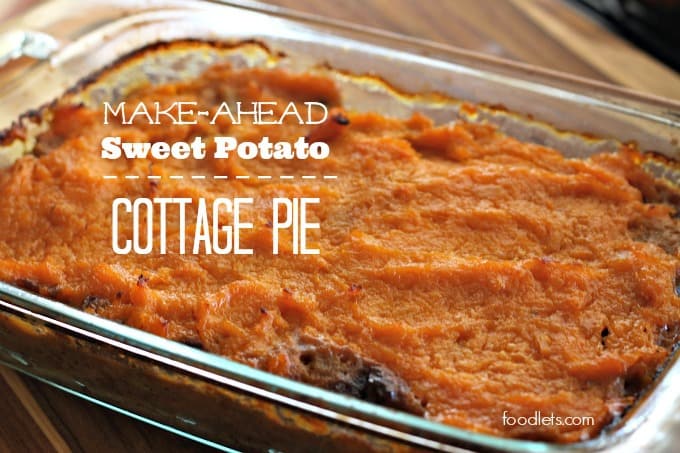 This one is very easy to assemble ahead of time. You could certainly even freeze it. Or give it to another family who's just had a baby or any other Oh Boy event they may need help with.
It's a simple recipe with two big-time flavorings I always have on hand. And no, this time I'm not talking about wine. Worcestershire sauce and tomato paste. Two tablespoons of either one will change your whole dinner–and this one uses both.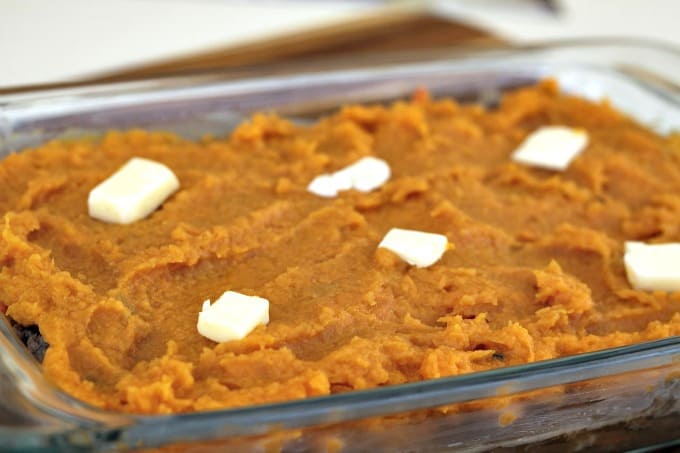 This sweet potato cottage pie is also a recipe kids can help make. Ours smoothed the sweet potatoes and placed pats of butter on top.
MAKE-AHEAD TIPS
Store assembled but UNBAKED and without the butter on top, in the fridge for 2-3 days. Remove from fridge 30 minutes before baking. (Or at least while you're preheating the oven.) It doesn't make sense to bake it first before storing because it'll take so long to heat up again that you may as well just cook it once in the oven while heating as well.
Or freeze UNBAKED, without the butter on top, for up to 1 month. Allow to thaw in the fridge for 2-3 days before cooking. And again, set it on the counter while the oven heats up.
THE FOODLETS' RATING
Phoebe (5) Thumbs up
Estelle (3) Thumbs up
George (2) Thumbs middle. Needed help taking first bite, then ate all of mine.

Make-Ahead Sweet Potato "Cottage Pie" (and Why It Isn't Shepherd's Pie)
Tip: Use your casserole pan to roast the sweet potatoes and remove the liner before you add the beef later on. And if you have a very large oven-friendly skillet you can save a step (and a much dirtier pan). Just cook the meat mixture first, then add the sweet potatoes on top of your skillet. Pop the whole thing in the oven and you're off.
Ingredients
3 medium-large sweet potatoes
2 tablespoons extra virgin olive oil
1 medium sweet onion, finely diced or shredded
2 cloves of garlic, minced
1 pound ground beef
2 tablespoons Worcestershire sauce
2 tablespoons of tomato paste (or use ketchup in a pinch)
1 teaspoon salt
½ teaspoon pepper
½ teaspoon thyme
2 tablespoons butter
half a can beef broth (14.5 ounce can)
Instructions
Roast the sweet potatoes. Set your oven to 400 degrees F and pierce the skins with a fork 2-3 times. Set on a lined baking sheet and cook for about 45 minutes. Allow to cool, then scoop out the insides. Mash with a potato masher or fork until smooth and creamy.
Meanwhile, add oil to a large skillet on medium heat. Cook onions about 5 minutes then add garlic and cook for another minute. Add beef and brown, about 8-10 minutes.
Season with Worcestershire sauce, tomato paste, salt, pepper and thyme then stir. Add broth and bring to a simmer and let the flavors combine and the sauce reduce for about 5 minutes. Remove from heat.
In a 9x13 baking pan, pour the beef mixture and arrange in a single layer. Now add the layer of sweet potato and smooth. Break up butter into 6 pats and arrange on top. Sprinkle with salt and pepper then cook in the oven (at 400 degrees F) for 35-40 minutes until golden on the edges.
This is not only a make-ahead meal. It's a
2-in-1 Dinner
. Cook it once, eat it twice! Double your ground beef portion and save it to make
Cheeseburger Hand Pies
later in the week.