It's been a while since I've added anything to the Total Failures category. But this easy eggplant parmesan (with no dredging, not a bit of frying…but more on that later) was so good–and good for you–that I'm thinking of building a new section for Foodlets called: Those Kids are Crazy.
So don't stop reading yet!
Three adults LOVED this dish. Paul's mom told me, "5 Stars!" and his dad gave it our favorite "Thumbs Up". I also thought it was wonderful and so did Violet (1). Paul said it was "only okay" and Phoebe (6) said ditty, which I think was meant to be "ditto". So there you have it.
Foodlets Rating: 4 Thumbs Up, 2 Thumbs Middle, 2 Thumbs Down
The Easy Eggplant Parmesan is actually winning!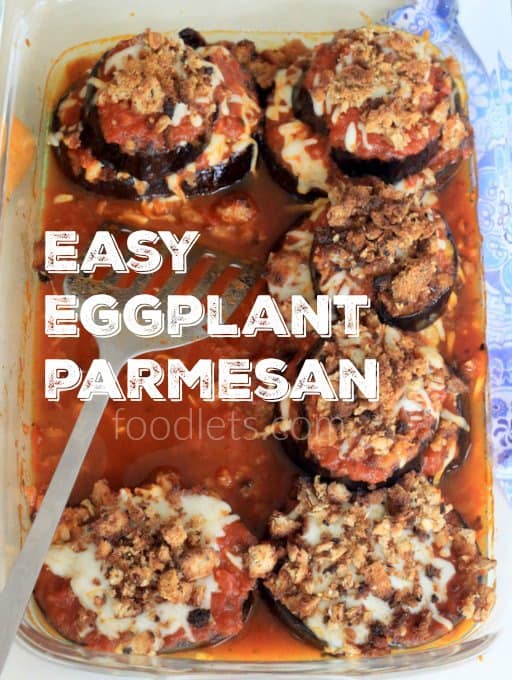 Here's how you can make it too:
2 Shortcuts for Deliciously Easy Eggplant Parmesan
I used Mario Batali's method of ROASTING the eggplant first, instead of sweating it in salt then dredging and frying. Then you stack the slices, making individual little servings of eggplant parmesan.
Use your favorite store-bought or already homemade sauce. If you're shopping for red sauce, read the labels to  find the lowest amount of sugar possible. Many store-bought sauces include as much sugar as dessert! (Don't get me wrong, I love dessert but I'd just rather eat my 6 teaspoons of sugar after dinner. In the form of something like this.)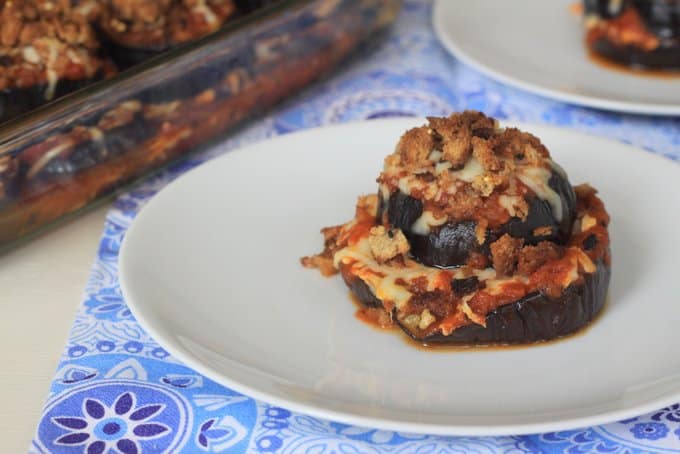 What's So Healthy About Eggplant?
Other than providing the opportunity to try something new and practice being good sports who just may stumble onto their next favorite food (ahem), eggplant has tons of nutritional benefits like:
Iron and calcium for strong bones and muscles
Phyto nutrients (in the skin) to improve blood circulation and nourish the brain
Fiber that protects the digestive tract from diseases like colon cancer, and makes you feel full
Roasted eggplant (not the fried kind) can lower "bad" cholesterol
Bioflavonoids to help control high blood pressure and relieve stress
Vitamin K to prevent blood clots plus bioflavonoids that strengthen capillaries
Are you sold yet?
Here's how you make this ooey, gooey, good-for-you dinner.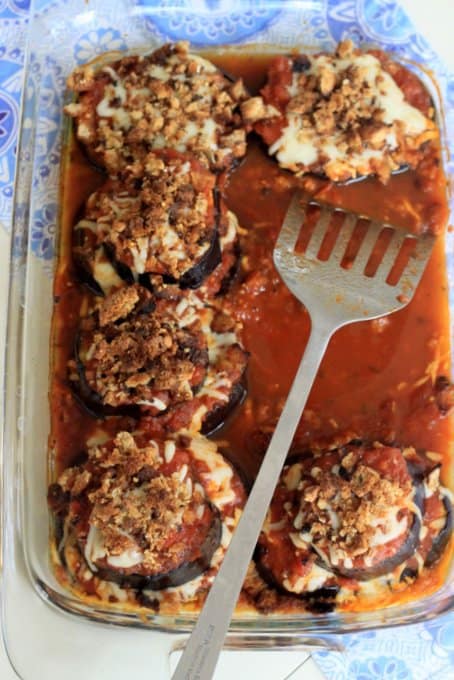 THE TECHNIQUE
Cut thick slabs of eggplant, slather with olive oil and sprinkle on a bit of salt and pepper. Roast at 450 degrees F for about 20 minutes until the tops are golden. 

When the eggplant is ready to come out, transfer it to an 8×13 casserole dish and use the SAME PAN to toast your breadcrumbs under the broiler for about 1 minute.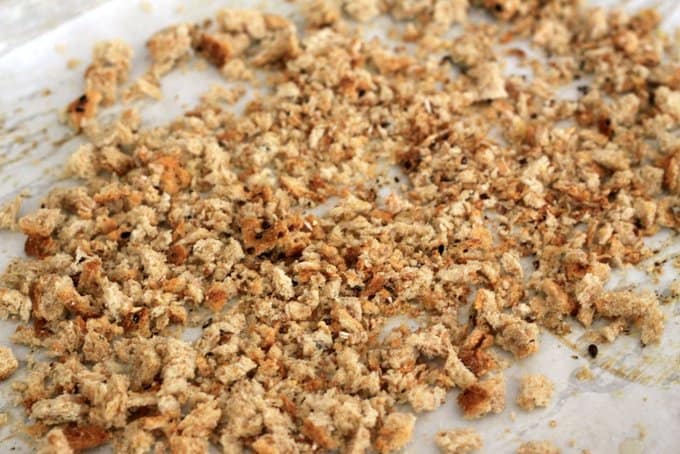 Make layers: eggplant + sauce + cheese, eggplant + sauce + cheese. Use the biggest slices of eggplant for the bottom layer and the smallest slices on top.
Sprinkle the breadcrumbs on the very top and bake again at 350 degrees F for about 15-20 minutes.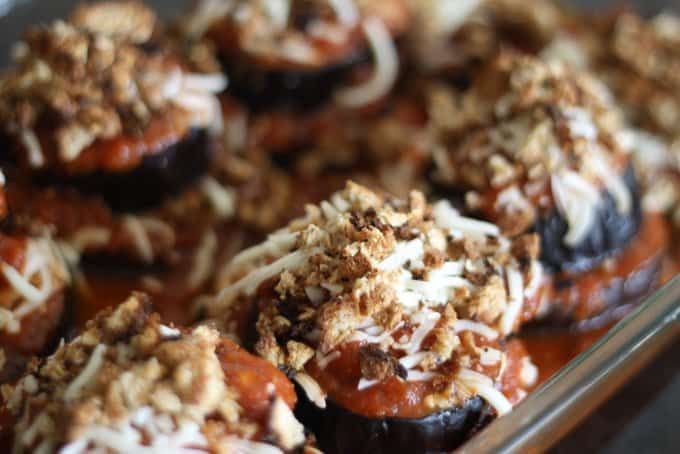 All done!In the end, you'll have individual servings of eggplant parmesan.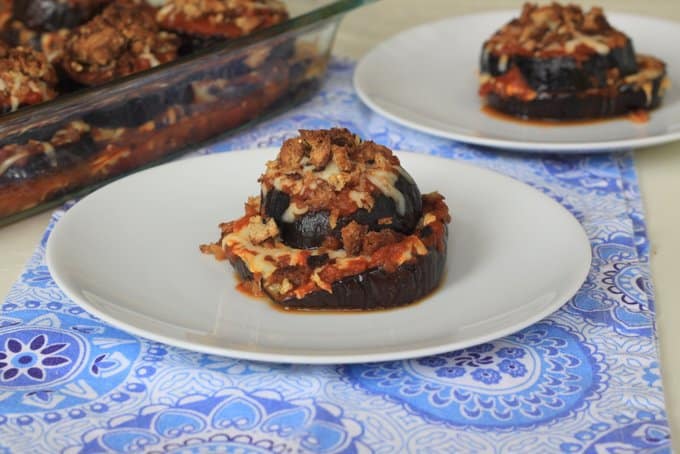 If this is a new dish for your kids like mine was, I suggest serving a couple of things they DO like, such as:
Roasted cauliflower (cooked in the same 450 degree oven at the same time you're doing the eggplant)
Crusty bread (which can also be thrown in the 350 degree oven at the same time as the final eggplant dish)
Freshly cut veggies with the dipping sauce (and I do mean salad dressing) of their choice
Easy Eggplant Parmesan (No Dredging, No Frying)
Ingredients
2 medium-large eggplants
2 tablespoons olive oil
1 teaspoon salt
½ teaspoon pepper
1 jar marinara sauce or 3 cups of homemade sauce
1 cup mozzarella cheese
1 cup freshly toasted breadcrumbs--made from 2 pieces of bread
¼ cup freshly grated parmesan cheese (optional)
Instructions
Preheat oven to 450 degrees F. Line a large baking sheet with parchment paper.
Slice eggplant into about 1 or 1½ inches thick. Assemble on the baking sheet. Drizzle with olive oil, sprinkle on salt and pepper. Flip and repeat.
Roast for about 20 minutes until tops are brown on edges.
While the eggplant is roasting, cut up 2 pieces of bread for breadcrumbs. Your pieces should be about as small as peas.
When the eggplant comes out of the oven, TURN THE OVEN ONTO BROIL. Then transfer the slices to an 8x12 casserole dish (or something close to it). Use the largest slices on the bottom and start layering: eggplant, sauce, cheese, eggplant, sauce, cheese.
Now finish the breadcrumbs: Use the baking sheet - with the seasoned parchment still on it -- to toast the breadcrumbs. Arrange the breadcrumbs in one layer and crank up the oven to broil. Toast for about 1 minute.
Top the eggplant parmesan rounds with breadcrumbs (and if using, sprinkle on the parmesan cheese).
Bake for about 20 minutes until everything is soft and the cheese has melted through.