I love easy Christmas cookies kids can make and these Reindeer Snickerdoodles do not disappoint!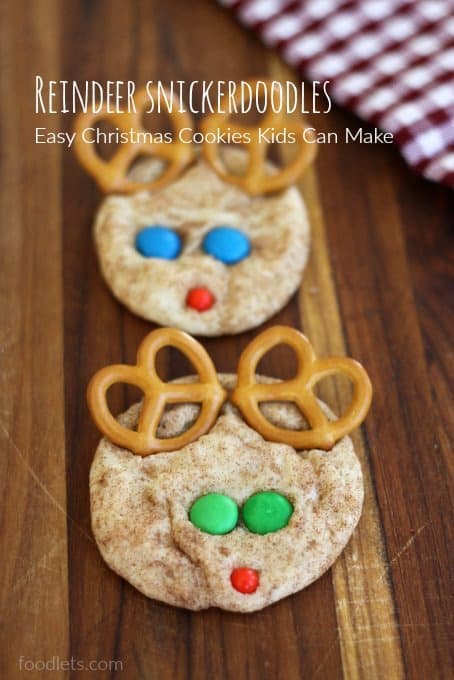 Since the focus is on decorating — and building confidence in the kitchen, not to mention a little memory making — we made things very simple and started with a cookie mix that we picked up at Walmart.
In fact, we used THREE cookie mixes for today's sponsored post. (And you can download a Betty Crocker coupon for your own right here.)
Two were mailed off to my step-father, who has Parkinson's and lives in a round-the-clock care facility. Looking for a way to #SpreadCheer, my mom told me that snickerdoodles and sugar cookies are his favorite. We threw in some walnut chocolate chip cookies too because you can never go wrong with those. (And I'm hoping his caretakers like them too!)
**Free Printables: Download your own free printable gift tags (and more) for adorable holiday cookie gifts!**
Then my minions went to work. We mixed up a batch of sugar cookies.
And snickerdoodles too.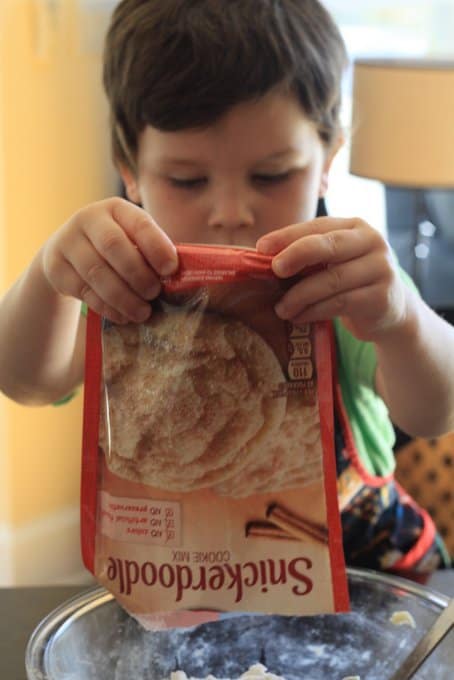 Then we started practicing our Christmas cookie decorating techniques with these reindeer snickerdoodles.
*If your little guys aren't quite to the cookie decorating stage, I love these coloring pages from today's sponsor, Betty Crocker. Get the full-sized (free) printable!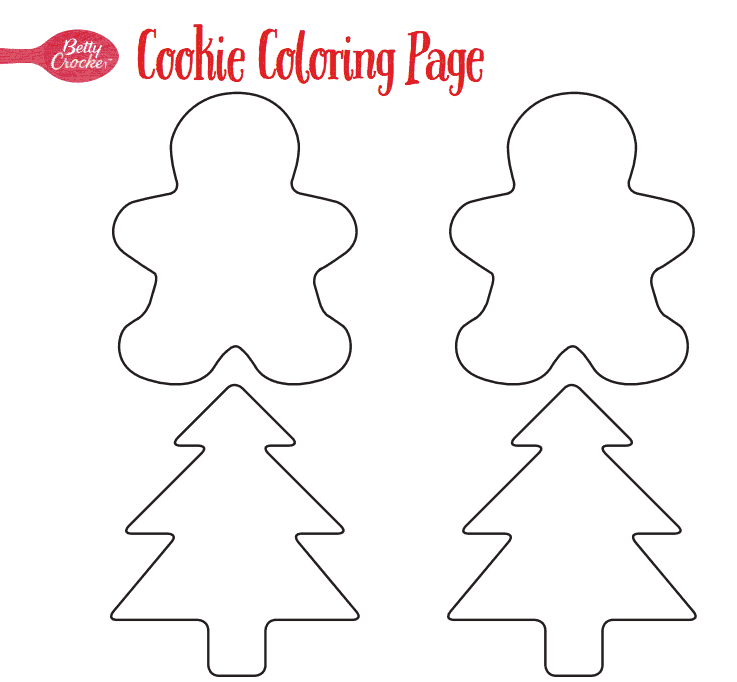 How to make reindeer snickerdoodles
There are 3 techniques for making reindeer Christmas cookies–and you can use regular sugar cookie dough or snickerdoodles. We used both here.
Add the antlers and face before baking.
Add the antlers and face in the middle of baking.
Glue the antlers and face after baking.
My favorite is #2.
They all start the same way.
Step 1. Create balls then flatten down.
Tip: The smaller cookies worked better and looked cuter for our reindeer snickerdoodles. Our balls of DOUGH were about 1 1/2 inches in diameter.
Flatten out, either in a round or oblong shape.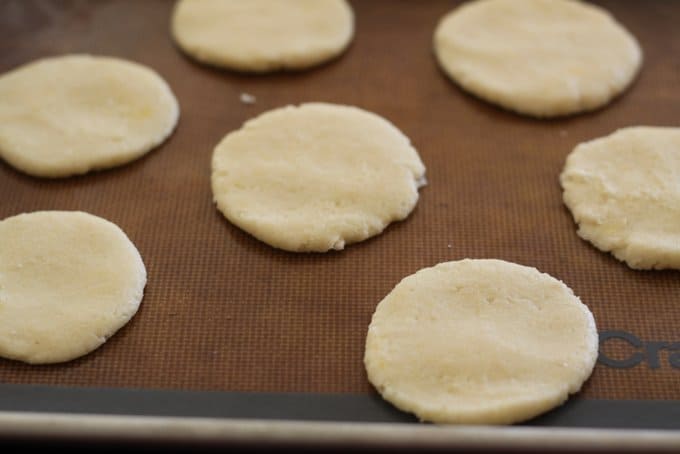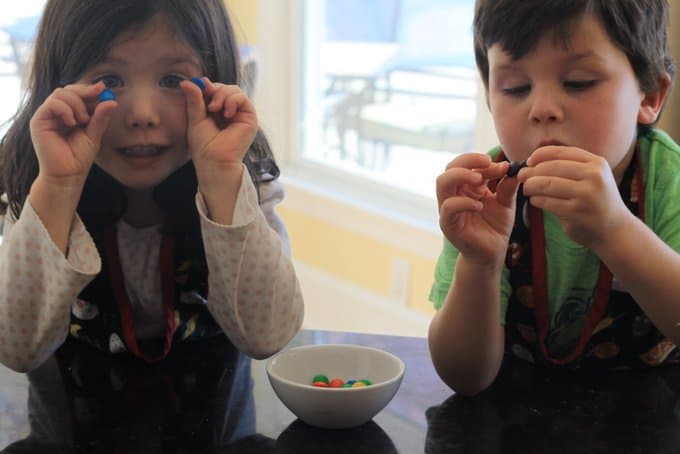 Step 2. Choose a technique.
Technique #1: Add 2 pretzels for antlers, 2 candy eyes and 1 small candy nose.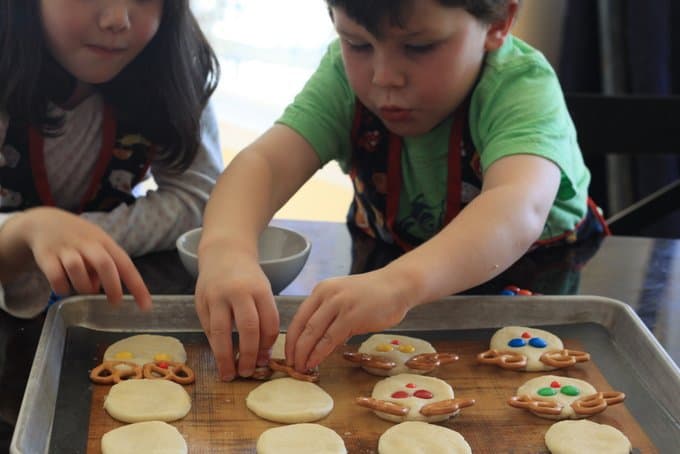 Bake.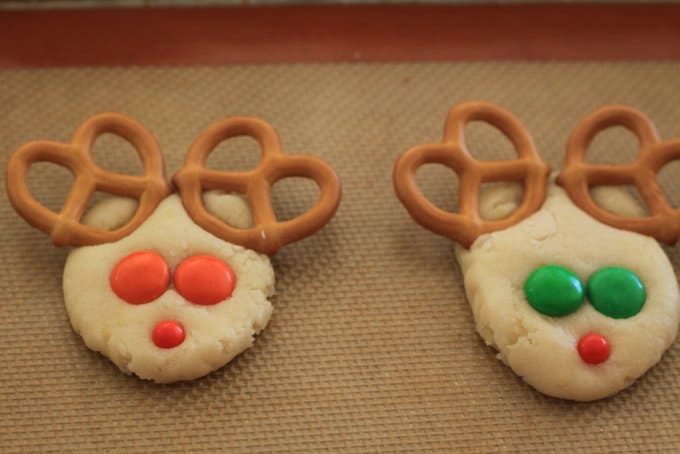 Technique 2: Bake your flattened balls WITHOUT any decorations for 5 minutes.
Then pop the cookies out of the oven for just long enough to add the faces and antlers. Then get the pan back in the oven for the final few minutes of baking.
The benefit is that the candies won't crack during the super hot baking process.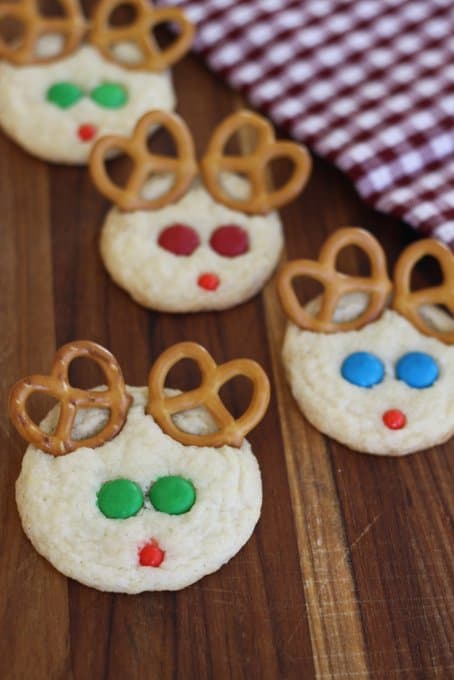 Technique 3: "Glue" your antlers, eyes and nose on with frosting afterward.
Disclosure: I didn't do this because I didn't have any frosting handy but it's still a feasible option. One that might be a bit messier but it wouldn't be too hot for kids to do the way technique #2 is.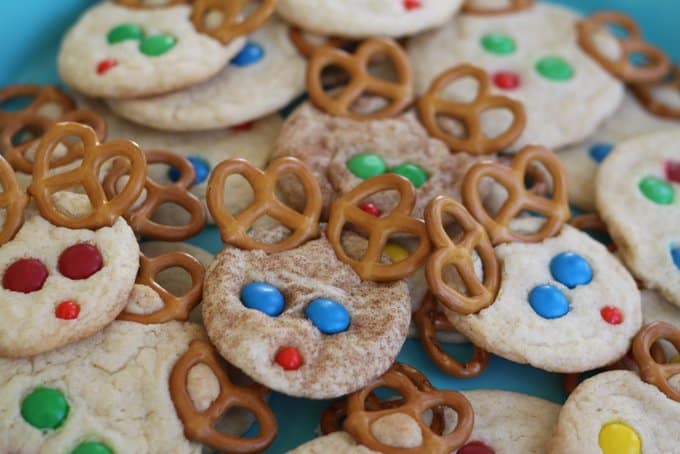 In the end we had SO MANY REINDEER Christmas cookies!
Which was great because we packed them up, along with a batch of plain sugar cookies and plain snickerdoodles (which are better for mailing).
BUT there are also tons of adorable free printables, gift tags and more!  Get the templates by clicking on the gift tags below.
We loved making these reindeer snickerdoodles and hope you have fun too! And now you can enter to win a $20 prize just for being part of the #SpreadCheer squad.