You just can't beat sausage for quick, delicious flavor. The stuff comes brimming with flavor, straight from the store.
You also can't beat frozen spinach for knock-your-socks off nutrition in a handy little bag.
So, there won't be any beating today.
But there WILL BE an amazing dinner, an easy dinner, a 4-Thumbs Up dinner done in minutes. Yep, a 15-minute dinner kids love.
How I'm Working on Being a Happier Mom
I've been trying to spend more time with the kids lately. Does that sound as weird as it feels to type? I'm here with them for hours every day! Why would I need to spend MORE time with them? Because while we're under the same roof, I'm usually busy doing things. Cleaning. Cooking. Folding laundry. Sneaking onto Facebook before I realize…wait, is this how I really want to use my time?
Fast dinners like this one made yesterday's afternoon so much nicer than they usually are. Usually I'm tossing out suggestions, "Why don't you color while I switch the laundry?" Then threats. "If you run that truck into the wall one more time, you'll get a time out." You know. You've been home before.
Yesterday was different. Instead of running between my kitchen and the Zone of Destruction, I quickly whipped up this dinner, left it on the stove with a lid and SAT DOWN WITH THE KIDS. Violet had a snuggle. Estelle ended up falling asleep. Phoebe and George watched half an episode of "The Great British Baking Show" with me and hot diggity, it was really fun.
Why It Was Easy to Introduce a New Dish
By the time dinner rolled around, everyone was calmer than usual. Thanks to the downtime and also lack of yelling (by all of us.)
I made this a few years ago, which means George and Violet weren't even alive then, so it was basically a new dish. But tonight's easy dinner was based on things they eat all the time: spinach and sausage. Another spin-off.
And thanks to our new No Afternoon Snack policy (more on this later but it's real!) everyone dove in. Everyone loved it.
Not bad for 15 minutes in the kitchen, and 15 on the couch.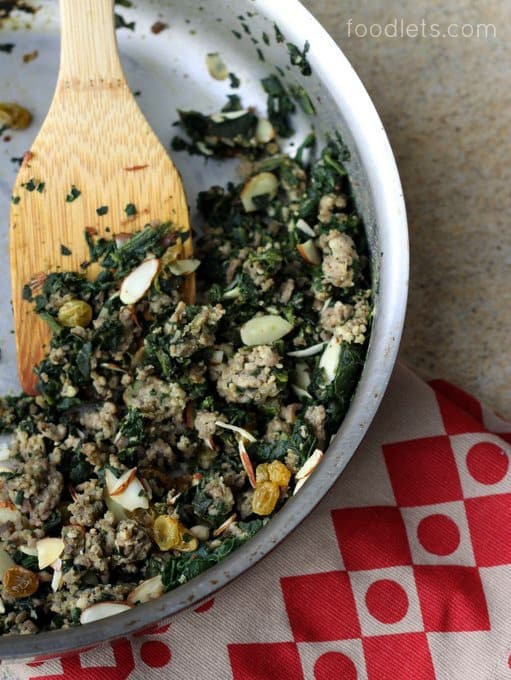 Sausage & Spinach Over Rice: A 15-Minute Dinner Kids Love
Serve over brown rice, cous cous or quinoa.
Ingredients
¾ pound sweet sausage (casings removed -- just squeeze them off)
1 10-ounce bag chopped frozen spinach
½ cup beef or chicken stock
1 teaspoon dried basil
Handful of golden raisins (or regular raisins or dried cranberries)
Handful of slivered almonds (or pine nuts or walnuts)
Juice of one lemon
Salt and pepper to taste
Instructions
In a large saute pan, cook the sausage until it's no longer pink.
Add the frozen spinach and use your spoon to break it up a little, stirring for a few minutes until it starts to cook down into the sausage.
When the spinach has thawed, add the stock and basil. Bring to a quick boil for about 1 minute.
It's DONE. Serving suggestions: Add the raisins, almonds and lemon juice OR bring all that to the table and let each person doctor up his or her own plate. (Always a winner around here.)
If you liked this recipe, come over to the Foodlets Facebook page!
I'd also like to invite you to sign up for the Foodlets newsletter. Every week you'll get the TOP 3 RECIPES, as reviewed by real kids. Just enter your email at the top of this page.
And if you've tested out this recipe, what do you think? Let us know! I'd love all the details too:
How many kids do you have? 
How easy was this dish to prepare? 
What did the kids say? Thumbs Up, Middle, or Down?
Would you make it again?