You just can't beat sausage for quick, delicious flavor. The stuff comes brimming with flavor, straight from the store.
You also can't beat frozen spinach for knock-your-socks off nutrition in a handy little bag.
Today we're combining both for an amazing dinner, an easy dinner, a 4-Thumbs Up dinner done in minutes. Yep, a 15-minute dinner kids love.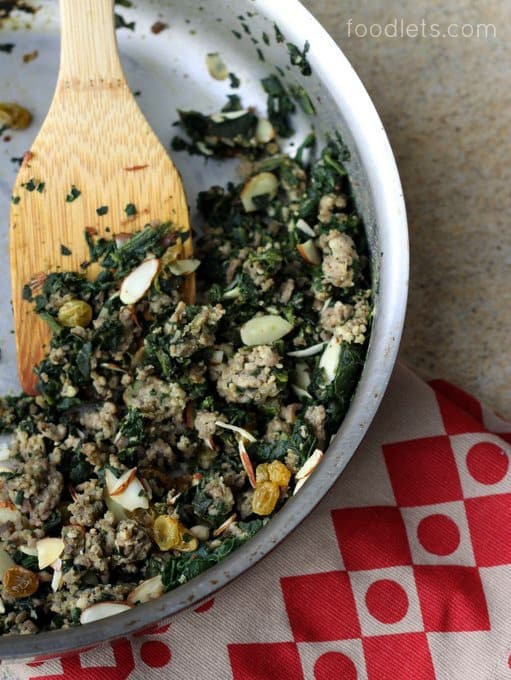 Print
Sausage & Spinach Over Rice: A 15-Minute Dinner Kids Love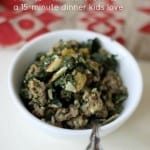 Serve over brown rice, cous cous or quinoa.
Author:
Cook Time:

15 mins

Total Time:

15 mins
Ingredients
3/4 pound sweet sausage (casings removed — just squeeze them off)
1 10-ounce bag chopped frozen spinach
1/2 cup beef or chicken stock
1 teaspoon dried basil
Handful of golden raisins (or regular raisins or dried cranberries)
Handful of slivered almonds (or pine nuts or walnuts)
Juice of one lemon
Salt and pepper to taste
Instructions
In a large saute pan, cook the sausage until it's no longer pink.
Add the frozen spinach and use your spoon to break it up a little, stirring for a few minutes until it starts to cook down into the sausage.
When the spinach has thawed, add the stock and basil. Bring to a quick boil for about 1 minute.
It's DONE. Serving suggestions: Add the raisins, almonds and lemon juice OR bring all that to the table and let each person doctor up his or her own plate. (Always a winner around here.)
If you liked this recipe, come over to the Foodlets Facebook page!
I'd also like to invite you to sign up for the Foodlets newsletter. Every week you'll get the TOP 3 RECIPES, as reviewed by real kids. Just enter your email at the top of this page.
And if you've tested out this recipe, what do you think? Let us know! I'd love all the details too:
How many kids do you have? 
How easy was this dish to prepare? 
What did the kids say? Thumbs Up, Middle, or Down?
Would you make it again?