Does your family dinner include a lot of complaining?
Do you look forward to spending that time together, or is it more stressful than anything else?
When it's time to clean up after a meal, is everyone helping out?
You can guess how I used to answer these questions at my own house: YES, THE SECOND PART and NO.
We have four small kids and after about the third one arrived, all of my rules about manners–the ones that worked so well with one toddler and a baby–sort of flew out the window. Since then it's been pretty chaotic. And stressful.
But we're turning it around now.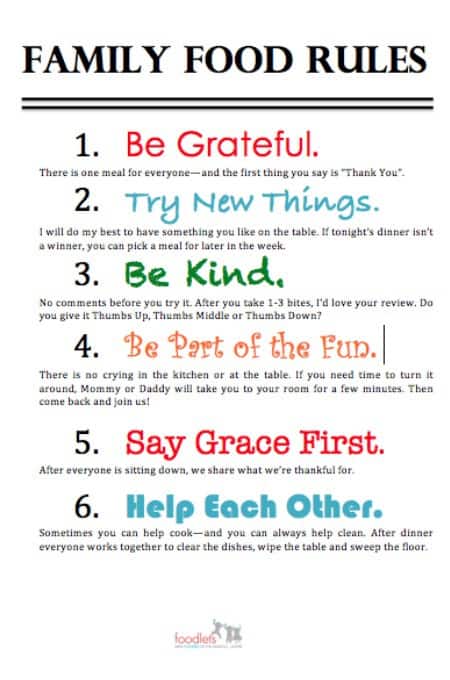 As a parent, I am in charge of setting the tone. Our kids need guidance, so much guidance, especially when they're little. (And you know what happens when left to their own devices, right? All I have to do is look at the dining room wall with its new crayon mural to be reminded.)
So I printed out our Family Food Rules, showed them to the kids and put the whole thing right on our pantry door. I love a paper like this that I can refer to because it gives the kids consistent guidance. No surprises here!
This part is important: You have to go over the rules with the kids first. Sit down and show each one to them, especially if they aren't able to read yet. Then put that paper on display. Tape it up for all to see. And refer to it when you need to (and you will).
Now our kids know what we expect up front. And it's already made a huge difference.
Print out our Family Food Rules–or make up your own–and let me know how it influences your mealtimes from here on out. I focused a lot on dinner here since it's a meal we all eat together most often but the same rules apply to any meal I'm making at home.
Here's the free printable we use: Family Food Rules
Even if you have small kids, don't give up on eating dinner together! Give this a try.