If you came to visit me when we lived in Rome, I would've made you this pasta. That's because it's my favorite pasta recipe I learned living in Italy: Amatriciana.
Like many of the world's most delicious recipes, this one begins with bacon. Except in Rome it's pancetta. That smokey flavor gives red sauce a deeper, richer flavor than anything I'd ever tasted on pasta before. A combination I couldn't stop myself from serving over and over to weary friends who'd made the long journey.
Nothing's better for jet-lag than a knock-you-out bowl of pasta.
It doesn't hurt that this particular Amatriciana sauce is awfully simple.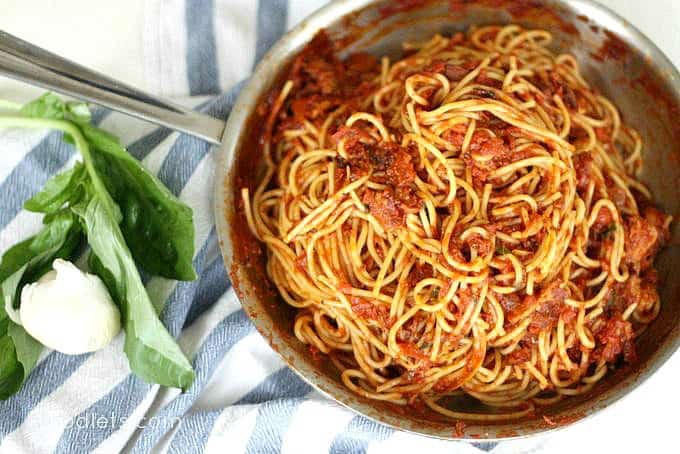 Tips: Making Amatriciana for Kids
Cut the onion and bacon into very small pieces. Chunks of anything are always open to more scrutiny from the little guys.
On that note, use crushed tomatoes.
Don't worry about the wine. Most of the alcohol burns off, and there's also this. I've cooked with wine hundreds of times and never once seen a knee-high drunk at the table.
Serve shaved or freshly grated parmesan cheese at the table. Better yet, let the urchins add the cheese themselves. And EVEN better, don't put a limit on how much cheese they take. Just let them do their thing this time and they'll love you–and this dish–for it.
My Favorite Pasta Recipe I Learned Living in Italy: Amatriciana
Serving tip: cook your pasta 2 minutes LESS than the al dente instructions on the box suggest. Drain. Combine your pasta with this sauce and let it cook together for a few minutes before serving. The pasta will soak up a bit of the juices, finishing the cooking process as it does while flavoring every slurp-friendly strand.
Ingredients
1 onion, diced
4-6 slices of bacon, cut into small pieces
2 cloves garlic
½ cup white wine
1 can crushed tomatoes, 28 ounces
3 tablespoons fresh basil (1 tablespoon dried basil)
Instructions
In a large skillet, sautee the onion and bacon together on medium-low heat for about 10 minutes, stirring often, until the bacon is crispy and the onion becomes soft.
Use a paper towel to soak up excess oil but leave about a tablespoon in the pan.
Add garlic and stir, cooking for about 2 minutes.
Pour in the wine. Scrap the bottom of the pan, picking up any dark (and delicious) bits. Simmer for 2 minutes.
Add tomatoes and basil then stir. Simmer 10 minutes or more, until your pasta is ready.
If you liked this idea, sign up for the Foodlets newsletter (at the top of this page) and follow us on Facebook and Twitter.