This cheesy summer squash tart with sun dried tomatoes is my eight-year-old's favorite way to eat summer squash.
Full of eggs, cheese, fresh basil and plenty of salt and pepper, the creamy filling pairs perfectly with puff pastry. (Because, what doesn't, right?)
Plus it's a make-ahead dream. Put your cheesy summer squash tart together earlier in the day and serve it warm, cold or room temperature.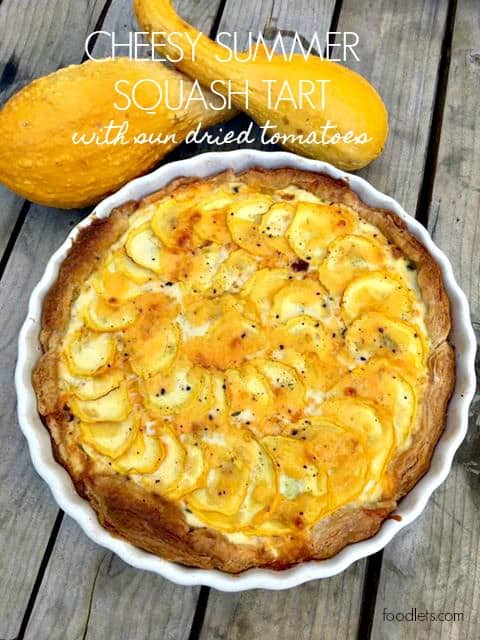 You need a mandoline slicer to make it quickly and easily but this whole tart is so tasty, I say it's totally worth it. Here's the one I have and love.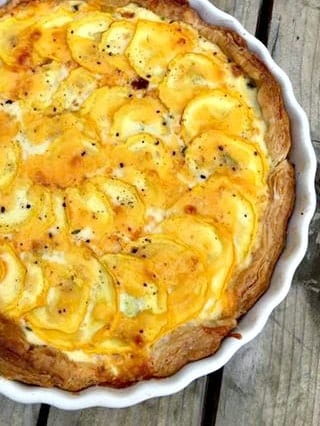 HOW KIDS CAN HELP:
There are two parts of this recipe where kids can help easily (and you know, safely).
PASTRY PREP: They can shape the puff pastry in the dish. There's also the blind baking. That's cooking the pastry before adding your liquid so the whole thing stays flaky instead of getting soggy in the oven. Kids can add a sheet of parchment paper then pour pie weights on top or go basic like I usually do, and use a pound of dry beans. Into the oven the pastry goes, for 20 minutes.
EGG BEATING: This recipe calls for 5 eggs, which need to be whisked and my six-year-old couldn't have been more proud of herself for tackling the job (plus my mini-cook was actually EXCITED to try the dish when it came out of the oven.)
Here's the whole recipe for your whole family to enjoy!

Cheesy Summer Squash Tart with Sun Dried Tomatoes
This recipe uses one piece of puff pastry but most packages contain two. Either double the recipe to make two tarts or store the second piece for another day.
Ingredients
1 sheet puff pastry
1 tablespoon butter
5 eggs
¼ cup whole milk
1 shallot, finely diced
1 cup extra sharp cheddar cheese, shredded
½ cup sun dried tomatoes, julienned
½ cup fresh basil, julienned (sliced)
½ teaspoon salt
¼ teaspoon pepper
1-2 medium summer squash, finely sliced
Instructions
Preheat your oven to 425 degrees F. Allow the puff pastry to sit at room temperature for about 20 minutes, so it's possible to work with.
Prepare a tart dish by rubbing a tablespoon of butter all over the inside.
Arrange the puff pastry inside the dish, cutting the corners of the square and rearranging so you have more of a circle around your dish. (Cut and stick together as needed.)
Once the pastry is in place, put a piece of parchment paper on top. Add pie weights or a pound of dried beans on top. Bake for 20 minutes.
Meanwhile, whisk the eggs, milk, shallot, sun dried tomatoes, basil, salt and pepper together.
When the pastry comes out of the oven, add one layer of sliced squash to the bottom. Pour your egg mixture on top. Add a second layer of squash. Sprinkle with a little more salt and pepper, then bake for 15-20 minutes until firm all the way through.
Serve fresh from the oven, chilled or at room temperature.