You know those cute Halloween breakfast ideas you see on Pinterest? The ones that seem SO easy, then turn out to be as hard as convincing your three-year-old that it'll be faster if you just buckle her carseat?
This is not one of them.
After testing out the idea, I have good news. These adorable Jack-o-lantern fruit cups are simple.
Hollow out an orange, cut a face, fill with fruit and shout, "Breakfast's ready!"
What makes these jack-o-lantern fruit cups special
Not many Halloween breakfasts are healthy. These are just fruit!
It's possible to carve the oranges ahead of time and fill them in the morning.
What you need to make jack-o-lantern fruit cups
oranges
fresh fruit
paring knife
spoon
How to make jack-o-lantern fruit cups
Cut a small slice off the bottom of your orange so it sits steady. Cut a larger slice off the top, where you'll perform the excavation. Use a paring knife to loosen the orange pulp inside, then finish the job with a spoon.
Carve a couple of triangles, followed by a mouth and ta da! You're ready to fill with fruit.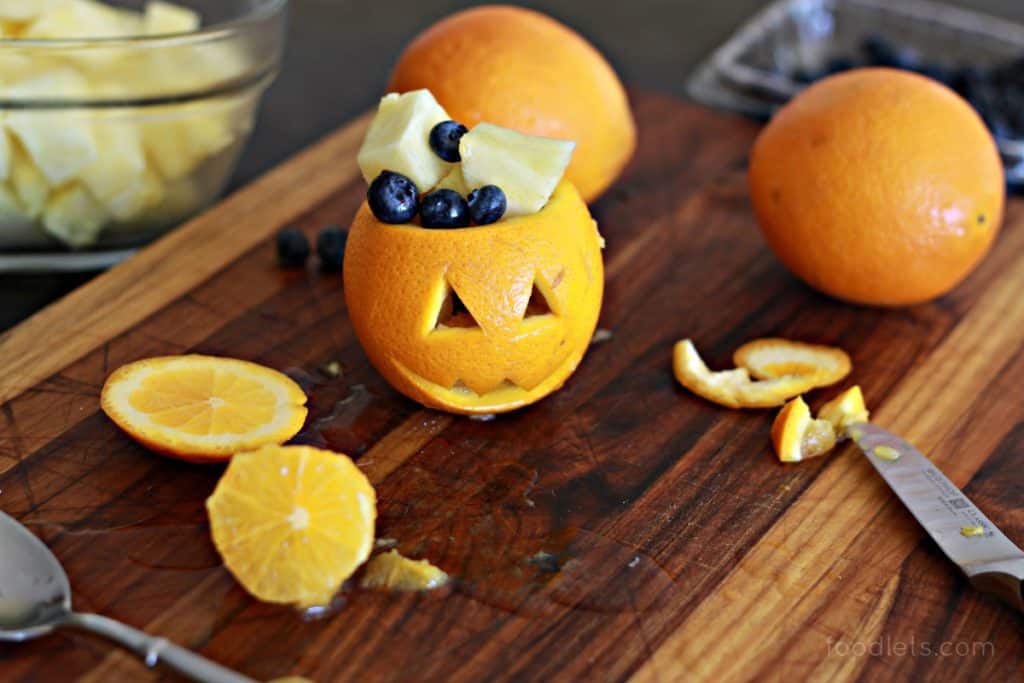 That's all there is to it.
Happy Halloween!
ps. If carving an orange seems like too much, try drawing a jack-o-lantern face with a Sharpie like we did for our Halloween pudding cups. And get the rest of our fun Halloween Food Ideas for Kids here!