(Excerpted from "The Farmhouse Chef" by Jamie DeMent.)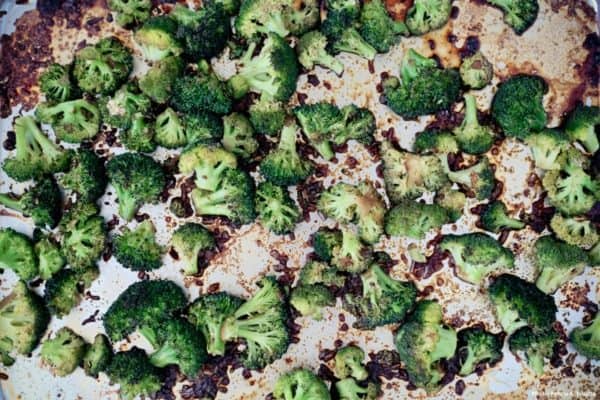 I am addicted to this dish. The magic combination of soy sauce and butter is unbeatable. You might find yourself licking the bottom of the serving dish, and there's no shame in that. This recipe is versatile—you can substitute cauliflower, kohlrabi, turnips, or summer squash for the broccoli. Just add an extra 5 minutes for roasting denser vegetables.
Don't skimp on your soy sauce—buy a better—quality type, as it's going to carry the dish's flavor.
Print
Soy Butter Roasted Broccoli from "The Farmhouse Chef"
Ingredients
8 cups broccoli, cut into 1 1/2-inch—wide florets
2 tablespoons toasted sesame oil
4 garlic cloves, finely chopped
1 tablespoon grated fresh ginger
4 tablespoons unsalted butter, cut in thin slices
3 tablespoons soy sauce
Kosher salt and freshly ground black pepper, to taste
Instructions
Preheat the oven to 425°.
Spread the broccoli florets on a baking sheet and sprinkle the top with the sesame oil, garlic, ginger, salt, and pepper. Stir everything around to coat the broccoli evenly. Put the pan in the oven and roast uncovered for 15 minutes.
Take the pan out of oven, stir the broccoli around, and scatter the butter slices evenly on top of the broccoli pieces. Drizzle the soy sauce evenly over the broccoli and butter, and put the pan back in the oven.
Roast for 5 more minutes and remove from the oven. Stir everything around to make sure the butter and soy sauce are in every bite.
From The Farmhouse Chef: Recipes and Stories from My Carolina Farm by Jamie DeMent. Copyright © 2017 by Jamie DeMent. Used by permission of the University of North Carolina Press. www.uncpress.org