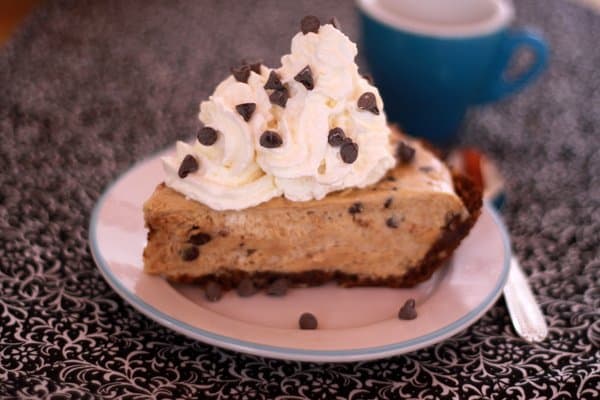 FOR PAUL'S BIRTHDAY I made a decadent dessert inspired by Dorie Greenspan's Chocolate Peanut Butter Torte. But because I didn't have quite everything on her shopping list available in Italy, I adapted it to suit my supermarket. The result was delicious and if I wasn't trying to transform myself from a formerly pregnant person into one considerably less apple shaped, I'd put this on the menu regularly!
We went with a peanut butter pie for Paul because his mom made a version that he's always loved and recently tried to recreate. Considering that I've seen Paul in the kitchen about 5 times over the course of our nearly 4 year marriage, this caught my attention. His pie was pretty good though the custard wasn't as firm as he'd hoped. Vowing to try again another time, he still happily ate each piece with gusto. And again, I paid attention. He doesn't have much of a sweet tooth but when he's into something (usually it's onion dip or something equally savory) he's all in.
That's when I decided to give it a go myself. Armed with my gorgeous copy of Baking: From My Home to Yours by Dorie Greenspan, I thumbed through until I found her wonderful recipe and got to work.
We served it on his birthday along with a rousing rendition of Happy Birthday a Te, a half-English, half-Italian ode to his big day. Phoebe had been looking forward to digging into this creamy concoction for two days but when the big moment finally came, she really only ate a few bites. Estelle was most interested in the crust. Both fine with me. We're trying to teach them to only eat what's delicious, as much as you like until you feel full–rather than as much as possible. And cleaning the plate isn't a big goal around here. But back to the pie. Paul thought it was very good but he's such a purist that the chocolate chips and crust were a bit over the top. It was a rookie mistake really, never go up against a recipe from childhood, especially one by mom.
It was an amazing pie though.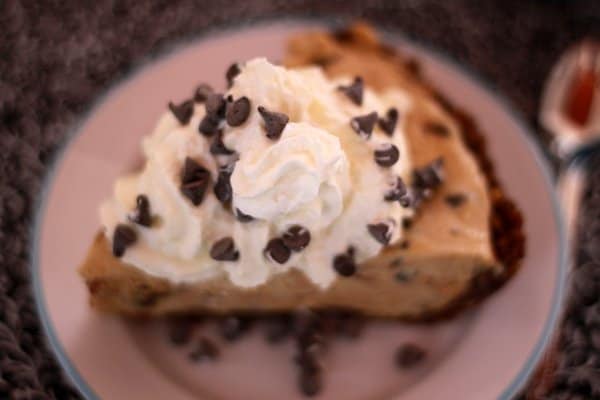 PEANUT BUTTER CHOCOLATE CHIP PIE
Adapted from Dorie Greenspan's Chocolate Peanut Butter Torte
ingredients
3 tablespoons unsalted butter, melted and cooled
1/2 teaspoons sugar
1/4 teaspoon instant coffee
Pinch of ground cinnamon
Pinch of freshly grated nutmeg
1/4 cup mini chocolate chips (optional and if using, reserve a tablespoon for garnish)
20 vanilla, chocolate or combination of sandwich cookies, finely  ground in a food processor
Small pinch of salt
1 1/2 cups heavy cream (plus more for garnish)
3/4 cups confectioners' sugar, sifted
8 ounces cream cheese, at room temperature
1 cup salted smooth peanut butter
1 1/2 tablespoons whole milk
instructions
Melt butter and let cool.
Combine the sugar, coffee, cinamon, nutmeg and chocolate chips (if using) in a small bowl and set aside. The chocolate chips should be fully coated with spices. If not using chocolate chips, skip this step and add the sugar through nutmeg  to the dry ingredients in the last step.
Heat the oven to 425. Crumble the sandwich cookies (the original recipe calls for Oreos; they don't make Oreos in Italy and I wanted something less intense anyway so I used half-vanilla, half-chocolate sandwich cookies with a tablespoon of cocoa powder and it was wonderful). Add salt and cooled butter. Press into a pie pan (preferably deep dish but regular will work too.) Put the crust into the freezer for 10 minutes. Remove and bake for 10 minutes. Let cool completely before filling.
In a standing mixer with a whisk attachment, whip 1 3/4 cups of the cream until you see medium peaks. (It stays on the whisk but isn't firm to the touch.) Add 1/4 cup of sifted confectioners sugar. Beat again until the texture is medium-hard. Remove cream to a bowl and refrigerate.
Using the same bowl (Dorie says you don't need to wipe it out and I love that!), change to the paddle attachment and beat the cream cheese with the remaining sugar. Once fully incorporated and smooth, add peanut butter and milk.
Retrieve the chilled whipped cream and start folding it into the peanut butter mixture. Start with one big scoop and gently fold it in. Then combine the rest of the cream taking care not to deflate it as you gingerly mix it all together. It needs to be largely incorporated but a few marbles of color look beautiful and won't affect the custard's firmness.
Store in the fridge for at least 4 hours or overnight. Top with whipped cream and mini chocolate chips, or serve plain. We did both and both were delightful.