*UPDATED: 2017*
IS THERE A FOOD DRIVE GOING ON NEAR YOU? Every day for the last week, our kindergartener has loaded up her purple backpack with groceries for her class's food drive. Boxes of whole-grain pasta and jars of tomato sauce, brownie mix and canola oil, all easier-to-make versions of meals I regularly fix for our family.
But I got to thinking, are these really the most useful things to donate?
So I asked around, read, researched and found the most needed items at food banks across the country.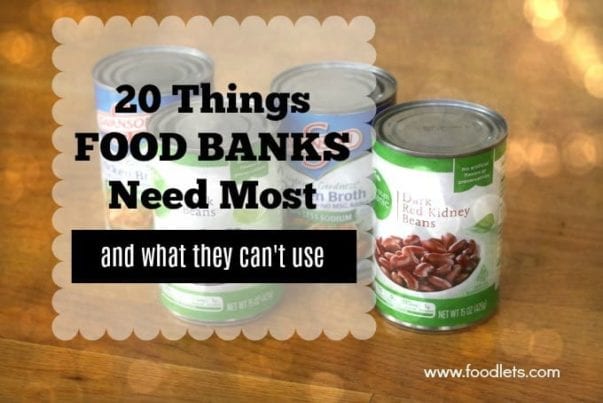 WHAT FOOD BANKS NEED MOST
Storage space is often in short supply at food banks, so prioritization is key. Here is what food banks need most:
Canned chicken, tuna and ham or hearty, ready-to-go meals like beef stew and chili with meat. "Non-perishable items rich in protein are the most desired food drive donation items," according to Central PA Food Bank.
Canned vegetables: Potatoes, collard greens, beans, carrots, spinach or peas, all with no salt added, according to Houston Food Bank
Canned fruit: University District Food Bank in Seattle reports, "we never have enough!" Plus individual fruit cups
Canned tomatoes & pasta sauce
Shelf stable milk and alternatives (rice, soy, etc.)
Snack items for kids to take to school: juice boxes, applesauce containers, granola bars
For infants: formula, infant cereal, diapers, and wipes
Toiletries: toothbrushes, soap, toothpaste, lotion, shampoo & conditioner, warm socks, Chapstick (consider someone living outside this time of year)
Feminine hygiene products: unscented pads will be most universally used, not tampons
Single serve macaroni & cheese
Low-sugar cereal like plain Cheerios
Peanut or other nut butter, especially crunchy
Instant oatmeal, instant grits
Whole grain pasta, brown rice and quinoa
Biscuit or baking mixes (that only require water)
Spices like cinnamon, oregano, basil, salt, pepper
Cooking oil
Sliced bread. It's got a long shelf life but always goes immediately.
Bags of apples or potatoes. Ditto.
Chocolate. It's not a necessity but just a pick-me-up that I would sure appreciate, especially when it comes time to fill stockings.
What Food Banks Cannot Use
Perishable foods
Glass or plastic jars of baby food
Expired food
Food without a label
Homemade food
Food or packaging that's falling apart or damaged
 WHAT I DIDN'T REALIZE ABOUT FOOD BANKS
Many food banks and pantries have access to lower cost supplies than you or I do so a cash donation may go further, plus they're able to get exactly what they need. For example, the Food Bank of Eastern & Central North Carolina reports that a gift of $10 can provide 50 meals!
A lot of people have diabetes in this group. Consider low-sugar dietary restrictions.
Some food banks have a recording (or a live person) who will explain their top needs of the moment by phone.
Cans and boxes are sturdier than bags. By the time families are receiving the food, it's been handled A LOT and packaging needs to be strong enough to hold up. One food bank said never bring anything in glass, ever.
Pop-top cans are ideal; particularly for those living on the streets.
Consider donating reusable sturdy shopping bags. Supplies are heavy plus it takes a lot of humility to come to a food bank. Since they'll likely be walking home or taking public transportation, it's nice to at least blend in.
Think about weekends and school breaks. Kids who qualify for free lunches typically receive breakfast at school too and when schools are out for holidays or summer, these families need more support.
Many families are in crisis at this time in their lives and food banks often work in tandem with churches or other non-profit programs to get them back on their feet. The Salvation Army in Durham, for example, coordinates with First Baptist Church's "Jobs for Life" program. Recipients get interview training and in some cases, a ride to the mall where they're coached on asking for job applications.
There's a difference difference between a food bank and a food pantry*. But for the sake of simplicity, we've referred to "food banks" here as a catch-all for all canned food drives and ANY group's efforts to bring non-perishable items to those in need. If you'd like to connect with a food pantry, which is able to collect fresh fruits, vegetables, even homemade goods and more, Ample Harvest will point you toward a food pantry near you.
These are the top priorities for the food banks I spoke with in my area. But there are still plenty of other things to give–and keep in mind what's needed here might vary from your area, and definitely from season to season.
What have you given that's gone over well? Please add your suggestions below.
If you liked this post, check out our collection of simple and kid-friendly family recipes and be sure to SUBSCRIBE TO THE NEWSLETTER (at the top of this page) & LIKE FOODLETS ON FACEBOOK so you'll never miss a recipe or meal idea to come.
Here are a couple of the most popular posts to get you started…