This kid-friendly slow cooker chicken chili is one of the easiest dinners I've ever made.
But it didn't start out that way.
Back when this chicken chili was a Barefoot Contessa recipe, there were more steps, fewer veggies and certainly more spices. But this DELICIOUS version couldn't be simpler, or a bigger hit with my whole family.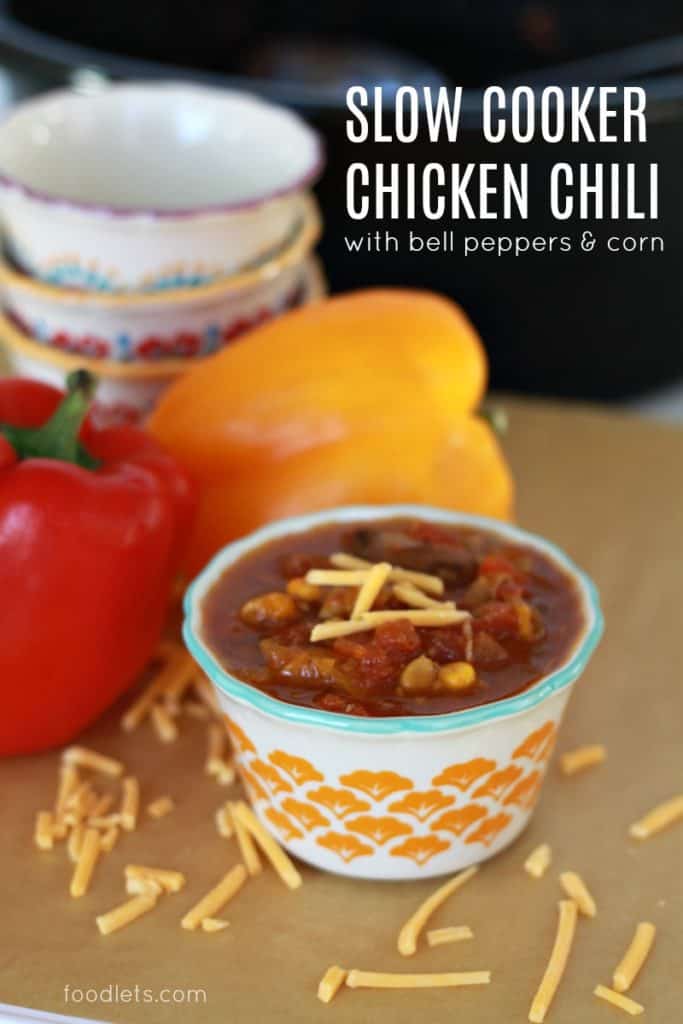 How to make slow cooker chicken chili
Start with a rotisserie chicken or leftover turkey.
Dice lots of onions, garlic and peppers.
Throw in all the canned goods: chicken stock, beans, tomatoes.
Add frozen sweet corn and spices
Let the slow cooker do the work!
Print
Slow Cooker Chicken Chili with Bell Peppers & Corn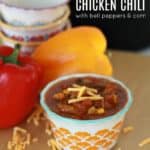 Simplify by substituting taco or chili seasoning for the individual spices.
Ingredients
2 cups diced onions (about 3 large onions, any kind)
4 minced garlic cloves
2 28-ounce cans of tomatoes (whole or diced)
4 cups chicken stock or broth
3 bell peppers, diced
1 can beans (any kind, rinsed and drained)
4 cups cooked chicken or turkey, diced or shredded
1 tablespoon garlic powder
1 tablespoon paprika
1 teaspoon chili powder
1 teaspoon cumin
Instructions
Combine all ingredients in a slow cooker and stir.
Cook on low for 4 hours or high for 2 hours.
To thicken, remove the lid for the last 30 minutes.
Garnish with shredded cheddar cheese or sour cream or both.