Besides a supply of paper towels that's roughly the same size as my first car, there are a few key products that make a Costco membership worth it to me. My family includes four kids plus my husband and me and these are the things I always pick up.
(And if I skip the middle section, my bill almost always hovers around $200.)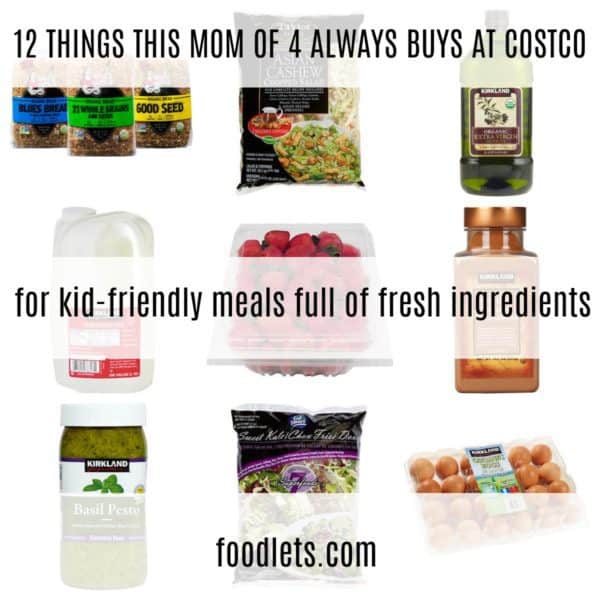 Kirkland's Organic Peanut Butter. The only ingredients are peanuts and salt. No extra sugar, no extra salt and because this is Costco, you get two giant tubs together. We use it for Rollie-Pollie Sandwiches and Spider Sammies too.
Kirkland's Strawberry Fruit Spread. It's also organic and the giant container means I won't run out by Tuesday. So I usually get two. Because this fruit spread is not only a little piece of heaven on toast, but also happens to be the filling for our favorite Buttery Oat Bars with Strawberries.
Dave's Killer Bread. This is the heartiest, best-for-you bread I've ever eaten. It's incredible as toast (see above, slather with avocado or get more creative) and wonderful for sandwiches. One piece is basically a meal.
Organic Eggs. I get 24 brown eggs at a time for about the price of 18 eggs of equal quality at the grocery store. I "hard-boil" a dozen at a time in my Instant Pot and use those for the best Pickle-y Egg Salad you've ever had. But there's plenty left over for things like a Big Dutch Baby, Make-Ahead French Toast and the easiest weeknight dinner of all time: Baked Eggs with Cream.
Milk. We drink whole milk, and quite a bit of it. I like the idea of organic but it's such a budget buster that sometimes I split the difference and get two gallons of regular plus three half gallons of organic. #collegefund
Fresh spinach. One big box of spinach makes so many salads and side dishes for so much less money than what I pay at Food Lion. And when everything starts to wilt? Smoothies, here I come.
Packaged salads. There are two salads my whole family loves: one has a sweet ginger dressing (Asian Chopped Salad Kit) and the other is full of poppy seeds (Sweet Kale Gourmet Salad). I'm serious. My kids eat both of these salads all the time and ask for more. It's the easiest side dish I'll make all week, plus who can complain when kids are finally eating vegetables so happily? They pair perfectly with easy dinners like Honey-Mustard Chicken and Ham & Cheese Quiche.
Seasonal fresh fruit: In the summer, I'm all about the strawberries, blueberries, apricots and plums. (Hello, heart-shaped beauties!) Never apples or peaches though because I can get more bang for my buck at the Food Lion.
Olive oil. I get the Kirkland brand, extra-virgin olive oil. Because I learned to cook when we lived in Italy, I still use tons of olive oil in everything and this is not only the most affordable, but the best tasting stuff I've found so far. The key ingredient for everything from Roasted Potatoes or Cauliflower to the Homemade Salad Dressing that Made Our Kids Love Kale. Really.
Spices. Never in your life will you find such good quality cinnamon, garlic, or any other spices that they carry for such a low price. (And if you do, please let me know immediately. I repeat, #collegefund.) Cinnamon is fantastic for adding flavor when you're cutting sugar. I use a lot in our favorite muffins of all time: Better-for-You Pumpkin Muffins. (Not to mention the Healthy Peach Crisp everyone begs to eat again for dessert the next day!)
Extra Sharp Cheddar Cheese Slices: The flavor is wonderful and the price even beats store brands. For grilled cheese to tuna melts and even an instant topping for our Slow Cooker Potato Soup, you can't beat the combo of quantity and quality.
Kirkland Pesto: Always delicious for 3-Ingredient Pizzas and Magical Turkey Meatballs.
Bonus: Dog food. Our Lab-mix rescues live on the Kirkland brand with salmon and sweet potatoes. A friend of mine told me his dog went through a lot of health problems before a vet suggested a very expensive brand of salmon-sweet potato food. Their dog seemed to turn around on it. Yay! But it cost them about the same amount as a car payment so they switched to this budget version from Costco a few years ago–and the dog's been healthy ever since.
What about you? What makes your membership worth it?