What to do when you can't decide which to make (or don't have enough of either one)?
Combine the best of both breads into a moist and flavorful treat: Zucchini Banana Bread!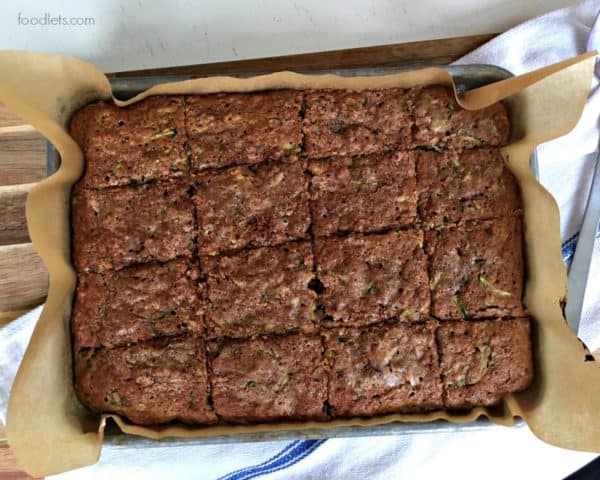 Tip: I love baking quick breads (and brownies) in a small sheet pan like this one. I just line it with a sheet of parchment paper for a no-mess, non-stick solution in 2 seconds. Plus the shape of the pan allows the bread to cook faster and more evenly.
Print
Zucchini Banana Bread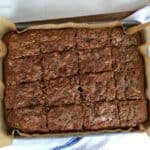 Tip: For a little added nutrition, I like to mix my flour. Half whole-wheat, half white flour.
Author:
Prep Time:

5 mins

Cook Time:

45 mins

Total Time:

50 mins
Ingredients
1 medium zucchini shredded (about 1 cup)
2 very ripe bananas
3/4 cup brown sugar
1 stick of soft butter (1/2 cup)
2 eggs
1 teaspoon vanilla
1 1/2 cups flour
2 teaspoons cinnamon
1 teaspoon baking soda
1/2 teaspoon salt
1/2 cup chopped pecans
Optional: 2 teaspoons granulated sugar
Instructions
Preheat oven to 350 degrees F. Line a quarter sheet pan with parchment paper OR spray an 8×8 casserole dish.
In a large bowl, combine zucchini, bananas, brown sugar, butter, eggs and vanilla.
Add flour, cinnamon, baking soda, and salt. Stir until almost incorporated then add pecans and stir only a couple more times.
Pour into prepared dish and sprinkle sugar on top if using. Bake for 35-45 minutes, depending on the size of pan you use. Poke a toothpick inside and when it comes out clean, the bread is done!
p.s. If you're a purist or you've got loads of ripe bananas ready to be used, try some of our other favorites…