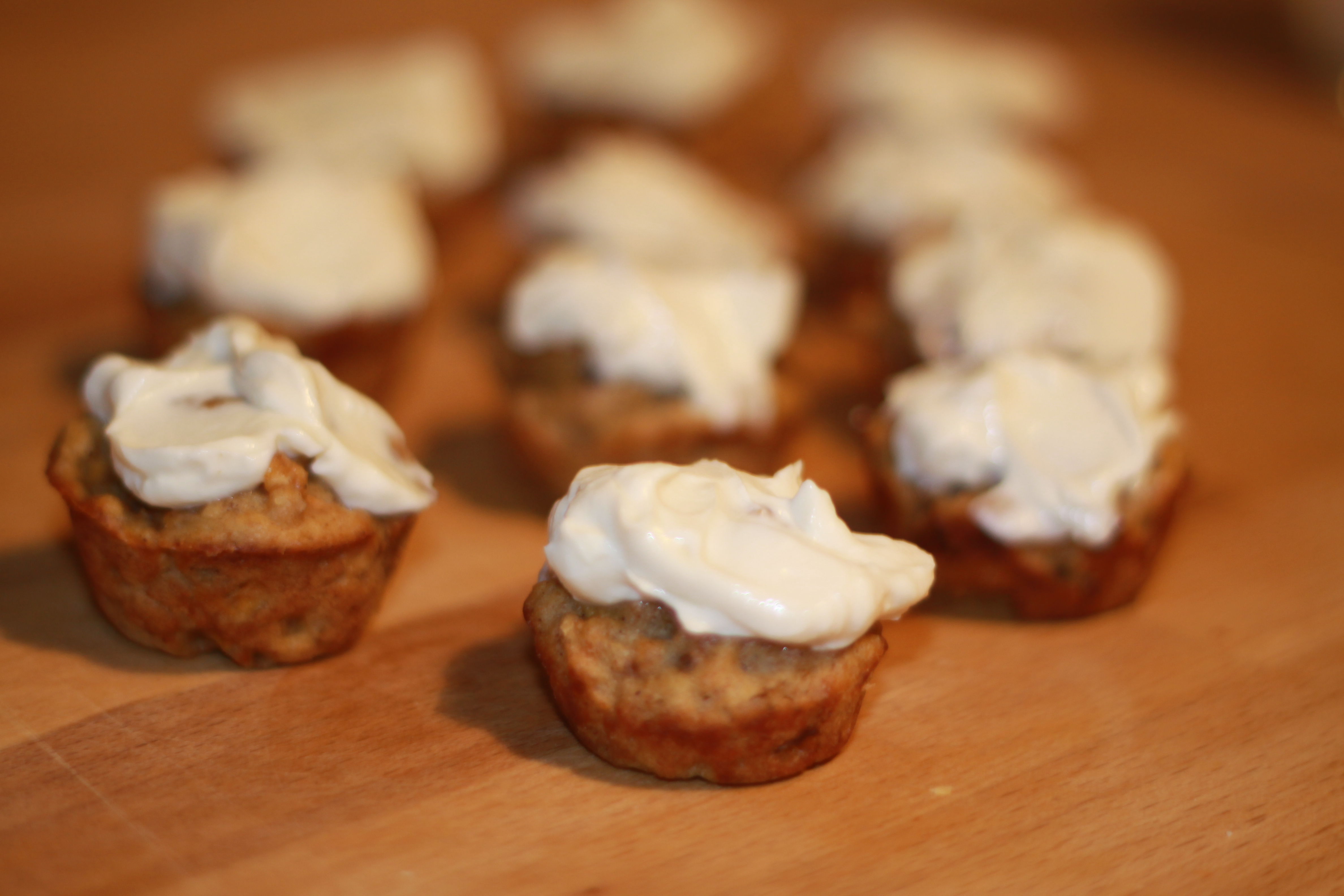 YOUR HELP NEEDED. Please. What originally caught my eye about this recipe, besides the stunning photographs at 101 Cookbooks was this: it's sugar free. And it involves cream cheese frosting. Sugar free cream cheese frosting. That means three of my favorite things for Phoebe. Something sweet, something new, something without sugar. However, Phoebe hated them.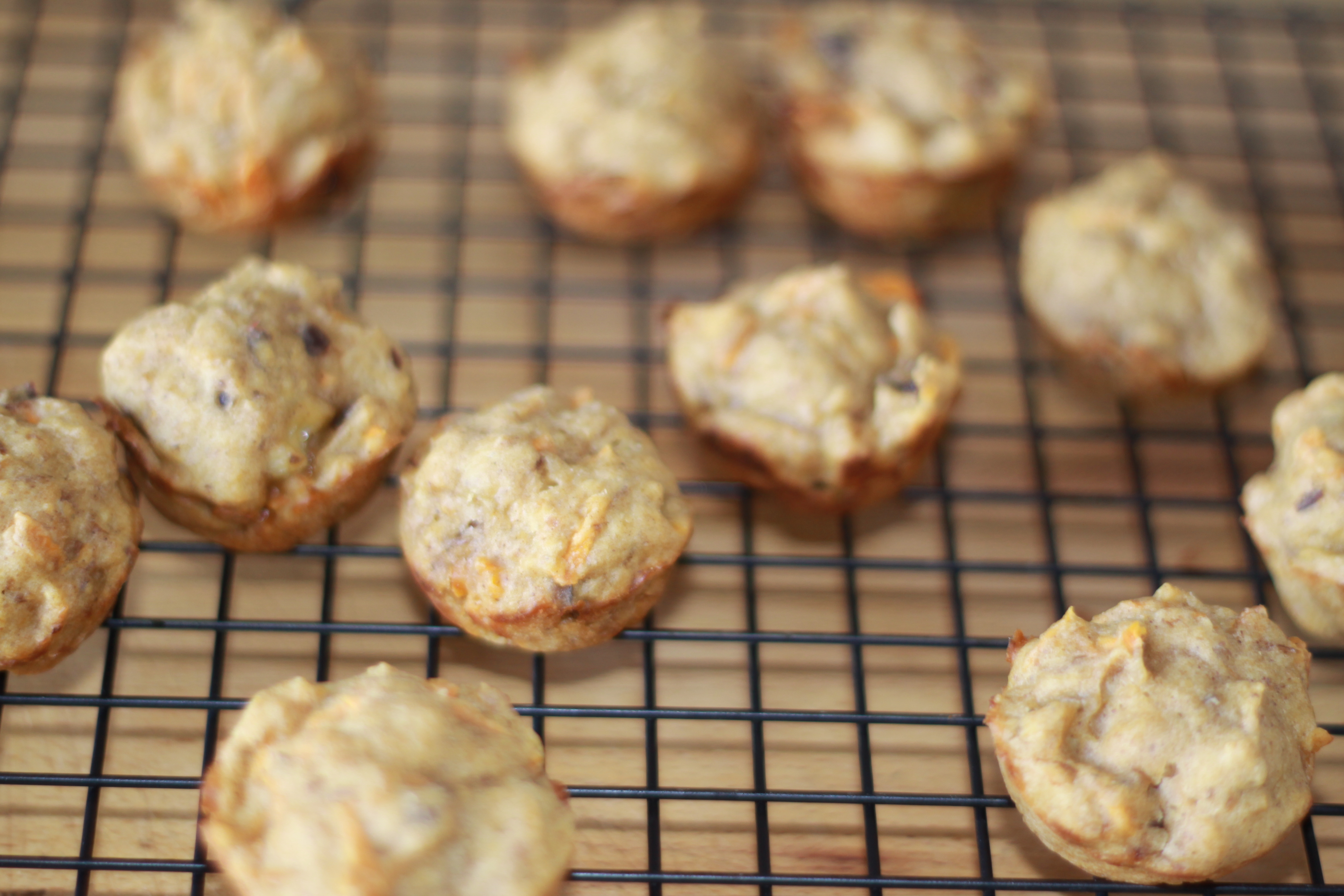 Here's what happened. I went about adapting Heidi Swanson's carrot cake recipe into mini muffins for tiny tots. It's a good idea for a morning snack, along with a nice slice of cheese and some fruit for both Phoebe and my pregnant self. My husband doesn't eat breakfast. He is skinny. That's another post altogether.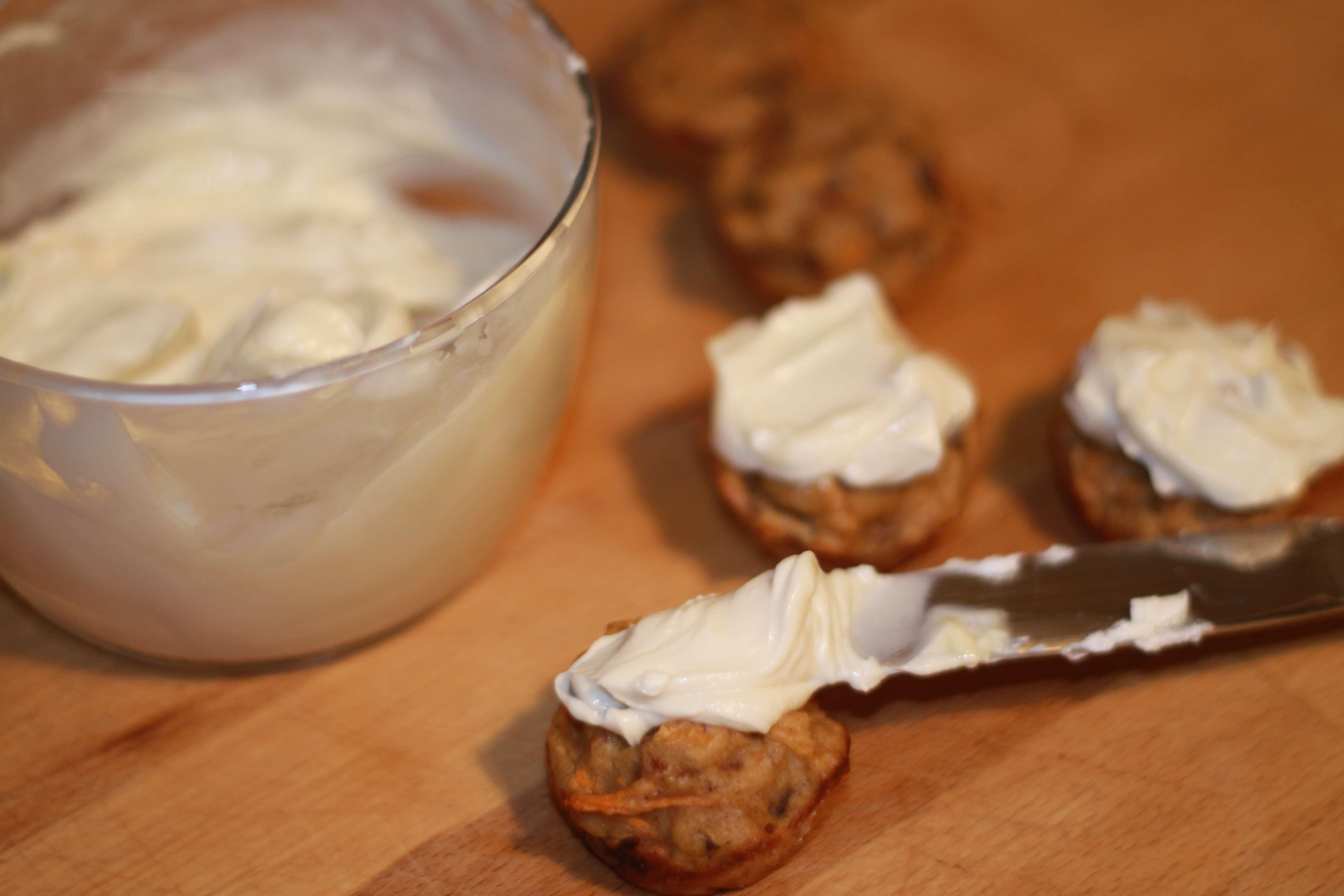 However I have to admit something straightaway: my best attempts at baking these muffins were a total flop. A failure. The first time she tried them, Phoebe would only half poke, half stab at the cool white frosting with her finger, licking it off before shrugging and poking again and only doing that halfheartedly. Poke. Poke. She wasn't even excited about the frosting. So obviously there was no eating the muffins. Not whole, not halved, not broken into pieces. Not even sprinkled with cinnamon sugar. That's right, I caved immediately and tried to re-offer her the muffins with a sweet sprinkle on top. Refused.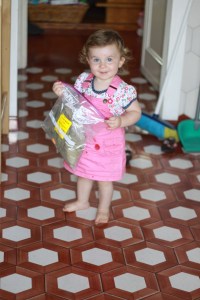 The only cute thing about this project is that Phoebe is in the kitchen with me more and more these days. Making herself at home under the breakfast table, trying on the oven mitts which go all the way up to her doughy little armpit. And always, always sampling as we go. For these muffins, she had bites of banana and crunchy nibbles of carrots. That's back when she'd eat the ingredients, before they became muffins.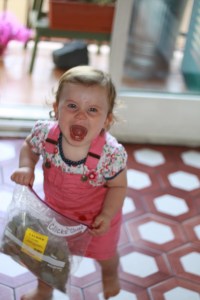 BUT I CAN'T quit yet.
I think there's hope for these (soon-to-be) tasty treats. I'll make them again but I'll change the recipe even more.
Here's my new plan, below.
Want to try it too? And offer your suggestions?
Please post your thoughts…and may  you be luckier than I was.
Banana Carrot Mini-Muffins


2 cups whole wheat pastry flour

1/2 cup wheat germ


1 1/2 teaspoons baking powder

2 teaspoons cinnamon

1/2 teaspoon nutmeg

3/4 teaspoon salt

4 ounces unsalted butter, heated until just melted

3/4 cup prunes

3 ripe bananas (1 1/4 cups), mashed well

1 1/2 cups grated carrots (about 3 medium)

1/2 cup raisins

1/2 cup plain yogurt

2 eggs, lightly whisked

6 ounces cream cheese, room temperature

3 tablespoons 100% maple syrup

Preheat oven to 350F. Butter the bowls of a mini-muffin pan.


Sift together the flour, baking powder, cinnamon, and salt. Stir in the wheat germ.

When the butter is melted but not quite hot, add the prunes and put the mixture into a food processor. Pulse until the prunes are ground up entirely; if you have a baby food maker, even easier.


In a separate bowl combine the bananas, raisins and carrots. Stir in prune and butter mixture, yogurt and eggs. Add the flour mixture and stir until everything just comes together. Spoon into the prepared pan, filling the cups about 3/4 of the way full. Bake for about 8-10 minutes. Remove from oven and let cool.

While the cake is baking whip together the cream cheese and maple syrup. Add as much maple syrup as you like but be careful not to get the mixture too runny. About 3 tablespoons should do it.